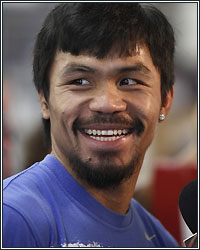 For a good, long while it looked as though the proposed Manny Pacquiao-Lucas Matthysse welterweight showdown in Kuala Lumpur for Matthysse's WBA belt, may not happen. Rumors were flying all over the place that Pacquiao's MP Promotions, which is lead promoter for the event, was having trouble getting money in the right places and struggling mightily with the logistics of pulling off a worldwide event.

But now, just days before the still-greenlit event and with both fighters already in Malaysia, it looks like the show will, indeed, go on.

The 39-year-old Filipino icon will be looking to capture his umpteenth belt while the heavy-handed 35-year-old Argentine will try and hold on to the title he captured back in January when he knocked out unheralded Tewa Kiram for the vacant belt.

Debates will take place in the coming days about who will win this contest, but maybe the most interesting debate revolves around whose victory would be better for the sport of boxing. So, here's what a victory for each would lead to.

If Pacquiao Wins

Manny Pacquiao once commanded the mightiest and fiercest fan base on the planet. Like rattled and hungry piranhas, Pacland would tear into any and all critics of their hero. News of Pacquiao drove waves of traffic to boxing websites and the Pacland news aggregator, with tens of millions of hits generated by rabid Pacquiao supporters, became the single most important boxing website in the online boxing business.

But things have slowed down considerably over the last few years at Pacland. In step with a hero who has stopped taking risks in the ring, fans have lost much of their fervor. Nostalgia, more than anything, now drives Pacquiao's fandom.

Pacquiao, who will turn 40 in December, does not have much career ahead of him and, frankly, doesn't seem all that eager to take any chances with his last couple of prizefights.

The Matthysse bout is a fairly safe one in the mind of Team Pacquiao because of Matthysse's stylistic limitations. It would be safe to assume, then, that the next opponent after Matthysse, against a Pacquiao just a bit older and slower, would be even less of a challenge. Unless there's Mayweather money involved in what Pacquiao does next (and there won't be, unless some billionaire finances an Amir Khan clash in Dubai), expect diminished risk for each subsequent post-Matthysse bout Manny takes.

If Pacquiao beats Matthysse, expect him to keep fighting in Asia. Maybe fans will get the Mike Alvarado slaughter that was rumored prior to signing the Matthysse bout. Maybe it'll be another fringe contender with a favorable style and a level of ability just above the journeyman level.

Fans WON'T be getting Manny against any welterweight that matters—no Crawford, Spence, Thurman, Porter, Garcia or even, for that matter, a Berto, Alexander, Ortiz, or Broner. They also won't be seeing Pacquiao against Vasyl Lomachenko in a catchweight bout, no matter how many times this fight is floated out to the press as a possibility.

If Matthysse Wins

Golden Boy's Matthysse has plenty of flexibility when it comes to what he could do if he beats Pacquiao. The reality, however, is that almost every real possibility involving him and a top welterweight places him as a major underdog.

When rumors had the Pacquiao fight falling apart, Terence Crawford's promoter, Bob Arum, was quick to openly covet Matthysse as an opponent for the new WBO champ. If Matthysse gets by Pacquiao, the idea of a Crawford fight will likely be revisited. But, while Crawford-Matthysse may be a mildly compelling match-up on paper, it could end up being an ugly mismatch in practice and, quite possibly, the end of Lucas' run as anything resembling a main stage player.

Other possibilities for a victorious Matthysse range from in-house Golden Boy selections like Sadam Ali and Mauricio Herrera to a Top Rank outsourcing against prospect Jose Benavidez. If the money is right, there could even be the slightest of chances for a defense in the UK against Amir Khan. And as is always a possibility with fighters from outside the US, there's also the chance of the champ returning home to face a series of no-hope contenders for modest paydays in front of his loyal fans.

But, as is the case should Pacquiao emerge victorious, there's virtually no chance of Matthysse being matched up against any of the PBC welters like Spence, Thurman, Porter, or Garcia.

The most likely scenario for Golden Boy, given Matthysse's vulnerabilities and their lack of in-house welterweight stars to which he could be fed, is a play to get a large payday with ESPN money against Crawford. If that happens, it's a total cash-out loss for Matthysse and his team.