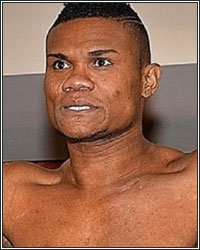 Prior to last Saturday's ill-fated HBO Sergey Kovalev-Dmitry Bivol showcase double-header, the thought was that the two Russian bangers would meet up in a very entertaining guaranteed war, unifying WBO and WBA light heavyweight titles.

But oddly self-destructive matchmaking from the Ivy League geniuses at HBO Boxing ruined that plan. Matching their in-house masters of war against spoilers Eleider Alvarez and Isaac Chilemba was a very questionable decision and one which turned out to be disastrous for the network when Alvarez knocked out Kovalev and Chilemba's losing effort made Bivol look flawed and green.

Eleider Alvarez, who is an Al Haymon-advised fighter, has the option of sticking around at HBO if the deal is right and, presumably, if he can get a Bivol unification bout for the right type of payday. He can also head on over to PBC-friendly territory and rekindle efforts to get WBC champ Adonis Stevenson in the ring or, possibly, pursue bouts with Badou Jack or Marcus Browne. IBF titlist Artur Beterbiev is still a "Haymon" fighter as well (at least as of most recent reportings), although he did recently sign a three-fight deal with Eddie Hearn's DAZN project.

Just based on recent form, the Colombia-born Canadian resident has to be considered the man to beat at 175 right now. Long considered little more than a stylist as a pro, Alvarez proved against Kovalev that he could be a whole lot more. Already big, physically strong, athletic, and highly skilled, the addition of some one-punch danger makes Alvarez a complete fighter if he turns Saturday's effort into standard practice.

Right below Alvarez, though, is Adonis Stevenson, who is the longest-reigning light heavyweight titlist, but someone who has been rightfully criticized for an overall poor level of competition as champ. At 40 years of age, the Haitian-Canadian is slipping and he was very fortunate to walk away with a draw in his last defense against Badou Jack. But Stevenson is still very dangerous and is in possession of a mega-heavy left hand, which just may be the best single weapon in all of boxing.

Badou Jack showed that he could handle Stevenson and it would be a crime if he didn't get a rematch. If he had kicked things into gear earlier in the contest, Jack may have stopped Stevenson late. But, as it is now, the Swedish "Ripper" and Money Team member will have to wait, stay sharp, and bide his time until another title opportunity comes his way.

Dmitry Bivol got temporarily knocked off his pedestal in a relatively "blah" showing against Chilemba, but maintains his status as WBA champ and remains a very talented, athletic, offense-minded high-end fighter. It may be difficult, though, to find top opposition to face the Russian given a diminished reward now for a still-high risk challenge. Bivol may also be limited to his ties with HBO, which keep him from wading into the deep end of the light heavyweight talent pool at the moment.

Former champ, Sergey Kovalev, will have an especially tough time rebuilding after his TKO loss to Alvarez. The heavy-handed Russian "Krusher" was humanized by Andre Ward in their first fight, then de-fanged by Ward in the rematch, and now laid out by Alvarez. Boxing common sense and history would indicate the likelihood of a humbled, battle-weary, one-time offensive monster making a full comeback is miniscule. But Kovalev has always been an underrated technical boxer and, of course, he still has heavy hands, so a return to the main stage is not out of the question.

The offense-minded Artur Beterbiev is yet another high-end Russian in the division and could, conceivably, beat any of the top opposition on any given night. The defending IBF champ, however, has been slowed by injuries and management issues. Now, back to business, it'll be interesting how high he can go in the division and whether his deal with DAZN will keep him from some of the legacy-defining fights he needs to build his star.

The Ukraine's Oleksandr Gvozdyk is strong and talented, but relatively untested in his 15-0 pro run. Apparently, he's next in line for a shot at Stevenson's WBC title. But, having shown some chin issues recently, he'll be a big underdog coming into the bout against the heavy-handed champ.

New Yorker Marcus Browne may be the top American light heavyweight at the moment and is definitely a talented fighter with high-end potential. Uneven performances, however, have kept him from elite consideration and could make for his downfall when matched against high-level competition.

Right below the higher levels at 175, there's also a solid core of contenders ready, willing, and, perhaps, able to give the big dogs a true challenge.

Joe Smith Jr., boasting big wins over Bernard Hopkins and Andrzej Fonfara, is remarkably heavy-handed and is, therefore, a threat to anyone and everyone. Sullivan Barrera is a skilled and talented fighter with the ability to compete with (and beat) almost anyone in the division. The UK's Anthony Yarde is an interesting, but still untested prospect. There's also Edwin Rodriguez, Felix Vera, Humberto Torres, Thomas Williams Jr., Karo Murat, Mike Lee, and Isaac Chilemba—all fighters good enough to make for good competition or more.

All in all, the light heavyweight division is solid and has the potential to provide some really exciting clashes. The issue—as is always the case these days—is on the business side of things.

HBO's Bivol and Kovalev, as well as DAZN's Beterbiev, may be isolated in their own boxing world and out of the loop when it comes to high-end, elite-level clashes. Meanwhile, Stevenson may either be on his last legs or soon to go back to a prevent defense when it comes to the challenges he takes.

But, on the bright side, new WBO champ, Alvarez, has apparently cast aside a gloomy, spoiler mindset for performances more suiting to his all-around talents. It's now an open question as to what his ultimate career plans will be.

A handful of quality bouts are possible, even despite the business restraints. But, with a bit of diplomacy and a heaping dose of big picture pragmatism, it's possible to get all the fights fans want in the division.