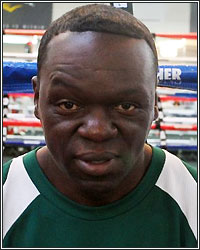 "He punches like a mule. He punches, I would say close to like Shannon Briggs... I think the guy we are fighting [Adam Kownacki] is tailor made for Charles. He comes straight in, no head movement, he's durable, but he's also hittable. I can't imagine, unless his head is made of stone, concrete, or something, that he's going to be able to take a lot of punches from Charles," stated world-class trainer Jeff Mayweather, who talked about his work with former heavyweight champion Charles Martin as they prepare for the upcoming clash with Adam Kownacki. Check it out!

PC: I see you're working with former heavyweight champion Charles Martin. How did that come to fruition?

JM: I did some work for his manager many years ago. He thought I was a great trainer because he sent me Ray Austin with 3 weeks; he was getting ready to fight who would become my world champion Sultan Ibragimov. He gave me him with 3 weeks to go. I know how to beat guys that size. Don't get me wrong, it's probably because Sultan wasn't in tip top shape, but the thing is, Ray was in tremendous shape and didn't have no ego or entourage. He was focused. They fought a very close fight. The fight ended up being a draw and Ray went on to fight for the world title. He fought Klitschko; it didn't work out well, but at least he got his shot. Eventually, well, I was still working with Shannon [Briggs] at the time and by the time Shannon was getting ready to fight for the title, I had kind of got fed up with everything that was going on. It was just too many trainers there. I felt like he didn't believe in me, so I ended up leaving the camp. When I left the camp, I was called by Sultan's people because they were impressed by the work that I did against them. I went down there and did an audition and got the job.

The time that I worked with Ray, he was impressed and plus Shannon's old manager, Scott Hirschm basically told Charles' manager, "Why don't you go back and get Jeff?" I was actually in Malaysia when I got the call with my fighter that was fighting for his world title at the time. The call came in and they were like, "How long is it going to take for you to get here?" I was like, "I'm not going to be home till such and such date." What happened was, one of my old fighters that I used to train from Australia invited me to Australia. So I went to Australia for another 5 days. I came home, I was home for one or two days to take care of all of my bills and things like that, since I had been gone for so long, and then I came up to Big Bear. I finally got the chance to meet Charles in person.

PC: Were you familiar with Charles as far as his abilities?

JM: Well, the only fight that I had seen was his fight against [Anthony] Joshua. I'm going to be honest with you, I didn't know what he had, what was his strengths, or what even made him become a world champion. I didn't even know, and I was honest with him. They told me that basically, which I can believe, especially now that I'm working with him, he punches like a mule. He punches, I would say close to like Shannon Briggs. You know Shannon was a very big puncher. They said he got injured before the fight, but also, there was $2 million on the table, what are you going to do? So, he took the fight. I'm not making excuses for him because I wasn't even a part of that. But the fact of me working with him now leads me to believe that that could possibly be true.

One thing about it is, we have a camp; it's one of the best camps I have been involved with. I was brought out here to do my job. When I say "do my job," he has Henry Tillman, who has been his trainer since day one, that's still here. It's not like they got rid of the trainer and said, "Jeff, come in and do your thing because the other guy is gone." I have known Henry for a long time and he's a great guy. I think the most important thing is he's allowed me to be me and do what I do. There are no egos here. That's the best part about being in camp. When you go to sleep at night, the guy next door ain't saying, "This motherfucker," or them saying anything off the wall about you. We hang like brothers. We jump in the truck and ride off and laugh and joke with each other all day. And since I came here, he's allowed me to do what I do. I still ask him, "What do you want to see? What are the things you want me to work on?" Even though I have my own thing, I still get his input on what he wants to see. It's a team effort and that's important to me and I think it's important to Henry as well. Everybody here is humble.

PC: Did you have any preconceived expectations of Charles or did you come into this thing blind?

JM: Initially, I thought Charles was this wild guy. That's what was put out there. Once I got him and met him, I saw something totally different. The very first day that I worked with him, I was waiting to see the wild guy and that never happened. He was a complete gentleman, he spoke kindly, and never said or did anything negative. The one thing I was also told was how hard he punches. So the first day we worked out, I wasn't impressed at all. I was like, "These niggas lying (laughing)." But the reality was this, that was his first time working with me and he didn't let loose everything. The next day, he almost tore my damn hand off. So then I knew exactly what everybody was talking about. I think that he has the kind of power to where, if he lands his shot, they could go out like the same way [Deontay] Wilder is putting guys out. He is a big guy. He's 6'5"-6'6". I have been impressed with his work ethic and his ability to learn, and not only is he learning, but he's thirsty for knowledge. When we started working, I started teaching defense and how to catch and shoot off different punches and everything; we went 7 rounds straight without even stopping. That's how thirsty he was about trying to learn.

He's a big man and I train big guys to throw a lot of punches because if I teach them to throw a lot of punches while I'm training them, when they get in the fight, they'll slow down their punch rate just a little bit, but they will be used to throwing punches, so it won't be a problem for them mentally. I think he shocked himself also because he was like, "One more round, man, come on." My thing is defense and the defense I teach, I'm going to smack you upside your head. And that was the thing, every once in a while, I would catch him and he wanted to get it right. That showed me how much he wanted to learn. Like I said, we did 7 rounds without even knowing it. I think the guy we are fighting [Adam Kownacki] is tailor made for Charles. He comes straight in, no head movement, he's durable, but he's also hittable. I can't imagine, unless his head is made of stone, concrete, or something, that he's going to be able to take a lot of punches from Charles. And not only that, I have been working with him on creating angles and making guys run into shots; a whole lot of different things.

PC: You're coming in with him facing an undefeated fighter who hasn't learned how to lose. Fighters sometimes get tune-up fights, but as a trainer, you're not getting a tune-up. You're going right into a fight with a 17-0 guy.

JM: Definitely! I've watched him and in all honesty, it's kind of the same game plan I put together for Ray Austin when he fought Sultan because Sultan was shorter than him, but he was something like a 20-1 underdog, which was crazy. I know how to teach a tall guy how to beat a shorter guy. The only thing the taller guy really has to worry about more than anything is that overhand coming. I don't care if it's the left hand or the right hand, you better have your defense ready for that because it's coming and it can put you out. If you can take that away from a small guy, you can basically beat him with a jab. I've worked on the same exact strategy that I used with Ray when nobody thought he had a chance and it worked. It worked to the point of getting him the biggest payday of his life. Not necessarily that they are the same fighter because I think that Charles has a little more power, speed, and he's starting to really catch on with the defense as well. Right now, I think we are going in the right direction. I have high expectations for him. Now, it's just a matter of...the fight is September 8th, so we have plenty of time.

The one thing is, I have seen improvements already and I have been here a little more than a week. From the first day, I didn't believe he could punch and he showed me he could. On the first day, I hit him upside the head as many times as I wanted to and the next day, I couldn't. I hit him some because I was real tricky and I'm way faster than a heavyweight, but the difference is, I probably hit him with 30 shots the first day and the next day, I probably hit him with 8 or 10. That's a lot of improvement in one day. He's thirsty for knowledge and that right there motivates me more than anything. I think losing is always humbling and that's probably why I probably didn't meet the first Charles and why I came in on this one. He is a complete gentleman. He's a real quiet guy, but he likes to have fun. We joke around and everything. The whole camp is that way. Everybody gets along great. Everybody is here for one mission and that's for Charles to win this fight and further his career.
[ Follow Percy Crawford on Twitter @MrLouis1ana ]