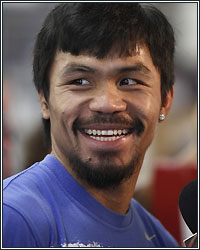 Earlier this week multi-division former world champ and current WBA welterweight titlist Manny Pacquiao made headlines when he posted the following on his verified Instagram account:

"Congratulations and good luck to @TRboxing and @ESPN on your 7-year partnership agreement. I know both of you have been very busy finalizing the deal. However, I have not received the US rights payment for my July 15 fight against Lucas Matthysse that was broadcast on ESPN plus. Therefore, I am initiating legal proceedings against Top Rank and all other parties based on the non-payment and attempt to restrict my future rights. Thank you."

The post sent waves through the boxing world and started speculation as to whether this was the first step in Manny's effort to create full and total separation from longtime promoter Bob Arum. A piece in Philboxing.com, penned by a Pacquiao publicist, added fuel to the fire as it outlined a series of alleged instances of attempted contractual flim-flam by Arum's Top Rank company against the Filipino icon in relation to Pacquiao's bout with Lucas Matthysse on July 15.

But, by Wednesday, Arum had dialed up ESPN's Dan Rafael to explain that the issue was nothing more than a mix-up and that things were already being resolved. According to Arum, the issue stemmed from Pacquiao having not signing the correct contract for the event.

"We read the Instagram post and [Top Rank attorney] Harrison [Whitman] handled it with Pacquiao's attorney, and it looks like everything will be resolved," Arum told ESPN.

Pacquiao would subsequently issue the following via Instagram:

"My post from the other day was a result of miscommunication between my Team and Top Rank. Everything has been clarified. I would like to thank Bob and Top Rank for helping guide my career and for the many great years of working together. We have accomplished so many amazing things together."

Whether this was a legit misunderstanding resolved after a public dust-up or an issue resolved frantically after things went public, well, that remains to be seen.

None of this changes the appearance of Pacquiao seeming firmly set on free agency at the moment. With a preference for competing outside the United States for the remainder of his career, Pacquiao would probably be wise to keep his independence while negotiating American TV deals on a fight by fight basis.

But Arum has always known the right buttons to push with Pacquiao and, therefore, a full-on reunion is certainly not out of the question at some point.

For the time being, however, at least Manny is getting his money. Probably.