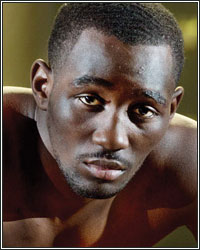 A Thursday without my sack is like a Dan Rafael sport coat without mustard and jelly stains. So, here I am once again shoving my bloated, distended sack under the noses of the entire boxing world, ready to spray my salty wisdom all over the bad guys and wrongdoers. This week, we have a jam-packed sack with stuff about Terence Crawford, Porter-Garcia, the hidden gem on the Porter-Garcia undercard, and final predictions on Canelo-GGG.

Porter-Garcia Aftermath

What's up Paul, it's been a while!

Garcia vs Porter was a good scrap. I thought the right man won in my opinion, but if anybody had Garcia winning a SD I would have not argued it.

I do not know where Angel gets that Danny is a "chameleon" in the ring. I have only seen him fight one way and [he] never seems to make adjustments. I honestly believe Danny needs to make a change if he wants a better chance in beating the more crafty fighters, not necessarily get rid of Angel but he needs to be able to lead more to set up his counters. I believe if he had more of an offensive game he would've had a better chance at beating Thurman and Porter. I sort of felt bad for Danny, did you see Angel freak out in between rounds and instead of being strategic he was just yelling and cursing with no real purpose. That is just my opinion though.

Lastly, I am so happy for Shawn Porter. Everybody knows that this man has never been a guy that PBC wants to push like the PBC darlings (Broner, Garcia, Wilder, Santa Cruz, Spence.) and I do not understand why, Porter is a guy that comes to fight is ALWAYS in shape, and he seems like a good dude. But for some reason he has always been set up as a stepping stone hoping to push whoever he was fighting: Alexander, Malignaggi, Broner, and Garcia, if you go back and look at those fights you can clearly see disappointment in the Watsons faces when Porter beat all those guys he was supposed to lose to. Anyways if he fights Spence he will most likely get stopped for the first time due to Spence's huge size difference and excellent body punching, I believe.

-- Aldo Sandoval

Hey Aldo.

Like I wrote, I don't think either fighter came away from that fight a loser. Both Porter and Garcia accounted well for themselves and the fight was extremely close and pleasing to the eye.

It sounds weird, but I think Porter has gotten overlooked, in part, because he's so willing to fight anyone, anywhere. Sprinkle in a couple of losses and a style that has not exactly screamed "elite-level" and there's a tendency in some circles to view him as something closer to a journeyman than a high-end champ. Porter did a lot to change that thinking last Saturday. He beat a "classier" fighter with a style he normally doesn't employ. I agree that he would have trouble with Spence, but after seeing him against Garcia, I think he probably stands a better chance of winning than I had previously thought.

As for Garcia, I agree with your assessment. He looked good and did what he usually does, but sometimes that's not going to be enough and a true elite-level fighter will have to adapt. I don't see that adaptability in Garcia. I don't think I've ever seen him really change and adapt mid-fight. His "A-game" is very good (and more than enough to beat most welters), but he needs to work on his ability to read the situation and adjust his game plan. And I don't see Angel Garcia being that trainer who will work on things like nuance and adaptability. The truth is that if Garcia had simply adjusted to Porter's style change-up, maybe with something as simple as an amped-up punch output, he would've won that fight.

Is Terence Crawford Overrated?

How long will it be before TC [Terence Crawford] fights a reputable WW? I know you think TC is the best P4P fighter... But I'll reserve that thought until I see him in the ring with a live dog... I doubt the Spence fight ever happens. Spence is a natural MW and he's got 18 months max at WW. Pretty soon he'll struggle to make WW and eventually move up... I respect your opinion more than any other boxing writer. However, you should hold TC to the same standard as GGG. GGG was heavily criticized for not fighting any live dogs, when in fact his division was not deep. However, TC isn't fighting any live dogs either, the only difference is that he's in one the deepest division... How long will TC's honeymoon at 147 last??? How long until he gets the GGG or Adonis Stevenson treatment?

-- Danny Tennis

Hi Danny.

For me, I regard Crawford so highly because of his skill and talent, more so than his actual body of work. If we're being honest here-- how many "pound-for-pound" fighters today are actually facing people with a legitimate chance of beating them? Hardly any. As a matter of fact, guys like Golovkin, Lomachenko, Crawford, and Garcia have never beaten anyone they weren't highly favored to beat. That's just reality. So, if I'm going to dip my toes into the p4p nonsense, I'm going on inherent skill first and then, second, body of work. You'll never see me, however, proclaiming Crawford an all-time great with his relatively thin resume, unlike some of these media people who were declaring Golovkin an all-time great at middleweight with a similarly thin (or thinner) record.

As for when Crawford will get in the ring with another elite-level welter? Don't hold your breath. With him re-upping with Top Rank/ESPN and the PBC guys drawing a hard line in the sand, it's not likely we're going to see a best vs. best bout at 147 anytime soon. Yeah, if there's enough money in it, any fight can get made. But Crawford-Spence isn't Mayweather-Pacquiao and there's just not enough extra money in this bout for either side to build a bridge and take the risk.

Kownacki-Martin and More

Paul,

how did you miss commenting on arguably the fight of the year between heavyweights Adam Kownacki and Charles Martin on the Garcia vs Porter undercard?

That was such an exciting fight and brilliant match making. The ruling was out on Charles Martin as a guy with no heart and even though he lost this fight he gave it his all in there. How this fight went the distance is beyond me! They were throwing and landing knockout blows as soon as the fight started. Just incredible fight.

Looks like Spence and Porter will face each other early next year which means I am not sure what is in store for Mikey Garcia who can fight one more time this year and earn Fighter of the Year. He would of course have to fight a credible opponent and with Loma not available I have no clue who he could fight that would be meaningful.

An easy bounce back fight for Danny Garcia would be Berto or even Broner who is the only guy in boxing less active then Danny in the ring.

-- James E. Le Blanc IV

James.

Yeah, my bad for not mentioning Kownacki-Martin. It was a very good heavyweight fight and deserved more coverage than the zero coverage I dedicated to it. I guess what may have held me back, to some extent, is the fact that I don't think either stands much of a chance against Joshua, Wilder, or even Ortiz for that matter. But, yeah, it was a competitive scrap and both fighters improved their standing and marketability through their efforts.

It's weird how everyone just, all of a sudden, veered away from Mikey Garcia-Errol Spence. Maybe the big shots at PBC got the vibe that this fight wasn't being too well received. I still wouldn't count out Spence-Garcia, to be honest, but it's just not a fight that does much for me, for fans in general, or for the fighters. If Garcia is serious about a welterweight run, then he should fight someone like Josesito Lopez or Omar Figueroa later this year to get acclimated to the new weight. Personally, I would like to see him set up shop at 140, where things are starting to get interesting and some young talent is starting to congregate.

Garcia needs to get back in the ring ASAP if he's truly serious about being a top welterweight star. Like I mentioned in the previous question, he also needs to work on his ability to adapt in the ring. I like Garcia-Broner a lot. Easy fight to sell, too.

Last Call on Canelo vs. GGG

Paul. I know you been asked this before, but this is your chance to give one final prediction before the big fight night. Canelo or GGG? Who you got and how?

-- K. Stone

K.

I've said it before, but I think Canelo will have the upper hand in the rematch. He's felt Golovkin's punch, survived it, and proven himself capable of boxing circles around GGG at times. He will build on this in the rematch. Golovkin, meanwhile, is just going to be Golovkin—and that means dealing with the fact that, in their first fight, him being him wasn't enough to stop or even hurt Alvarez.

The early rounds will be key as Golovkin will push hard, IMO, trying to prove that their first fight was more about Canelo running scared than him being nullified. But if Canelo is still intact and competitive after the fourth round or so, he should be able to put some distance between him and GGG. Stamina will play a key role in Canelo's game plan.

I'll go way out on a limb here and say that Canelo stops a frustrated, demoralized Golovkin with a crunching body shot, followed by a brutal right hook somewhere around the tenth or eleventh round.

Got a question (or hate mail) for Magno's Bulging Mail Sack? The best of the best gets included in the weekly mailbag segment right here at FightHype. Send your stuff here: paulmagno@theboxingtribune.com.