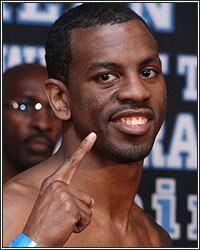 "I'm anxious to show off some of the improvements I have made during this camp. Like any other fighter, I'm just ready to go...I just feel like I'm the bigger man coming into this fight and not taking anything from Toka, but I believe I'm one of his toughest tests to date," stated super featherweight contender Jamel Herring, who talked about his upcoming clash with John Moralde. Check it out!

PC: I'm hearing words like nutritionist and strength & conditioning coach, things you've never used before. What has it been like implementing these into your camp?

JH: Ah man, the difference has been, having a nutritionist and a strength coach with you every day during your training camp, it helps a lot. I'm cutting the weight properly and still staying strong at the same time. I'm only a few pounds away from the goal, which is 130, super featherweight, and I actually feel a lot stronger and better than when I was cutting down my way to 135. The proof is in the pudding.

PC: How do you feel transitioning down to 130 pounds?

JH: I feel good, man. You can hear it in the tone of my voice. I'm not moody or cranky. If anything, I'm hyped and excited. Not only am I cutting weight really well, but I'm anxious to show off some of the improvements I have made during this camp. Like any other fighter, I'm just ready to go.

PC: It seems like you have been training for the fight for a long time. Is that just because I see your posts and things you put up or has it felt that way for you too?

JH: It's crazy because by the time I get in the ring, I would have been in camp for 9 weeks. I started a week earlier than I was scheduled. I went to Omaha. But it's crazy because it seems like this camp went by faster than last camp. Remember Terence had got injured and it got pushed back, so I had to tone it done in April and train a few extra weeks till May. Even though this camp has been a 9-week camp, it feels like it went by a lot quicker. I still feel good and everything was done by the book in terms of my rounds and what I do every single day. I'm just ready to go, bro.

PC: John Moralde, 20-1 fighter, he was stopped in his only loss, but in his last fight, he put an undefeated kid down twice and defeated him unanimously. What are your thoughts on him as an opponent?

JH: I respect him as a fighter. I watched his last two fights and one of his last two fights was the one you pointed out where he lost to Toka Kahn, I think late last year. And even his last fight, those knockdowns was the difference in the score. That was an 8-round fight and even the fight that he lost, he was gassing. I just believe his stamina is not that great. He's a featherweight. He's moving up in weight, gotta point to that fact. I think he started his career at 118 or something like that. I'm not underestimating him, but at the same time, I know I have the tools to get through anything. I've been in with guys like Denis Shafikov and pushed through for 10 rounds and I took that fight on a 3-week notice. I still pushed through to the end until my corner stopped it. I just feel like I'm the bigger man coming into this fight and not taking anything from Toka, but I believe I'm one of his toughest tests to date.

PC: Do you have any concerns going 10 rounds in your first fight at 130, or because of everything you just said and your ability to push through, you don't have any?

JH: I will be fine because my nutritionist even has a plan for that; rehydrate me properly. I will be in the ring at the weight I'm most comfortable at, so I will have the energy to get through those late rounds. I've been sparring, and even cutting down weight, I was sparring against "Bud" Crawford, Steven Nelson, who is going to super middleweight, and Johnathan Steele. I've been doing a lot of sparring with some good guys and they are at their natural weight when I'm still cutting down and I'm still pushing through 10 rounds. I don't think the new weight class is going to make a difference in how I feel over those 10 rounds. I think if anything, you will see me pick it up as the rounds go on.

PC: I love the way Top Rank is really putting your military background on display and using it as a tool to get your name out there. I watched a video where you spoke to some marines; being a New Yorker, and 9/11 just passing, I know how important that date is to you. Could you elaborate on that a little bit?

JH: It's been great. We're not going to walk around the elephant in the room in terms of that. When I see people, of course they are going to try and compare things to PBC. I even told you personally in the past just off of us being cool, I have nothing against PBC. I still have love for Al and those guys. I still have good friends over there; Errol Spence and Marcus Browne. I just feel like in terms of promoting certain fighters, everybody does something different. Things that Top Rank does in terms of pushing me may not fit another fighter over here. PBC and Showtime are doing a great job of pushing guys like Errol. It doesn't make it right or wrong, it's just different strokes for different folks. It's about the chemistry that you have with that team. Shout out to Top Rank for what they have done in this short period of time. They have been pushing more of my military background and it's grabbed a lot of attention. Even Box Nation picked up on the fight and they have been promoting it over there. I have no ill-will against anybody. I appreciate what Al and those guys have done for me in the past and I'm thankful for where I'm at and I look forward to doing big things with Top Rank in the future.

As far as 9/11, that day was crazy. I'm from New York and it hit me hard at the time. I was still in high school and I had friends that had lost family members during that day. It affected me a lot. At the time, I was a kid doing whatever, basically just getting into boxing, and round that time, I had to start thinking about what I was going to do with my life and I was thinking, "Why not serve and defend your country?" If it wasn't for 9/11, I probably would have never became a marine, and also, the Marine Corp is what helped me become an Olympian, so I probably wouldn't have became an Olympian. So it helped a lot with where I am today. Everything from that point on played a huge part, not only in my career, but my life as well. 9/11 definitely still plays a huge role in my life, but instead of using that day to remember tragedy, I'm out there speaking with kids and fellow Marines. I try to tell my story to enlighten and uplift others out there.

PC: I appreciate the time, good luck on Friday night, and we will catch up afterwards. Is there anything else before I let you go?

JH: I appreciate you, man. I always got love for you and the FightHype Team. If anybody want to reach out to me, they can catch me on Instagram or Twitter @JamelHerring. Stay tuned because after this, a lot of great things will be coming. You already know you and I will be speaking on it.
[ Follow Percy Crawford on Twitter @MrLouis1ana ]