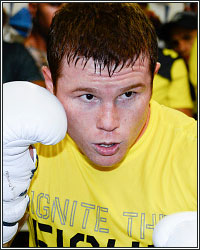 Moments ago at the T-Mobile Arena in Las Vegas, Nevada, Saul "Canelo" Alvarez silenced his critics, defeating former unified champion Gennady Golovkin via majority decision in a toe-to-toe battle. At the opening bell, both fighters came out and stood their ground in the center of the ring, trading stiff jabs in what started off as a chess match. Surprisingly, it was Canelo who was more aggressive and stalking the bigger puncher. In the second round, Canelo quickly started to find his mark as he landed some nice left hooks and body shots. Although Golovkin was landing good jabs and a few power shots of his own, it was Canelo who continued to press forward, backing hm up and landing hard combinations.

By the 5th round, Golovkin was starting to breathe heavy as he continued to back up from Canelo's pressure. In round 6, Canelo started to invest more in his body shots and his punches were getting the attention of Golovkin, who banged on his gloves and egged him on. After the 7th round, Golovkin's trainer honestly told him, "We're losing." Golovkin answered his trainer's call as he began to turn up his attack in the 8th and 9th rounds. He had his best rally in the 10th round when he landed a series of hard shots that wobbled Canelo in his tracks.

Just like the first fight, the outcome hung in the balance of the championship rounds, but it was clearly Golovkin coming on strong as he continued to land big power shots. Canelo, to his credit, stood his ground and answered with his own big shots, pressing forward as Golovkin circled around him. Both fighters finished the fight exchanging punches. In the end, the judges scored the bout 114-114, 115-113, and 115-113 in favor of Canelo Alvarez.
[ Follow Ben Thompson on Twitter @fighthype ]