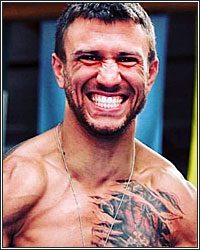 More and more, as challenges for Vasiliy Lomachenko become increasingly scarce, fans will have to accept the fact that maybe they'll never know how good the Ukraine's favorite son truly is.

This Saturday, the three-division world champ and two-time Olympic gold medalist brings his WBA lightweight title to meet WBO titlist Jose Pedraza at the Hulu Theater at Madison Square Garden for a unification bout on ESPN.

And, most likely, this upcoming contest won't tell us anything new about Lomachenko and won't answer any of the questions routinely asked of fighters so highly regarded or compared with the all-time greats.

It's not that Pedraza is a bad fighter. The Puerto Rican world champ is a solid all-around boxer who proved himself on the world stage with a fairly dominant title-winning performance against defending champ Ray Beltran this past August. But, the 29-year-old is closer to good than great and, if all plays true to form in this weekend's title bout, he won't be anything more than a marginal threat to pound-for-pound darling Lomachenko.

And after this unification, a victorious Lomachenko is being ordered to face WBA mandatory challenger, Brit Anthony Crolla—a likely one-sided softball of a defense that is even being laughed off by hardcore loyal UK fight fans. It'll be another wasted evening from a fan's perspective, if that fan is interested in true challenges and tests for the phenomenally gifted champ, of course.

The man has already delivered on some big victories over the course of his short professional career, but what comes next will be more important than what has already happened.

It seems as though Lomachenko will have to settle for delivering virtuoso performances against significantly lesser opposition for the rest of his career until that moment when a true challenge may arise and/or he decides to go up yet another weight class in pursuit of big fights. The lightweight landscape is barren and, other than a possible future challenge by Gervonta Davis coming up from super featherweight, there's not that much out there that could even remotely test him.

The only true challenge for a lightweight-anchored Lomachenko is Mikey Garcia, but everyone should know by now just how impossible that fight would be to make, given contrasting business entanglements and the lake of bad blood between Garcia and his former promoter Bob Arum, who is also Lomachenko's promoter. The Mexican-American master boxer is tied, anyway, to a March 16 bout with IBF welterweight champ Errol Spence and then, if successful, a likely continued run at 147.

The lack of challenges is not Lomachenko's fault. Even if Arum wanted to push Lomachenko out through a gauntlet of true challenges, there'd be nobody there to meet him on equal terms. Maybe super featherweight banger and WBC titlist Miguel Berchelt could have some name value as an opponent—and the idea of a Lomachenko-Berchelt contest on pay-per-view has reportedly been tossed about for 2019—but such a bout would probably end up being a stylistic mismatch when all is said and done.

The only other option for Lomachenko and his need for legacy-defining fights is a move up to junior welterweight, where things have begun to heat up considerably and become populated with young, hungry talent. Names such as Regis Prograis, Josh Taylor, Jose Ramirez, and Maurice Hooker rule the roost at 140, but he might be wise to not visit that untested terrain. Team Lomachenko has been reluctant to even consider a third move up in weight as a pro and, considering Vasiliy's small frame and the large challenges up at junior welter, he probably would be better off staying put at 135 as a proverbial big fish in a small pond.

So, without true tests available to him at his own weight and no desire to make a kamikaze run in a too-large division up above him, he will busy himself with the fatalistic "best available opposition."

Doomed to be more virtuoso soloist than conqueror, Lomachenko's legacy may well have to be one of a fighter too good for his own era or one of a very good boxer who came around at the wrong time.