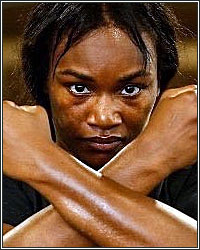 Five of the fighters appearing on UNDISPUTED worked out for the media today in Los Angeles ahead of this Saturday's world championship boxing event at the StubHub Center in Carson, CA and televised live on HBO Boxing After Dark beginning at 10:20 p.m. ET/PT.

Below are quotes from the participants.

Juan Francisco Estrada

"Victor Mendez and I have known each other since we were kids, we started together in boxing. But once you get in the ring you have to forget about that and give the fans what they want, a great fight."

"I actually started my preparation a while back for the Sor Rungvisai rematch which was supposed to take place this coming February. But this opportunity came and I have to take it."

"The first fight against Sor Rungvisai I know a lot of people liked and a lot of people say was one of the best of the year. However, a second fight would be even better as I would throw a lot more punches."

"It's been five years since my fight with 'Chocolatito' but the rematch is the one people ask about the most. My mindset however is to defeat Sor Rungvisai first and become a champion, then to fight 'Chocolatito."'

"HBO has been great exposure for me, I'm very proud that this is my fourth straight fight on the network.

"I can't tell you the round but I'm going to win on Saturday night by knockout."

Claressa Shields

"I know that Femke Hermans lost against Alicia Napoleon and I know I can beat her."

"I'm very happy where my career is. To only have seven fights and to have accomplished all I have is a big deal. I've beaten the best and will continue to do so. Hannah Gabriels was a very tough fight but I proved a lot in that fight."

"I love that the sport of women's boxing has been lifted for all female fighters. We're getting better opportunities and I expect that to continue next year and in the coming years."

"I'm happy for all the support I've gotten and to be able to inspire others. Being a role-model isn't about being perfect, it's about being real."

Aleksandra Magdziak-Lopes

"I've accomplished a great deal on my own in my career without a promoter and I'm very proud of that."

"I'm super excited for this opportunity to fight Cecilia for all her belts."

"Women's boxing has made such huge strides but there are even more great female boxers under the radar.

All they need is the platform. It's great to see more and more opportunities coming to women's boxing."

"Cecilia has been around a long time and I've seen many of her fights. There's no one else left for me to fight so now is the best time to fight her."

"Cecilia is great at many things but I have a good game plan for Saturday night. Once we get in the ring I'll know a lot more about how it's going to go in the fight."

Victor Mendez

"I was actually training to fight 'Chocolatito' but they chose Guevera because they said I was too big for him. I was really looking forward to that fight but I stayed in the gym and jumped at the opportunity to fight Estrada."

"Estrada and I have sparred many times when we younger and we were on the same amateur teams so we know each other very well. I don't think of it as a rivalry, I just know a victory would be very big for me, that's the way I look at it, a very big opportunity."

"I'm very happy to finally fight in the United States and on HBO in a big arena."

"This will be a war, I'm going right after him and I'm sure it's going to be a very entertaining fight for the fans."

Femke Hermans

"I had a fight in September and was in great shape and was ready when they called. I'm very excited to fight Claressa, it's going to be a great night of boxing."

"I've watched a few of her fights and know there are some things I do well which will bother her. She's at a high level so I can't make any mistakes against her."

"It's great to fight in the United States. In Belgium boxing is a very small sport but it's much bigger here."

"This has been a great year for women's boxing and the future is very bright."

# # #

Presented by Tom Loeffler's 360 Boxing Promotions, advance tickets for UNDISPUTED priced at $25, $50, $100 and $150 can be purchased through AXS HERE .The StubHub Center is located at 18400 Avalon Boulevard, Carson, CA 90746. For more information please visit their website at www.StubHubCenter.com.

UNDISPUTED is headlined by the Consensus #1 Ranked Women's Pound-for-Pound Fighter and Undisputed Women's Welterweight World Champion 'The First Lady' Cecilia Braekhus (34-0, 9 KOs), defending her titles (WBC, WBA, WBO, IBF, IBO) against two-time world title challenger, Aleksandra Magdziak-Lopes, (18-4-3, 1 KO), a native of Gilwice, Poland, now based in Marshfield, MA in the televised ten-round main event. Magdziak-Lopes also holds a victory over Braekhus' recent opponent Kali Reis. The tripleheader will be televised live on HBO Boxing After Dark beginning at 10:20 p.m. ET/PT.

In the televised co-feature, former Unified World Champion and #1 ranked Juan Francisco "El Gallo" Estrada, (37-3-0, 25 KO's), of Sonora, Mexico battles cross-town Mexican rival Victor 'Spock' Mendez, (28-3-2, 20 KOs), also of Sonora, Mexico in a ten-round super-flyweight clash

Opening the telecast, two-time United States Olympic Gold Medalist and WBC/IBF/WBA Women's Middleweight World Champion Claressa Shields, (7-0, 2 KOs), of Flint, MI faces WBO Women's Super-Middleweight World Champion Femke Hermans, (9-1, 3 KOs), of Londerzeel, Belgium in a ten-round middleweight world title clash.