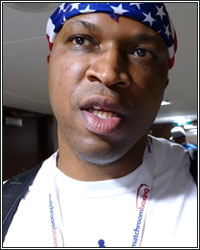 "He sparred 14 rounds on the first day of camp. What that says is that we're not worried about physical conditioning. We are worried about having 8 weeks to strategize just for Mikey Garcia... all I gotta say is he has to be smart and be intelligent about how long he's going to let the fight go," stated Derrick James, world-class trainer of undefeated welterweight champion Errol Spence Jr., who talked about their upcoming clash with undefeated multi-division world champion Miky Garcia. Check out what else he had to say!

PC: I really didn't think this fight with Errol Spence and Mikey Garcia would ever come to fruition. Low and behold, on March 16th, Mikey Garcia will make the move up to welterweight and challenge Errol in Errol's backyard. How are things going so far?

DJ: It's going good. Everything is going smooth; weight is down and camp officially started two weeks ago. We have just been working out and getting ready before we get ready, but now it's time. We're stepping on the gas and pushing the issue and getting ready for the fight.

PC: Errol is so accustomed to sparring with bigger guys to prepare for these fights. Has that changed now that you are fighting a smaller fighter where you will have to bring in smaller guys with more speed or are you guys sticking to what has worked so far?

DJ: It's all about skills and technique. We still use the bigger guys because the smaller guys can't take the power. So we still have to spar the bigger guys. We don't switch up the formula. Everything is tailored towards this fight. That's why the weight is down, fitness is great, and therefore we can focus a lot of time on strategizing for Mikey and not so much losing weight. He's not starving to make weight. That won't happen. He doesn't have to worry about getting in shape. He sparred 14 rounds on the first day of camp. What that says is that we're not worried about physical conditioning. We are worried about having 8 weeks to strategize just for Mikey Garcia.

PC: You not only like to focus on what the fighters have to do to prepare for these fights, but you enjoy the chess match being played between the trainers as well. You are a great trainer in your prime and so is Robert Garcia. How do you gauge him as a trainer?

DJ: I think he's great, man. You have two of the top guys in the world going head to head against each other, so we will see who comes out on top.

PC: You obviously have a close relationship with Errol, but Robert is not only Mikey's trainer, he's his brother as well. If the heat gets turned on, do you feel like that would force his hand to pull the trigger quicker or do you think being that they are siblings, he would let him take a little more than what a regular trainer not related would?

DJ: Well, listen, all I gotta say is he has to be smart and be intelligent about how long he's going to let the fight go. When Errol gets in his groove and his niche, he sorts that out in the first round. These two fighters probably have the greatest land percentage in boxing right now, but Errol is better because he throws more punches. So we'll see, man. I think that the brother may...he loves his brother (laughing); he'll do the right thing. That's all I gotta say.

PC: Is there any fight in particular of Mikey's that you are focusing on, and if so, you don't have to reveal, I just wanted to know if you are studying a fight in particular?

DJ: I don't think he's ever looked average. He's really a great fighter. I think I just have to watch his body of work and everything that he's done; his greatness. He is a 4-division champ. The thing about it is he moved up to fight the 140-pound champ, moved right back down and fought the 135-pound champ...he's been rolling, man. You can't deny it. The funny thing about it is the issue he had with Bob Arum and Top Rank did not slow him down. That shows how good the guy really is. I'm looking forward to the fight.

PC: It was a big deal when Errol fought Carlos Ocampo in Frisco, Texas. Now he's fighting in Jerry's World on pay-per-view. To see him grow and become the star that you knew he could be, could you describe the feeling?

DJ: I think it's great, but for us, we really don't get caught up in that because we see the flashy lights in front of us, but it's about being focused. We're only there because of what we've been able to do and the consistency that we've been able to have throughout each fight. We can't get caught up in that. We love it. You can't imagine it, and even when you imagine it, it can't be as good as it is right now. But you can't focus on that because you have to live up to your full potential in order to continue to be successful.

PC: There was some concern that at some point in Errol's career, it would become problematic finding opponents for him. You assured me that if he kept winning, eventually guys would want to face him. Mikey Garcia had no issues calling him out. Manny Pacquiao said he is willing to fight him. Why were you so confident that eventually guys would need an Errol Spence fight to advance their careers?

DJ: I think what it is, he is a very attractive young man, very likeable, he's always smiling, and he goes into these fights and he doesn't talk trash. People say, "He needs to talk more." No, he doesn't; he just needs to continue to be consistent. He just has to go in there and do what he's been doing and those fights will happen. It's just like with Ray Leonard, just like with Oscar De La Hoya, when you get the women involved in boxing, that's when you become super successful and a big-time champ. Some of the other guys weren't able to capture the women's attention and their ceiling was only so high. Those guys could only cater to one group of people. I think Errol is capable of grabbing the attention of a wider audience.

PC: Obviously Mikey must put on weight to move up two divisions to face Errol, but there have been some photos of him and he's adding a lot of muscle. What's your take on the muscle gains?

DJ: I think it's good for him. I put it like this, if he believes it's good for him, I believe it's good for him. Whatever he feels like he needs to do to be successful. They have done so many things in the past and they have been successful, so I can't question anything that they are doing now because they have had success. My thing is to continue to focus on my guy, our situation, because we gotta keep building and keep him sharp and his power crisp.

PC: You always tell me that you are in search of the perfect fight from your guys. What would a perfect fight look like to you on March 16th?

DJ: I put it like this, every fight that Errol fights from this point on, I'm going to need the perfect fight because these guys are bringing that type of fire. This means he's gotta focus more, this means he's gotta be better at what he does; this is high level. This is like playing in the Super Bowl every time he fights. These guys he's fighting now, he has to be 100% to beat them. Imagine playing in the Super Bowl every time you go out to perform. Errol knows this and the guys he's fighting know this. He has delivered this far and he will continue to deliver.

PC: I appreciate the time as always, best of luck to you guys, and I will definitely be getting camp updates. Is there anything else you want to add before I let you go?

DJ: It's beautiful right now. We will just stay focused. I will stay on top of my game, keep my guys right, and continue to work out and keep my fitness up so that I can keep up with Errol. This guy goes 100 miles an hour and my focus is to keep up with Errol and keep pushing him. Jermell [Charlo] will be coming in mid-camp and we can get everything poppin, man.
[ Follow Percy Crawford on Twitter @MrLouis1ana ]