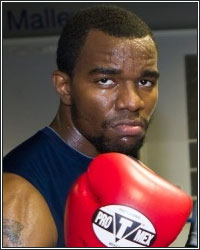 "I wanted to let FightHype know that I'm making the move to light heavyweight. I think there's more opportunities for me up there. I'm dormant at 68. It's not that my body can't make the weight anymore; there are just no big names. Who am I going to get some real money with," stated former super middleweight contender Jesse Hart, who talked about his decision to move up to the light heavyweight division. Check it out!

PC: I heard you got some news for me. What's up with you, my man?

JH: Ah man, a lot of things been happening under the radar, but business is coming together, and I know for me, the best fights that can possibly get made are getting made. I wanted to let FightHype know that I'm making the move to light heavyweight. I think there's more opportunities for me up there. I'm dormant at 68. It's not that my body can't make the weight anymore; there are just no big names. Who am I going to get some real money with? Canelo is moving all around and he's over there with DAZN. Most of the guys at that weight is at DAZN. Nobody moving from 160, everybody staying down there, so it's like, let me try and make some money. I need some money. Time is of essence. I'm 29 years old. It's time. Top Rank has 3 of the 4 champions at light heavyweight; Artur Beterbiev, Sergey Kovalev and Oleksandr Gvozdyk.

PC: I actually thought you were calling me to call out Dmitry Bivol, who seems to be coming down to 168.

JH: Man, he's not going to generate no money in the super middleweight division. He can't speak English well, he's from Russia…I mean he's on the rise. I would definitely fight him if that fight presents itself. I'm not ducking it. My body has to mature into the light heavyweight division. I have to put on some muscle. I know what I have to do. I just don't want to put on weight. I want to do it the proper way. My power is not generated up there, but that don't mean nothing. I want to go up there and win. I want to do it like, Roy Jones did against John Ruiz. It was calculated and well planned. That's the way I want to put the 7 pounds on.

PC: Have you started taking the steps towards adding muscle or are you waiting for a date?

JH: I actually got a June date. June is what we're looking at to make our light heavyweight debut against a big name. I started training already for that.

PC: What would you say to the people that feel you should take a tune-up at that weight first?

JH: I'm 29 years of age. I'm not looking to be in the sport of boxing that long anymore. I've been doing it since I was 6 years old. It's time to start planning out the next chapter of my life. I know I'm not going to get the money that I need to do that if I'm fighting a tune-up. I need some names that's going to ring some bells. I need that title and I need big money. I'm not just doing it for myself. I'm doing it for me, I'm doing it for my daughter to secure our future. Now, 68 is still available. I haven't outgrown that weight class. I could still make 68 with my eyes closed, but it would have to be a big opportunity that presented itself. The light heavyweight division has big opportunities and it had presented itself to me. Last week I was in the Top Rank office with Bob and Carl and all of the guys were telling me, "We got a lot more opportunity up there at light heavyweight." A very good businessman that works at Top Rank by the name of Harrison Whitman told me that there are a lot of opportunities up there. I don't want to wait no longer. I'm not interested in tune-up fights.

PC: You bring good height and reach to the division, but what are some of the in-ring things you feel you have to bring to be successful at light heavy?

JH: Generating that same power that I generated at 168 pounds at 175 pounds. That's what I want to do. Bob Foster had the height and range, but he wasn't able to generate the same power at heavyweight. He was knocking guys out at light heavyweight and nobody could beat him, but when he made the move to heavyweight, the power wasn't the same because he didn't put the pounds on right and he couldn't generate the same power. That's the kind of plan that I'm aiming for. It may take some time. When Roy Jones fought James Toney at super middle when he was coming from middle, it wasn't the same power. He had power but it wasn't the same. It took him time to grow into that. Even when he was fighting at 68, the 75-pound Roy Jones had to take some time to generate his power. He didn't have the proper guidance as far as his strength and conditioning like when he has Mackie Shilstone when he moved up to heavyweight. I want to be able to generate my maximum power at 175-pounds and be just as strong if not stronger than those guys. Bernard Hopkins' when he made the move to fight Tarver at light heavyweight, he went with, Mackie Shilstone. They put the pounds in the proper places, so he could generate the power to hurt those guys. We are going to see if I can do that. I believe I can, my trainer believe that I can, and my dad believe that I can.

PC: I think those are all good examples you used, but also now, science is on your side and we have so many resources to utilize in weight gain and loss.

JH: Right! I think that's the best thing in my era that I have to my advantage; science. To be able to dissect the human body. We went to a health specialist as far as weight gaining and the guy said that I have the height and my frame. My back is wide, so I can put on the proper pounds to move to light heavyweight, but I have to do it strategically to not slow the speed of my punches down. We are doing all of these things and seeing these doctors. He said in about 2-years my bone density will hold the weight when I put it on. See, right now when I go for a run, I lose about 3 or 4-pounds. On a 4-mile run I lose 3 or 4-pounds easy. My body is not there yet. They say when you get older the weight is supposed to sit on you. When I make the move, I want to go up there and be a winner. I don't want, "Well those guys were bigger than him." No… I walk around at 180. I go for a run and it comes off. It's a scientific fact, muscle weighs more than fat, so now it's about putting on the muscle, but doing it strategically so it doesn't take away my speed. I'm used to being in the gym 3-times a day when I'm preparing for a fight and now, they say we might have to miss a workout or two.

PC: The best recent example is Andre Ward. Is he someone you will reach out to and maybe get some pointers from?

JH: Absolutely! Mackie Shilstone seems to be the name that comes up every time these guys moved up and had success. So maybe I have to look at that as an option. He helped Spinks beat Holmes and Roy beat Ruiz. He's just a guy that knows the science of this. I will definitely reach out to Ward and get all of the information that I can. I'm anxious to see how I feel. I don't want tune-ups though. I believe Ward took some tune-ups. I want to jump straight in the fire. I told you from the beginning, Perc, I didn't get in this thing for wins and losses and to protect a 0. I'm not ducking no work.

PC: Good luck in June. I hope your transition to 175 is a smooth one. We will definitely follow the journey up. Is there anything else you want to add?

JH: I want to thank FightHype for always getting my interviews and putting it out there. All of the news I get I always give it to FightHype. Thanks to you, Percy. You're my man. You already know. Tune-in in June and watch the best of Jesse Hart!
[ Follow Percy Crawford on Twitter @MrLouis1ana ]