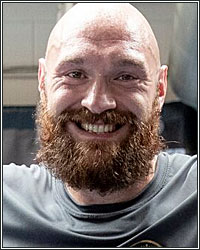 This past Monday, promoter Bob Arum may have been presiding over a press conference to hype a small, disappointing fight between his new acquisition Tyson Fury and unknown, unheralded Tom Schwarz, but he was thinking big.

The aged/ageless promoter thought aloud about the heights of fame and glory he could bring to "The Gypsy King" in America.

"In talking to Tyson Fury, I realized I could do for Tyson what I did for George Foreman," Arum said." George Foreman, you remember, had a great career. He took 10 years off. He came back, he was a minister, and he set the world on fire, the boxing world, the sport's world, and the public; not only with his ability, but more than that, with his charisma, and he became larger than life. Endorsements came one after another. Finally, with one endorsement, he hit the jackpot, and that was the Foreman Grill, which he sold his interest for almost a quarter of a billion dollars. I realized that he [Fury] will mesmerize the U.S market. As far as his boxing ability, he has the ability. That'll take care of itself. He has a trainer that will be able to prepare him for his fights. But as personality, he will take America by storm. Not only does he have behind him the biggest sports network in the world ESPN, which has five channels in the U.S alone 24/7, feeding the public sporting events, talks about sports, he'll be a feature on ESPN. But ESPN is a subsidiary of Disney, and he will have the entire Disney organization behind him. That means he will be booked on our late night shows on ABC with Jimmy Kimmel; millions of people watch it, because we are not just satisfied with making an impact with Tyson just with the boxing fans or just with the sports fans. We want the public at large to know him, care for him, to listen to his story. We think when that happens, he will be the most famous athlete in the world. That's our goal. There's no question that [Fury vs. Schwarz] will be sold out. It'll be a sellout."

And…deep breath…

Now, Mr. Arum, splash some water on your face and have a seat.

Tyson Fury will never be a mainstream star in America and there are plenty reasons for that, beyond the fact that, unlike George Foreman, Fury is a pretty dull fighter when pulling off his usual "I really am a slick boxer" routine. Just as Americans never flocked to see a 6 ft. 6 mountain of a man in Wladimir Klitschko pick, paw, and clinch his way to victory, neither will they fall all over themselves to see a 6 ft. 9 behemoth play-act Muhammad Ali against smaller men.

But, okay, maybe Fury can win over the casual fan and casual-curious mainstream sports follower with his mic skills. After all, he does have a generous dose of charisma and a tremendous gift for gab. He could totally talk his way to stardom and Jimmy Kimmel appearances—oh yeah, except when he's going off the deep end and talking about people being "brainwashed by all the Zionist, Jewish people who own all the banks, all the papers all the TV stations" or calling transgender people "freaks of nature" and equating homosexuality to bestiality.

Surely, Disney would eagerly stand behind a prizefighter who publicly questions the sexuality of his opposition. Like, when the future beloved superstar said that "Wladimir [Klitschko] swings both ways…For those that don't know that, I can confirm it now."

But even if Fury is a choir boy, talking nothing but quaint Irish quips wrapped up in an endearing accent, he still said all of the above, not too long ago, and it won't take too long before someone in the mainstream media brings that nonsense out in the light.

Arum and new broadcast home ESPN, which reportedly spent around $100 million to sign the lineal champ to a multi-fight deal, will also have to deal with Fury's history of mental illness and substance abuse, which, in the very recent past, cost him his belts and almost his career. Neither problem is an easy one to kick and relapses are common.

Nope, superstardom is not in Tyson Fury's future. The best Arum and ESPN can hope for from Fury is an energized base, scores of headlines for the boxing media, and maybe some casual-curious fans peeking in every once in a while. That's not bad, but it ain't "George Foreman Grill" fame.