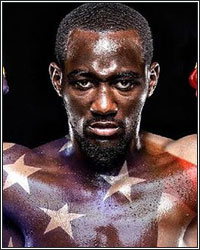 It's a testament to the growing health of the American fight scene that this annual Fourth of July list of the USA's best boxers was harder than ever to put together with plenty of room for "so and so" should've made this list" debate.

But, without further ado, here's my all-American top 10.

1. Terence Crawford (35-0, 26 KOs)

No, I don't have Crawford at no. 1 in my welterweight divisional rankings, but here he is no. 1 overall. How? Because he ruled at 135, cleared out the junior welterweight division, and has dominated against the best available opposition at welterweight. Crawford has proven himself to be supremely skilled, versatile, and the all-around most complete fighter in the world today.

2. Errol Spence Jr. (25-0, 21 KOs)

Spence is one of the most complete offensive fighters in the game and a case could be made for declaring him THE best offensive fighter. To go along with a tighter than tight offense, the 29-year-old has an underrated ring IQ and the kind of patience that goes hand in hand with being a fighter with supreme confidence in his own abilities.

3. Mikey Garcia (39-1, 30 KOs)

Garcia was dominated in his recent bid to challenge Errol Spence at 147, so we can conclude that Mikey is not an elite player in the welterweight class (although a win over Danny Garcia in an upcoming clash could earn him a top 5 ranking in the division). However, nobody can take away what the Mexican-American had done at 126, 135, and 140 before his move up in weight. The ability, mindset, and skill set is still there even if he was bested by, arguably, the best welterweight in the world in a move one division too high.

4. Deontay Wilder (41-0-1, 40 KOs)

A draw with Tyson Fury and a blowout win over Dominic Breazeale didn't hurt Wilder's standing as a top five American fighter since last year's rankings, but they also didn't help. Wilder's 2017 win over Luis Ortiz is still fueling this top four placement and a win over the Cuban in a scheduled rematch will still matter, but not as much a clear win over Tyson Fury and a demolition of the Andy Ruiz-Anthony Joshua rematch winner.

5. Andy Ruiz Jr. (33-1, 22 KOs)

How could you not give Ruiz an instant top 5 ranking after pulling off the unthinkable upset against UK money machine Anthony Joshua? Ruiz showed some legitimate high-end skills and grit against his heavily-favored foe and made history by becoming the first-ever heavyweight champion of Mexican descent. A win in the rematch will cement his legacy and likely push him further up these ratings.

6. Keith Thurman (29-0, 22 KOs)

Despite looking mega-vulnerable in his comeback bout against Josesito Lopez this past January (and almost getting knocked out), Thurman deserves this no. 6 spot because of his previous body of work which saw him score victories over high-end names such as Danny Garcia and Shawn Porter. A win over Manny Pacquiao in their upcoming July 20 clash will likely push him right back into the top three, right into the slot lost due to injury and inactivity.

7. Gary Russell Jr. (30-1, 18 KOs)

Few are as skilled as Russell and even fewer are as talented. But a once-a year fight plan since 2015 has seriously hurt his brand and his standing among fight fans. It's hard to appreciate a fighter who rarely gets into the ring and who, generally, has not faced a high level of opposition when he does grace the boxing world with his presence.

8. Jermall Charlo (29-0, 21 KOs)

He can box and he can punch, but has graduated from some brutally dominant performances in the not-too-distant past to a pair of uneven performances against Matt Korobov and Brandon Adams in recent outings. Recently promoted by the WBC to full champ status in the middleweight division, the 29-year-old Houston native has to up his level of opposition – or at least look good beating lesser foes—if he wants to increase his profile.

9. Shawn Porter (30-2-1, 17 KOs)

Recent wins over Yordenis Ugas and Danny Garcia prove that Porter is more than just a tough guy who brings tough losing challenges to elite-level foes. A proposed main stage bout against Errol Spence would give the 31-year-old an instant rise to the top three of this list and, likely, top dog status in the welterweight division.

10. Julian Williams (27-1-1, 16 KOs) / Tony Harrison (28-2, 21 KOs)

A cop-out draw in the no. 10 slot, it's hard to choose one junior middleweight over the other, so why not list them both together? Williams turned in a tremendous performance in beating Jarrett Hurd this past May for the IBF and WBA belts. Meanwhile, last December, Harrison boxed beautifully in beating Jermell Charlo for the WBC title.