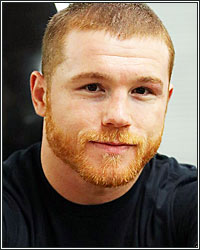 How's this for news from Boxing WeirdWorld:

Gennady Golovkin, who was stripped of his IBF middleweight June of last year for not fighting mandatory challenger Sergiy Derevyanchenko, might now be facing Derevyanchenko for the belt vacated by Saul Alvarez, who refused to fight mandatory challenger Derevyanchenko.

WTF?

Alvarez has yet to be officially stripped of his IBF belt, but the Jersey-based sanctioning body issued a purse bid order for Saul Alvarez- Sergiy Derevyanchenko on July 23 which all but guarantees that the Mexican middleweight champ will vacate his title.

Last year, Golovkin was stripped of the belt for fighting Vanes Martirosyan and not revisiting the challenge of the mandatory Derevyanchenko later. Derevyanchenko would then go on to lose to Daniel Jacobs in a bout for the vacant title. Jacobs, of course, would then lose to Alvarez in a title unification bout this past May.

And just before Jacobs lost to Alvarez, Derevyanchenko beat Jack Culcay in an IBF eliminator for the no. 1 ranking to an opponent who most everyone knew would never fight him—Jacobs because he had already beaten him and Alvarez because he was Alvarez and, presumably, would have bigger fish to fry.

As things turned out, Alvarez DOES have bigger fish to fry and is still negotiating a September 14 outing against Sergey Kovalev, Jaime Munguia, Demetrius Andrade, or, if dragged kicking and screaming into negotiations, for a part three with Gennady Golovkin.

Golovkin as the IBF's no. 3 contender (the no. 2 slot is currently vacant), meanwhile, will get Derevyanchenko and a shot at regaining a world title belt if he doesn't get Alvarez.

If Golovkin gets another crack at Canelo or simply opts out of a Derevyanchenko title bout, then there will be a bit of a mess to slosh through as a "highest ranked available contender" scenario plays out for Derevyanchenko and unappealing alternatives such as Kamil Szeremeta, Patrick Wojcicki, and Esquiva Falcao come into play for the B-side of the title try.

"The IBF is just following their guidelines and bylaws," Derevyanchenko promoter Lou DiBella recently told RingTV. "Sergiy won the eliminator [against Culcay] and we haven't heard a word from Golden Boy. Canelo is going to do what he wants to do. He doesn't have an interest in fighting Sergiy, who should be rewarded for following what the IBF has mandated. We are thrilled with this opportunity, if a fight gets made with 'GGG.'"

With big money flying all around at 160, it's easy to see why a fighter like Derevyanchenko gets stepped over, stepped around, and generally disregarded. And with the IBF championing his cause so fervently, it's also easy to see why fighters such as Golovkin and Alvarez are willing to get stripped or vacate rather than comply with deadlined orders to fight him.

At least the IBF is not just making up lesser titles for their more unappealing challengers like the other three sanctioning bodies routinely do. There's no interim belt for a guy the actual champ won't face, ala the WBC, for example. There's no "regular" title to be handed to someone who their "super" champ won't risk facing, ala the WBA.

But, still, Derevyanchenko getting recycled up to the top so quickly seems…off. And ditching guys like Golovkin and then Alvarez for not running to embrace his quick rise back to the top is even more…off.