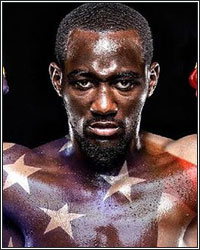 One full week after the fourth of July, I'm still scrubbing the red, white, and blue body paint off my big, bulging sack and brushing aside those annoying sparkler ashes. I'm also still hearing angry feedback about my annual Magno's Top 10 American Boxers list. So, let's dedicate this particular column this week to all things American and patriotic.

Where's Boo-Boo?

Paul,

List is ok, but an insult to Demetrius Andrade...You must be a PBC homer...

No one on it 6-10 should be ranked ahead of Andrade except for maybe Russel...Tony Harrison??? Is that a joke? Harrison got knocked out by Willie Nelson who Andrade brutalized!

J Rock? Jermall? Haymon wouldn't let any of those 54's go near Andrade which is why he had to move up to 160 where coincidentally none of the top guys want to fight him there either!

Andrade clowned Porter and Thurman as an amateur, and both of them have frequently state how good they think Andrade is...He is a Crawford level talent who was stuck with awful promoters for the first 9 years of his career...

-- Rob

Hey Rob.

I like Andrade and respect his skills. I've also championed his cause for years, telling the world that he has the ability to become maybe THE best fighter in the world. BUT he's never come through. Blame management and promotion if you like, but the truth of the matter is that he's yet to fulfill his promise and rarely manages to look next-level, elite-level impressive even against second-tier guys. I can point to bits and piece here and there where he's shown flashes of being fully actualized—like in parts of his bout with Willie Nelson—but he's never had a really defining performance and that can't be laid at the feet of bad management. He's 31 years old now, about to start on the down side of his physical prime, and time is not on his side. At this point, we have to come to terms with the fact that Andrade is who he is and will give us what he gives us-- he'll do just enough to win while keeping himself safe.

As for other fighters ducking him, well, I can only base a ranking on what actually happens in the ring and not on what might've happened, could've happened, or should've happened. Tony Harrison's win over Jermell Charlo—as controversial as it was—trumps anything on Andrade's resume. That's just reality. No favoritism here. I'd happily rank Andrade on this list (as well as Tank Davis and a few other talented American fighters) if they had the quality wins to deserve placement.

Thurman Nut-Hugger?

Magno, you got to be kidding me. Keith Thurman is number 6 on your top 10 American fighters rankings? Really? Tell me how that happens? The guy was inactive for two years and then gets rocked by Josesito [Lopez] when he does come back and he gets ranked ahead of Tank [Gervonta Davis] and Boo Boo [Demetrius Andrade]? I never took you for a Thurman nut-hugger.

-- Clyde

Hey Clyde.

You must be new around here. How anyone can read my body of work and even insinuate that I'm a Thurman "nut-hugger" is a head-scratcher. If anything, I've been extra hard on him over the years because I recognize the potential he has. But, again, the rankings for me are about what has actually happened and not what might've, could've, should've happened and Thurman's resume deserves a placement on this list if he's active. Wins over Porter and Garcia carry a lot of weight, even through the inactivity and struggles with Josesito, and if he beats Pacquiao this July 20, he could be lining himself up for a return to the top 3 on next year's list.

Still no USA Love

Hey Magno.

I got no issues with your American top 10, although I can't say that I agree with all of it. I might make some tweaks here and there, to be honest. My bigger issue is why there's not one single American fighter really making it big and taking over for Mayweather as the face of the American fight scene. Is it just that boxing is not that big anymore and will never produce that kind of star again? Is the Euro love from American fans overshadowing homegrown fighters? I think it's important to have at least one star out there in the mainstream repping the sport, but all we got now is a lot of solid fighters who nobody pays any mind to outside of us hardcores.

-- TL

Hey TL.

It has to be a "boxing thing." For the longest time, the lament was how American fighters weren't entertaining and how they were all boring stylists. That's certainly not the case anymore. There are plenty of high-end American fighters who put on brutally beautiful performances on a regular basis. Deontay Wilder's lack of mainstream love as the type of big-punching, trash-talking heavyweight champ the American public generally used to adore, is especially puzzling. The Euro-thing may siphon off some juice, but I think there's room for Americans to engage in Euro-love and still support their own guys. I believe the issue is the lack of exposure boxing has to the "real world" sports fan because of all the paywalls and subscription nonsense being embraced. Truly transcendent figures like Mike Tyson and Floyd Mayweather weren't held back by paywalls, but those types of figure only come along every once in a while. For great fighters without huge personalities, exposure is key and if the public can't see their exploits, they generally won't care. The damage has been done already and the mainstream just isn't looking for boxing anymore. For many, that combat sports spot in their short-attention minds has already been filled by the UFC.

It's frustrating that boxing still doesn't get that making fights free and easily accessible is the key to building mainstream interest and to rebuilding its own dwindling base. But, what the hell can I do but just keep harping on the issue?

Got a question (or hate mail) for Magno's Bulging Mail Sack? The best of the best gets included in the weekly mailbag segment right here at FightHype. Send your stuff here: paulmagno@theboxingtribune.com.