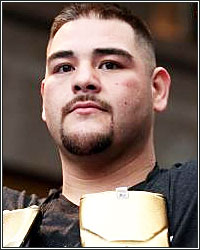 When Andy Ruiz was a teenager, he attended a boxing show with his father in Mexicali, Mexico—a town just a literal stone's throw from his own hometown of Imperial, California across the US-Mexico border. When word got around that the pudgy kid with the easy smile and shy demeanor was an upcoming amateur prospect, he was targeted by some thugs, followed to a local eatery, and beaten with a lead pipe.

"Come on, Gordo, let's see how tough you are," they shouted as they beat him, turning his head and face into a grotesque, bloody mess.

To his credit, Ruiz never went down, never collapsed under the attack. It was a sign of the stubborn pride in his spirit that showed itself again when he rose from the canvas to stop the heavily-favored Anthony Joshua at Madison Square Garden many years later.

Ruiz's mother, amid the triumph-driven chaos in the days following her son's shocking upset of Joshua for the IBF/WBA/WBO belts, re-told that story to media assembled to report on the unlikely new king.

It was a reminder that things had never been easy for Ruiz and that, behind the exuberant celebrations and embracing of this life-changing conquest, there's still a whole lot of humanity inside of "The Mexican Rocky."

And while the human spirit can be strong, human nature is sometimes weak.

How could Ruiz not be affected by all of this that's been happening to him? Just about six weeks ago, he was an anonymous pug, cut loose from a promotional deal and barely able to scrap together enough boxing money to get by. Thoughts about giving it all up to find a "real" job ran through his mind before he successfully pled his case via Instagram to Joshua promoter Eddie Hearn to serve as a replacement for Joshua's original opponent Jarrell Miller, who tested positive for a banned substance and was refused a license by the New York State Athletic Commission.

Now he's got seven-figures in his bank account with the promise of much more in the future. He's been on the Jimmy Kimmel Show, he's thrown out the first pitch at a Dodger's game, had a parade thrown in his honor in his home town, and even got brought into Mexico as the first heavyweight champ of Mexican descent, given the hero treatment by Mexico's President Andres Manuel Lopez Obrador.

Riding in the back of an Escalade limo, decked out in bling, to the ESPY's at the Staples Center, where he would win the Upset of the Year award, it's clear that the life that once was, isn't.

"I want the rematch to be in Mexico or New York City again, Las Vegas or here at the Staples Center," Ruiz told TMZ, just outside the ESPN event.

And when the TMZ reporter pressed on what would happen if Joshua balked at this demand, he was clear

"It doesn't matter because I'm the champion, I call the shots. We're the A-Side now."

That's a telling quote, even if it's brief and shot out there while signing autographs in the rush before a network show.

When fighters start talking "A-side," it generally means that someone has gotten into their head with wide-eyed business talk and "you call the shots now" bravado.

Sometimes, that talk is well-founded and reasonable, but it's never a good sign when it comes to where the fighter's head is at and/or how easy it's going to be to do business with him in the future.

In Ruiz's case, the "A-side" talk is not well-founded since the "A-side" is not determined by belts, but by money—and the money is still with Joshua. Also with Joshua is the rematch clause contract, which if industry-standard for such a thing, allows for the true "A-side" to set many of the conditions under which the rematch is fought. If Joshua's rematch clause doesn't lay out choice of venue among its demands, then Joshua's people were negligent in planning out these details.

Ruiz may be in a position to set terms and conditions if he beats Joshua a second time, but not right now. Going to war in negotiations over the unavoidable control of Team Joshua will result in either him being dragged, kicking and screaming, to Joshua's terms or being stripped of his titles for failure to fight. It may not be fair-- because he IS the champ now-- but who ever said boxing was fair?

Ruiz seemed to understand all of this—before the weight of this whole thing settled on him and "yes men" and opportunists started whispering in his ear. He talked of fighting Joshua again, anywhere and anytime. And that no matter what happened—even if he lost—as he told reporters shortly after he scored his upset, "we can have another fight and it can be a huge trilogy."

Obviously, this is not where his head is at right now.

Is this recent change in tone from Ruiz an indication of a fundamental shift in the good-natured man's good nature? With Ruiz's humility came an earnest drive to prove the doubters wrong and affirm that he was, indeed, somebody special. But, without that humility, will that drive still be there?

We'll find out the answer to all questions soon enough.