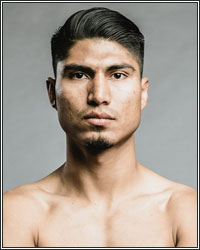 Even those of us boxing writers/pundits/muckrakers who try to stay impartial have our favorites. I'm not shy about admitting, for instance, that I'm a huge mark for Terence Crawford and Juan Francisco Estrada and I pretty much worshipped the ground Bernard Hopkins walked on. Mikey Garcia is also on my short list of personal soft spots.

But, lately, Garcia is tossing out some real question marks as to what's in his heart and soul.

Amid rumors of a bout with Danny Garcia that turned out to be just rumors, Garcia has been noncommittal when it comes to his next career move following a one-sided loss to IBF welterweight titlist Errol Spence in his 147 lb. debut last March.

The man whose "daring to be great" tagline was repeated by just about every boxing website in the days and weeks prior to his Spence bout, is now barely daring to be active. His public reasoning for this matchmaking constipation is that he's looking for true legacy-defining challenges but, of course, it looks like it's more about looking for the biggest paydays.

"I've had some offers for some fights, but I'm waiting to see if I can get something bigger," Garcia recently told media. "I want to take on some big challenges. So if I can land something big, possibly a Manny [Pacquiao] fight early next year, that's what I would really push for, but we got to wait to see if he's available. If not him, I'll take on somebody else. But I will be back for big fights. That's what I want to give everybody. Good night to remember fighting the best, and I really look forward to it. Big things are coming. I appreciate everyone waiting patiently, but we will be back."

There's nothing wrong with pursuing the biggest paydays. I'm all for every boxer getting what they can while they can. There is a problem, however, if money is the ONLY consideration and the search for lucre keeps better and much greater legacy-defining fights from ever being considered.

Okay, a Vasiliy Lomachenko fight can't happen in the current business environment and, maybe, because Mikey can't realistically make 135 anymore. Garcia already tried and failed to beat 1A at welterweight and would likely fail in a bid to upset 1B Terence Crawford as well.

Pacquiao is clearly the payout Garcia wants and it offers an instant return to PPV land. But what sense would it make for Pacquiao to fight Garcia after Garcia was so decisively beaten by Spence in his last fight? Nobody is going to tune in for Pacquiao-Mikey just to see Mikey.

And maybe that's where the disconnect is right now with Mikey Garcia and the real world.

Garcia is a very interesting fighter to watch and a favorite of many old school technical/tactical boxing enthusiasts, but he's not REALLY a draw, at least not to the degree that he apparently now sees himself. And, let's be honest here, he's also no welterweight—at least not one who can claim elite-level status.

The only way Garcia—as someone now too big for lightweight, but too small for welterweight-- establishes that legacy he claims to crave is by taking on some of the less lucrative, but more challenging young talent now sitting atop the junior welterweight division.

140 has a trio of young talent just reaching their primes as 1, 2, and 3 in the division. Regis Prograis, Josh Taylor, and Jose Ramirez—in no particular order—are the types of young, hungry talent Garcia should be facing if the goal really is a legacy-defining challenge and not just the best available payday.

Beating one of the top 3 at junior welter would mean something to those who value Garcia's ring work the most and also to those who take things such as career legacies seriously. Mikey chasing after casual fan attention via "big name" opposition courts those who generally don't know or care about the man and those who probably think poorly of him now after a failure to put up much of a fight against Spence.

The Spence fight was Garcia's chance to try and be the big shot. He couldn't make it. Now, he needs to go back to being who he is and doing what got him to the top of the sport as the purist's delight and the fighter "real" fight fans enjoy watching.

"I've already accomplished a lot; I've already been champion in four divisions. I'm looking for the biggest challenges," Garcia told Sporting News prior to the Spence bout. "I'm looking for greatness…Fighting another undefeated champion in a different weight class, it just has all the ingredients to give me the respect, give me the credit, give me everything…and build to my legacy and that's what I really want."

So, let's do it. Let's have Mikey Garcia doing Mikey Garcia things against realistically competitive opposition for the enjoyment of real fans.