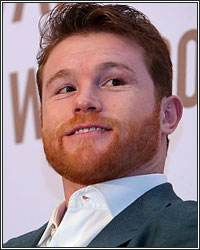 If Saul "Canelo" Alvarez had simply given him what he wanted, none of this would've happened.

Gennady Golovkin wanted a third fight with the Mexican star—a second rematch to once again try and settle a grudge that he and his team conjured up while in pursuit of a monster payday. He even signed on, at least in part, with streaming service (and Canelo home base) DAZN to get that opportunity to avenge himself after a draw and a loss to Alvarez in his first two tries.

But 3-belt champ (at the time) Canelo refused to revisit a third "Triple G" bout, opting to explore a move up in weight to challenge WBO light heavyweight champ Sergey Kovalev, then attempting to negotiate a bout with IBF mandatory challenger Sergiy Derevyanchenko, and finally settling back on Kovalev when talks with Derevyanchenko broke down and the IBF belt was stripped from him.

Canelo's maneuverings put Golovkin in a tough spot where the only in-house 160 lb. championship options left to him were an unappealing stab at taking the now-vacant IBF title against a Derevyanchenko, who offered too much risk for too little reward, and a roll of the dice against the stylistically difficult WBO titlist Demetrius Andrade. It was probably the first lose-lose proposition ever passed before Golovkin in his red carpet ride career and, predictably, the lose-lose resulted in a loss.

Technically, "Triple G" scored a win over Derevyanchenko in their Madison Square Garden war this past Saturday and took hold of the IBF belt in the process, but it was a very disputed unanimous decision win that many (if not most) observers scored in favor of Derevyanchenko.

The controversial win now puts Golovkin and his team in a tough spot.

With the public clamoring for a rematch with Derevyanchenko and a trip back into the high-risk/low-reward vortex, Golovkin still clamoring for Canelo comes off as hollow—especially since Canelo is ambivalent, at best, about facing Golovkin again and is now writing him off as someone who "no longer poses any challenge."

What remains for Golovkin is a mine field of high-risk bouts. There's a rematch with Derevyanchenko in a revisiting of their everyone-goes-to-the-hospital war. There's Andrade, who, even in defeat, could make Golovkin look bad. There's also a move up in weight to 168—something he's forever been reluctant to do—against the stylistically problematic Billy Joe Saunders and the tougher-than-tough Callum Smith. Team Golovkin, at every post-Derevyanchenko turn, has tried to wedge IBF mandatory Kamil Szeremeta into the conversation as a next-fight possibility, but taking that fight would bring a tidal wave of negativity to a Golovkin who was already bathed in boos by a partisan pro-Golovkin crowd at Madison Square Garden following Saturday's unpopular decision.

Canelo, meanwhile, should be earning some good public relations karma in taking a challenge like Kovalev. Even by choosing the big Russian on the downside of his career and sporting some stylistic disadvantages, Canelo is still taking more of a risk than Golovkin generally does in his bouts. And, like him or not—and I've been plenty critical of him at various points of his career—Canelo has taken on significantly more risk in his career than Golovkin has. So, this, along with the fact that he's already fought Golovkin twice, makes the whole "Canelo is scared of GGG" narrative kind of laughable and somewhat pathetic.

Golovkin's unlikely to make it through the remaining fights of his DAZN deal without being beaten, beaten up, and/or greatly diminished in terms of legacy. Canelo, on the other hand, pretty much controls his own fate and has a world of options open to him. If both careers ended now, there would be no question as to who had the last laugh in their feud.

Golovkin only has himself to blame for being in this predicament, though. It could've been him moving up to fight Kovalev or tackling one of the more difficult stylistic matchups available to him. Instead, bursting with his characteristic sense of entitlement, he chose what seemed to be the path of least resistance in Derevyanchenko, but found a roadblock there, instead. Now, there appears to be no way out of the deadly detour Canelo helped push him into.