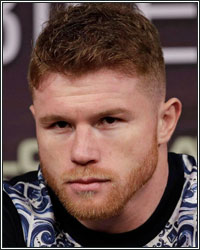 Who's next for Saul "Canelo" Alvarez in his May 2 Cinco de Mayo weekend fight date?

Well, the 29-year-old Mexican cash cow can fight pretty much anyone he wants to. The problem is that anyone worth fighting is going to be asking for a ridiculously blown-up payday.

Blame bad business for that.

When streaming service DAZN signed Canelo to his current 11-fight, $365 million (minimum) deal, the brain trust at the wannabe "Netflix of Sports" forgot a couple of really, really key details.

First, they failed to establish some sort of quality control for their new contract player. According to Yahoo! Sports, which quoted a source "familiar" with the Alvarez/DAZN deal, the DAZN contract only stipulates that Alvarez must fight "top-level opponents"—a very vague term that leaves the entire worth of the deal up to the whims and caprices of Alvarez.

Then, they also failed to legally secure a promise from Alvarez to face Gennady Golovkin—the fight they wanted more than anything and the one that many felt would make the entire Canelo deal an in-the-black proposition.

And by failing to hammer down these details, failing to secure a risk-reward balance, they directly/indirectly opened themselves up to being financially raped by everyone approached to face Alvarez.

Every proposed opponent for DAZN's major-money superstar knows that the streaming service has no choice but to overpay for Canelo opponents because they desperately need name-value fighters for their biggest, most crucial investment.

Daniel Jacobs reportedly got a way-too-sweet $14 million deal to fight Alvarez last May and a minimum of $4 million in his next two fights. Jacobs' highest previous purse was a $1.75 million payout for his bout with Gennady Golovkin in 2017.

Sergey Kovalev reportedly earned around $12 million for his November KO loss to Alvarez—six times his highest previous payout.

Even lowly Rocky Fielding got just under $1.5 million for being thrashed by Alvarez as the Mexican's bonus soft touch opponent at the very beginning of his multi-fight contract.

Of course, this gouging of DAZN isn't helped by the fact that DAZN's lead promoter, Eddie Hearn, is also in the mix, double-dipping, negotiating deals for his fighters to face Canelo—something which, at least in theory, gives him supreme leverage to boost Canelo B-side payouts.

Given that Jacobs and Fielding are both Hearn fighters, there seems to be something to the above supposition. Then there was the rumor floated to the media from some "unknown" source that Billy Joe Saunders, another Hearn fighter, was the frontrunner to fight Alvarez next and that a deal was imminent—something absolutely shot down in a recent video interview by Alvarez promoter Oscar De La Hoya.

De La Hoya says that he'll soon be headed to Mexico to talk with his fighter about an opponent for the May 2 open date. He and Alvarez will have many possibilities to explore when it comes to opposition, but the only real guarantee as of right now is that whoever is chosen will have DAZN over a barrel and reap a career-high payday.

De La Hoya has complained in the past about fighters overpricing themselves for Canelo bouts, but who can blame a fighter for wanting an eight-digit payout when other fighters with similar drawing power are getting those kinds of paydays from DAZN?

All of this makes finding an ideal opponent for Canelo a tough job and, for DAZN, it makes finding a profit from their Canelo investment all the more difficult.