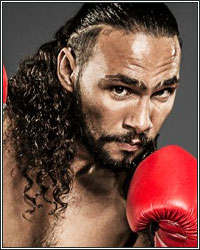 Welcome to another Thursday edition of Magno's Bulging Mail Sack-- The only online boxing mailbag column that mixes crude references to the male anatomy with sissy-hurting hard truths. This week, we have comments/questions regarding The Impact Network, PPV, and Keith Thurman's future.

Impact Network Blues

Yo Paul -

Did you see the fights on Impact Network back on the first of the month? I've seen some shitty boxing productions before, but never anything this bad. Everything from the camera work to the commentary/broadcast to the actual talent and matchmaking. [Austin] Trout did what he was supposed to do I guess, but against who? And the heavyweight bout before that was biggest joke of the night. Despite both these guys being disgustingly overweight and out of shape (tale of the tape didn't even say their weights lol), the loser of the fight had no business being in there. Yet during the post-fight interview the winner says the Heavyweight division should be on notice lmao. I tried to look up some articles about the event afterwards and there's nothing even online showing the results. Gotta be a 1 & done type deal right?

-- Daniel L

Hey Daniel.

(Un)fortunately, the plan is not to be "one and done." The Impact Network supposedly has 20 fighters signed to their network and will announce their full roster soon.

I think their God-and-boxing mix could work if they can fix their matchmaking issues and show competitive fights, even if they're at a lower level. Nobody wants to see a guy like Austin Trout pummel a guy like Rosbel Montoya, who came into their bout 1-7 in his previous eight bouts with six KO/TKO losses (that's not very Christian, btw) and nobody wants to see sweaty fat guys crudely and lazily tussle.

They have to fix the matchmaking or it would be wise to consider being "one and done."

Kill the PPV?

Hey Magno.

I see you gripe a lot about subscription services and pay walls, but you don't talk all that much about pay-per-views, which I consider to be much more of a drain on fans and much more harmful for the sport. A hundred bucks a pop for a card is obscene and it keeps lots of fans from watching the big fights.

-- Cal

Hey Cal.

Make no mistake about it, I wish pay-per-views didn't exist and, I agree, they are not helpful if the goal is to grow the sport of boxing and reach new audiences. But, in this current environment, the options seem to be-- Showcase fights on free TV/basic cable and build towards PPV events or stick everything behind a subscription paywall. I think the former is healthier for the sport. I hope one day, if boxing can clean up its act, the sport could make money without having to pass the hat to fans and make them pay twice and thrice for the right to see the sport they love. But who knows what would bring the boxing business people to that point where reform and cooperation are actual "things." Maybe a total collapse is the only thing that would bring the sport to much-needed restructuring.

Keith Thurman

Hey Paul. Any news on Keith Thurman and when he may be coming back? When he does come back, who do you see him fighting?

-- Diego

Hey Diego.

Thurman recently said that he's planning to return to the ring later this year and that a hand injury has kept him out of the ring and even away from training. So, what that probably means is a "tune-up" fight when he does return. He's also pinning the Pacquiao loss last year on "weight management" and coming into camp too heavy. According to him, he had to lose 35 lbs. in camp to make weight for the Pacquiao fight, just as he had to drop that same amount before coming back against Josesito Lopez before that.

Well, to me, all of this says that Thurman is all but done in the sport. If he comes back in the fall, that'll mean he's had two fights in three-and-a-half years-- in what's supposed to be his physical prime. A fighter doesn't do that and still expect to be an elite. With the injuries and the apparent weight issues, it just paints a picture of a guy who, maybe deep down inside, just doesn't want this boxing stuff all that much anymore. Thurman is a bright guy and it's hard to keep the inner fire burning when the brain is wandering. Fighting for paychecks will not be enough to keep Thurman present and thriving. Maybe he'll be back once a year (or so) to make some money for awhile, but if his heart's not in it anymore, he will be taken out by someone hungrier and more passionate than him.

Got a question (or hate mail) for Magno's Bulging Mail Sack? The best of the best gets included in the weekly mailbag segment right here at FightHype. Send your stuff here: paulmagno@theboxingtribune.com.