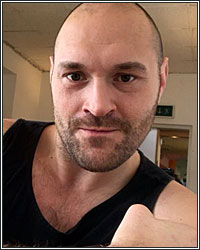 Over the last few days a story has emerged that could turn Tyson Fury's Cinderella story into a career-crushing pantsload of nastiness.

Back in 2015, Tyson Fury and cousin Hughie Fury tested positive for the banned steroid nandrolone and, while trying to explain their way back into the good graces of the UK Anti-Doping association (UKAD), the Furys blamed the positive tests on eating uncastrated wild board. UK farmer Martin Carefoot even signed two witness reports affirming that he had sold them the tainted beast.

Now, however, Carefoot has come forward and said that he never sold them any such thing and, actually, doesn't even sell that kind of meat. He claims that a member of Fury's team offered him £25,000 to lie the Furys out of trouble—a £25,000 they never actually delivered.

Carefoot's testimony at the time helped get the two out of hot water and paved the way for UKAD to issue backdated two-year bans, allowing both to continue on with their careers without any further delay. In Tyson's case, the ruling allowed him to re-start his career in 2018 and eventually fight his way to a $100 million ESPN deal and the WBC world heavyweight title.

UKAD is supposedly investigating this turn of events and if they find the Furys guilty of tampering with their investigation, could suspend the pair for eight years, thereby issuing, essentially, a death sentence for both careers.

But UKAD won't find them guilty—for the same reason no commission or sanctioning body has rushed to properly sanction any fighter who could earn them a buck.

But this article isn't about Hughie, Tyson, or either's ability to potentially get away with shades of shadiness. It's about fan and media double standards when dealing with certain fighter favorites.

Personally, I don't trust Tyson Fury as far as I can throw him. I don't buy that he donated his whole Wilder 1 purse to the homeless, I don't buy the story of him giving his shoes to a homeless guy, and I don't buy into much of the mythology built around his character since he beat Wladimir Klitschko. I don't even take it for granted that Fury's path to salvation through mental illness and addiction wasn't just a road around taking full responsibility for failed PEDs test and pissing positive for cocaine.

But while I may have a critical eye when it comes to the Furys, I certainly don't use those inner doubts and outer proofs of past transgressions to bury everything they achieve and accomplish for all eternity.

A lot of fans and lamebrains in the media are not that fair-minded.

For instance, how can someone who rails on Canelo Alvarez for a dubious tainted beef excuse NOT similarly rail on Tyson Fury for his tainted uncastrated wild boar excuse? If Canelo is forever a cheat for having tested positive for a banned substance and a scoundrel for having used his power and connections to get off with light punishment, then why isn't Tyson or Hughie forever scoundrels for doing the exact same thing?

The capacity for double standard acceptance in this sport is absolutely jarring. And, of course, it doesn't begin and end with Canelo-Fury. There are simply too many to mention, but if you've followed the sport, you've seen plenty. There's Floyd Mayweather's virtual lynching for domestic violence vs. the canonization of other fighters with much more brutal histories of domestic violence. Can anyone write anything about Antonio Tarver WITHOUT mentioning that he once got popped for a dirty test; can anyone write anything about Roy Jones and Shane Mosley where they DO mention failed tests? African American fighters who employ a defensive ring style are "boring" and "afraid," but when Tyson Fury and Billy Joe Saunders employ that same style, they are "masterful" and "cerebral."

Like I said, I could go on and on.

Boxing's always going to be a subjective sport—from the scoring right down to the media reporting. But there's a difference between being subjective and being dishonest and flat-out unfair.

Good things will come when all boxing people are held to the same standards. Until then, some will try to get away with shadiness because they know there's a sizable portion of the audience totally willing to cover for them no matter what.