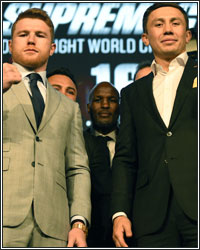 Welcome to the first-ever gander at my bulbous, bulging sack under health crisis lockdown. As I wrote in Monday's Notes from the Boxing Underground column, we're going to try and keep things as normal as possible—and that includes me answering questions and taking in hate mail, just like I do every Thursday here at Fight Hype. This week, with an admittedly small selection of correspondence from which to choose, we have comments/questions regarding Canelo-Golovkin 3, Sergey Kovalev, and a bit of hate.

Canelo-Golovkin 3

Hey Magno.

So, it looks like they're finally going to put on Canelo-GGG part 3, supposedly some time in September. I think Golovkin is done and that the freckled Mexican is going to knock him out, hard. That's probably the only reason Canelo agreed to the fight, to be honest. I got freckles in 9, how about you?

-- Mark from Jersey

Hey Mark.

I can't believe that there are still boxing fans using that "Canelo is scared of Golovkin" nonsense. Canelo fought the guy two times already—if he's trying to duck GGG, he must be the worst ducker in the history of ducks.

I think Alvarez's reluctance in going to a part 3 is 100% based on ego, hurt feelings, and heavy, heavy grudge. Alvarez simply didn't want to give Golovkin another piggyback ride to a payday and into the spotlight.

Remember, Golovkin went deep and personal on Canelo throughout the time they were tied together-- calling him a cheat, a fraud, and a coward—and never acknowledged the official result of either fight. This was personal beyond a fight-building promotion-type of personal and it probably took a pretty penny on top of Canelo's already-huge base pay to make it happen (IF it happens, because I've come to learn in this sport not to believe things until they are actually happening).

As for the fight, itself?

I agree. I think Canelo probably beats down and stops Golovkin at this point. Alvarez has zero fear of Golovkin now and is a better overall fighter since the two last met. Plus, yeah, Golovkin will be 38 by fight night and Canelo will be still in his physical prime at 30.

Can Sergey Get His Groove Back?

Paulie! I love when you call Sergey Kovalev "Triple K!" It's so fitting and so damn funny! I know he's scheduled to face Sullivan Barrera next and my question to you is whether it's possible that this drunken Russian bear actually has one more run at the top in his Vodka-infused body? Barrera is no stiff and I see him ending Triple K's comeback before it even starts.

-- Josue Campos

Hey Josue.

I'm not going to lie, seeing that racist sack of borscht get another ugly comeuppance would not be unattractive to my sensibilities. Unfortunately, we may have to wait for that since the April 25 Kovalev-Barrera card has been cancelled. Sooner or later, though, it'll be back on and then we'll see what's what.

They were set to fight at a 180 lb. catchweight as Kovalev tries his hand, safely, at a cruiserweight run. I say "safely" because it's rather chickenshit (or "careful") to make a big deal about trying out the higher weight, but opting to merely fight a light heavyweight fighting five pounds above his optimal weight at cruiser.

I agree that this is no soft touch for Triple K and that Barrera is certainly no walk in the park. There is usually a swift decline for fearsome "beasts" de-fanged and de-pantsed in front of the entire world. Kovalev was talented and skilled enough to make a partial comeback after the Ward fights, but I think that the last bit of Moscow Mojo may have been drained from his body following the KO loss to Canelo last November. He might not make it past Barrera, but if he does, he won't go much further. Stick a fork in that sorry sack of hate.

…And Speaking of Hate…

You're a real piece of crap Magno. Nobody cares about you and your stupid articles or you hanging in there with us. You're just a biased yellow journalist who is a laughingstock among anyone who really knows boxing. Get the coronavirus and go straight to hell.

-- T. Rowe

Wow, "T." So much for that "humanity is coming together during this crisis" stuff, right? Sue me for trying to be comforting and compassionate. The truth is—YOU are the one writing to ME, telling me how unimportant I am. So, clearly, I matter to you to some degree. On the flip side, though, you are of zero importance to me. Go crawl into a ditch of infected homeless people and breathe deeply, asshole.

Got a question (or hate mail) for Magno's Bulging Mail Sack? The best of the best gets included in the weekly mailbag segment right here at FightHype. Send your stuff here: paulmagno@theboxingtribune.com.