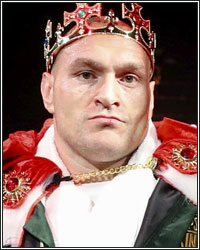 According to a recent report by Boxingscene.com, new WBC heavyweight champ Tyson Fury formally and directly relinquished his license with the British Boxing Board of Control (BBBoC) prior to his February 22 title-winning effort against Deontay Wilder in Las Vegas. This decision, in light of recent revelations, could lead one to believe that maybe the "Gypsy King" was doing some damage-controlling severing of ties…or it could simply be another example of the Irishman's hard-wired craving for independence and self-determination.

As I wrote last week:

"Back in 2015, Tyson Fury and cousin Hughie Fury tested positive for the banned steroid nandrolone and, while trying to explain their way back into the good graces of the UK Anti-Doping association (UKAD), the Furys blamed the positive tests on eating uncastrated wild boar. UK farmer Martin Carefoot even signed two witness reports affirming that he had sold them the beast.

Now, however, Carefoot has come forward and said that he never sold them any such thing and, actually, doesn't even sell that kind of meat. He claims that a member of Fury's team offered him £25,000 to lie the Furys out of trouble—a £25,000 they never actually delivered.

Carefoot's testimony at the time helped get the two out of hot water and paved the way for UKAD to issue backdated two-year bans, allowing both to continue on with their careers without any further delay. In Tyson's case, the ruling allowed him to re-start his career in 2018 and eventually fight his way to a $100 million ESPN deal and the WBC world heavyweight title."

Now, if UKAD were to poke around and find Carefoot's claim actionable (or find any other reason to re-open the case), the BBBoC, which is closely aligned with the anti-doping agency, would be forced into action. Then, if the BBBoC were to initiate sanctions against Fury, the four major sanctioning bodies (which are all associated with the British organization and, at least in theory, bound to honor any official bans or suspensions), would be put into a tight spot. The WBC, especially, would have a tough time NOT honoring a PEDs-related suspension in light of their own Clean Boxing Program.

Fury officially severing all ties with the BBBoC cuts off that potential chain of action.

Despite some past bad blood with the governing body and a previously stated desire to never fight in the UK again, Fury's move seems like a "cutting off nose to spite face" decision—until it's put in context alongside the recent allegations.

Did Fury and his team know that Carefoot was aiming to come forward with his claims? Did they do this to simply protect themselves from the storm that might've been brewing?

Ditching the British boxing license in this way could seriously hamper the ease with which a Fury-Anthony Joshua British mega-fight might be put together. So, it's hard to imagine something like this being done, with so much money in play, without there being a strategic purpose to it.

Or maybe this move was just Tyson Fury being Tyson Fury, thumbing his nose at authority and delivering a big "Fuck You" to the regulators at home who he feels rode him hard back in 2016-2018. Fury IS that kind of guy.

Until more info comes out, there's nothing but semi-informed guesses, hunches, and theories. But all of this is certainly worth a look and definitely worthy of inquiry.