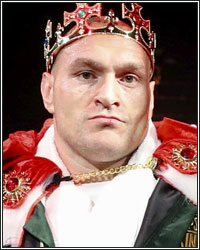 In this series, we evaluate high-end, main stage fighters and make the ultimate decision on whether they are fact or fiction-- "for real" or just a big ball of hype.

To come to this conclusion, fighters will be judged, not necessarily on skill or inherent ability, but on their overall level of opposition and the actual testing of their mettle in competitive action at the world class level.

Today, we look at current WBC heavyweight champ Tyson Fury (30-0-1, 21 KOs).

Best Performances (In Chronological Order):

Wladimir Klitschko (11/28/2015)

Fury's awkward, off-putting boxing style (and his dogged focus on his game plan) confused the long-reigning heavyweight champ and made him a tentative combatant. After twelve rounds of throwing the champ off and scoring enough to win rounds, the Gypsy King walked away with the unanimous decision to win the WBA/WBO/IBF titles.

Deontay Wilder (12/1/2018)

After a long layoff and a brief comeback effort, Fury took on the hard-hitting WBC heavyweight champ in a compelling battle of style vs. power. Despite the bout being scored a draw, many felt Fury deserved the decision. The big Irishman's rise after a hellacious knockdown in the twelfth round was a legendary moment in the bout and, maybe, the boxing highlight of the year.

Deontay Wilder (2/22/20)

The long-awaited heavyweight rematch turned out to be a one-sided slaughter as Fury battered and eventually stopped Wilder in the seventh round to take the WBC title.

The Bad (In Chronological Order)

Steve Cunningham (4/20/2013)

It was Fury's first international challenge, held at the Madison Square Garden Theater in New York. Pitted against the accomplished former cruiserweight champ, Fury struggled at times and even suffered a knockdown. Eventually, though, a mauling style, aided by a 44-pound weight advantage, wore down the smaller Cunningham and paved the way for a seventh-round knockout.

Otto Wallin (9/14/2019)

Hampered by a bad cut over his right eye suffered early in the fight, Fury did enough to win a decisive unanimous decision. However, it was hardly the showcase performance Fury, co-promoter Top Rank, and broadcaster ESPN had hoped for.

Defining Career Moments

-- His focused game plan in out-boxing longstanding champ Wladimir Klitschko.

-- His smartly physical, aggressive dominance of Deontay Wilder

-- Coming off the canvas in the twelfth round in his first go at Deontay Wilder.

The Ten-Fighter Test

There's a theory that the tenth best fighter on a boxer's resume will tell you a lot about his established body of work. If he doesn't have 10 quality opponents, then he's either still a work in progress or a protected entity. Ranking the order of a fighter's quality wins is subjective, but not too subjective. Most reasonably knowledgeable fans will be in general agreement as to who rates as a quality opponent and, more or less, where they stand against a fighter's other wins.

In Fury's case, his ten most impressive wins, ranked in order are:

Wladimir Klitschko...Deontay Wilder...Dereck Chisora...Steve Cunningham...Otto Wallin...Kevin Johnson...Martin Rogan...Christian Hammer...Neven Pajkic...Francesco Pianeta

That establishes Francesco Pianeta as Tyson Fury's ten-fighter measuring stick. For context, here are the other ten-fighter measuring sticks from previous "Fact or Fiction" subjects: Canelo Alvarez (Alfredo Angulo), Anthony Joshua (Kevin Johnson), Mikey Garcia (Jonathan Victor Barros), Vasiliy Lomachenko (Gamalier Rodriguez), Daniel Jacobs (Jarrod Fletcher), Errol Spence Jr. (Alejandro Barrera).

The Verdict

Let's not pretend that Tyson Fury's resume is deep and well-rounded. It isn't. Get past the top three or four names on his ledger and the pickings are really slim-- like almost journeyman-level slim.

But he DID beat those low level challenges and, for the most part, he's done phenomenally well against the few high-level challengers he's met.

Ending Wladimir Klitschko's decade-long run at the top of the heavyweight food chain was an impressive feat, as was the total destruction of bomb-throwing Deontay Wilder. Those two performances, alone-- despite the lack of depth in the rest of his body of work-- show that the big Irishman has cut to the front of the line of "fact."