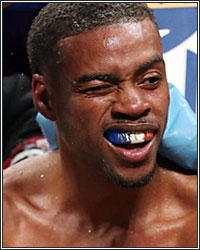 A little tinkering with style on a slow boxing news day:

Errol Spence is the immovable object in the welterweight division. But is he still immovable? That car wreck last fall moved him around and around and around. Busted out his teeth. Sliced and diced his face. Maybe rattled his brain a bit. Can he still go...still fight? We heard "no" from some shady, compromised characters. Then we heard yes from some in the know-- who, mind you, do have a horse in the race.

The thing with Spence is that we won't know until we know. The truth with "The Truth," though, is that the Covid-19 shutdown may be his best friend. It bought him a full year to rehab, without pressure to return. And given the slow-unrolling turn of events with the goddamn virus, he might get another nine months on top of that year.

So, without the immovable object, we just have the unstoppable force. Terence Crawford.

"Bud" is going to fight before Spence-- but who knows how much before..and who knows against whom?

Arum has dangled Manny Pacquiao's name out there like a carrot. He does that a lot. Bait and switch. But Crawford-Pacquiao is not close to being done, won't be close to being done, and, honestly, has probably never even really been discussed. Kell Brook would be the perfect fit from Arum's point of view. Brook is older, beaten up, but still an earner who can deliver a payday. On the downside, he's also a foreigner. It'll be a chore in the Covid world to get Crawford over to the UK or Brook into the USA.

Now there's talk of Shawn Porter or Yordenis Ugas for Crawford-- which means, probably, Ugas...because...who wants buzzsaw Porter (and his elbows, head, shoulders, etc.) as a main course if they don't HAVE to have him as a main course? But Ugas is good. Better than regarded by many. Just may be the best Crawford has yet to face. Definitely the best welter Crawford has faced.

And Crawford, while the rumor mills whirl? He's okay with sitting this pandemic out. Won't take a pay cut. Won't listen to pay cut talk. "You have to pay me." And pay him more, not less, for fighting without fans in attendance.

The other welterweights?

Only Vergil Ortiz Jr. is on the schedule. Late July. Best prospect in the game? No opponent named yet. Expect a tomato can. Maybe even the guy the tomato can beats. Because...Covid.

The pandemic shutdown is entitling everyone to one free soft touch. Everyone seems to agree. Well, not the fans. Nobody cares about the fans.

Shawn Porter is hoping for Crawford, Pacquiao, or anyone.

Danny Garcia is hoping for Pacquiao or first WBC-mandated crack at a not-quite ready Errol Spence.

Manny Pacquiao's got his pick of the litter. But he ain't picking now.

Mikey Garcia wants to keep playing Jesse James. Been robbing banks. Got $10-15 million, total, for a blow-out loss to Spence and a snoozer win over Jessie Vargas. Impressive hustle. He'd probably like another $10-15 for a Pacquiao fight.

Keith Thurman is being Keith Thurman. Big talk. Spacey walk. But a second taste of Pacquiao money, please.

Yordenis Ugas wants a money fight. Amir Khan wants another payday. Maurice Hooker wants to be in the picture. Jaron Ennis is coming. Josh Kelly, too...maybe. Josesito Lopez is a fucking burr in your work sock. Kudratillo Abdukakhorov is alright. Luis Collazo is a spoiler. Jamal James can't be slept on. We still can't spell The Mean Machine's real name, but he's a tough SOB. Sadam Ali deserves a second chance. Rashidi Ellis deserves a look. Sergey Lipinets is underrated. Omar Figueroa Jr....nope, get back to 140.

Looking forward to welterweights in action, not welterweights in theory.