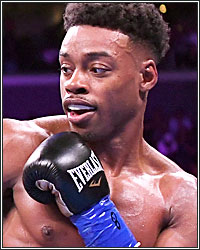 What a weird, messed-up world we have right now. And that level of "messed-up" has definitely extended to the American fight scene, where we're just starting to move forward after a pandemic-related full shutdown.

Given the realities of the situation, there hasn't been a whole lot of movement among American fighters this year. A few had a win notched before the shutdown, very few have more than one. So, this year's version of my top 10 will be widely open to debate. But here it goes, anyway:

1. Errol Spence (26-0, 21 KOs)

Even with the car wreck that paused his career, it's still a reasonable assertion that Spence deserves to move up from no. 2 to no. 1 based on his win last fall over Shawn Porter. Get back to me in a few months and things may be different as Spence is not even rumored to be on the fight schedule any time soon.

2. Terence Crawford (36-0, 27 KOs)

Last year's no. 1 didn't look as perfect as usual against Egidijus Kavaliauskas-- a lesser opponent than Spence faced-- last December and that's why he's slipped to no. 2. You could still easily make the argument, though, that he belongs at the very top

3. Gervonta Davis (23-0, 22 KOs)

Since last year's rankings, Davis went from unranked to no. 3. There are two reasons for this-- He scored two impressive victories since last year's list (vs. Ricardo Nunez and Yuriorkis Gamboa) and several other American fighters suffered through huge falls from grace (Deontay Wilder, Andy Ruiz, Julian Williams, Tony Harrison, etc). Having said that, though, Davis has earned his spot and the accompanying recognition.

4. Shawn Porter (30-3-1, 17 KOs)

With his tenacity and ability, Porter will always be somewhere on a list like this. Giving Errol Spence the toughest fight of his career to date earns him a no. 4 ranking.

5. Mikey Garcia (40-1, 30 KOs)

Despite scoring a solid win over Jessie Vargas in February, Garcia has slipped one spot from last year's list. The reality is slowly setting in that Mikey can't really compete at the elite level in the welterweight division and is probably only there for payday losses. Still, his previous body of work keeps him ranked highly.

6. Jermell Charlo (33-1, 17 KOs)

This may be a controversial placement at no. 6, but Charlo showed tenacity and class in beating Tony Harrison to wipe away his controversial loss to the man late in 2018.

7. Jose Ramirez (25-0, 17 KOs)

Another fighter making his debut on this year's list, Ramirez's stoppage of Maurice Hooker to unify the WBC and WBO junior welterweight belts deserves real recognition-- especially right now, with many American fighters in limbo or falling from grace.

8. Gary Russell Jr. (31-1, 18 KOs)

Still one of boxing's best talents and still someone fight fans desperately want to see more of. A one-sided beating of the tougher-than-acknowledged Tugstsogt Nyambayar keeps him on this list, but he's capable of rising much higher.

9. David Benavidez (22-0, 19 KOs)

Benavidez's win over Anthony Dirrell to recapture the WBC super middleweight title was one of the biggest wins by an American fighter since last year's list. Following his suspension, the 23-year-old immediately proved that he belongs among the elite.

10. Keith Thurman (29-1, 22 KOs)

Almost beating a legend kept Thurman on this list. Yeah, Manny Pacquiao was forty years-old when Thurman fought him, but he was hardly the spent bullet many portrayed him to be. "One Time" put in a good, solid performance in defeat after a shaky performance earlier last year against Josesito Lopez.