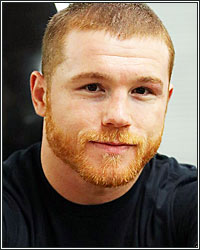 When it comes to Saul Alvarez keeping his traditional Mexican Independence Day weekend fight date, it might be a case of two legends trumping an on-the-fence Canelo...or, maybe, one Canelo trumping the entire DAZN braintrust.

While the Mexican star was mulling over a number of issues, organizers of the Mike Tyson-Roy Jones Jr. PPV exhibition swooped in and took Alvarez's September 12 date.

To be fair, it was still to be determined whether that date was going to be Alvarez's, anyway. An opponent has yet to be selected and, by all accounts other than Golden Boy's, it remained to be seen whether the 30-year-old was even all that keen on fighting under the "new normal" of the Covid-19 pandemic.

There's also the money, which, according to Alvarez's attorney, Greg Smith, is really the only reason his client hadn't snapped up the September 12 date before Tyson and Jones could.

Apparently, streaming service DAZN, which invested $365 million into making Alvarez the face and building block of their American presence, wanted him to take a significant pay cut for this particular bout. And, also apparently, Alvarez was not in agreement.

"Canelo is in great shape. He's been training hard, he is absolutely ready and on track to fight in September," Smith told ESPN. "If it's up to him -- and him only -- he would've already announced the fight…There's obviously other parties and other things involved that are out of his control. But everything he can control, he's on track and prepared. Everybody, including Team Canelo, is waiting to find out if DAZN's going to live up to its obligations. I am aware of no other sticking points."

In a sometimes rare instance of unity with a high-profile client, promoter Oscar De La Hoya doubled down on the "it's DAZN's fault" angle.

"Together with Canelo and his team, we have come up with a list of great opponents -- including potential world championship fights -- for a premium fight on Mexican Independence Day," De La Hoya said. "We are still waiting for DAZN to approve one of those great fights…Canelo and Golden Boy intend to put on a fight in September and expect that DAZN will honor their obligation and give fight fans what they deserve; an evening with the best fighter in the world."

This internal tug-of-war between Alvarez and DAZN has been going on for a while. The dispute over a pay cut is just a new wrinkle in the growing disharmony between the two entities.

Tensions began right after the service spent over $100 million dollars to sign Gennadiy Golovkin to a multi-year deal in hopes of putting together a big, subscriber-grabbing rematch of a rematch—only to find out that Alvarez was not on board with their plans. And vague wording in their contract, which only required Alvarez to fight "top level opposition," essentially put the "Netflix of Sports" in an untenable position when it came to forcing their fighter to adhere to their plans for him.

Now, just three fights into an eleven-fight deal, the two parties don't seem to be agreeing on anything and the disagreements will probably cost DAZN a much-needed comeback from their only proven subscription-driver.

Alvarez clearly has the upper hand in all of this. He'll get what he wants or drag a muddied, muddled DAZN behind him. And even if things get settled and the September 12 date gets booked, the Tyson-Jones exhibition will pull enough attention away to make the card a loser for DAZN's purposes.

Time will tell how all this plays out. But, for now, it sure looks like it's all lose-lose for DAZN and maybe another few months of downtime for Alvarez.