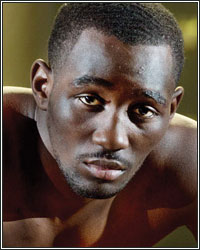 Every once in awhile, it's good to take a step back and assess where we stand. This is very true in boxing where, even in a slowed-down schedule, things are constantly changing, rearranging, and taking new shape.

Here's a look at the welterweight division and where it may be headed.

The 147 lb. class once looked like a division chock-full of high-end talent and intriguing matchups. It doesn't look so much like that anymore.

Part of the reason for that-- if you get over the mountain of buzzkill spin about the few pairings that haven't happened-- is that a lot of the best matchups featuring the best welters have already taken place.

Think about it.

Pacquiao-Thurman, Thurman-Garcia, Thurman-Porter, Porter-Garcia, Spence-Porter, and, the soon-to-be Spence-Garcia.

How many possible contests between the top 5 or 6 are we missing (and are worth exploring)? Pacquiao-Spence, Pacquiao-Porter, maybe a rematch or two?

Notably absent from the above summary of welterweight happenings is Terence Crawford, who could make a case for himself as THE best welterweight-- if he were to actually fight another high-end, elite-level welterweight.

Crawford's story is one that has been rehashed many times already. His contract with Top Rank and ESPN keeps him a world away from the rest of the big names in the division who are aligned with Premier Boxing Champions (PBC) and its output deals with Fox and Showtime. It honestly makes little business sense for the PBC folks to bend over backwards and risk diminishing their own top fighters' value to give Crawford a chance at legacy-building. So, while there are still in-house PBC fights to be made, expect this Crawford freeze-out to continue.

Crawford, meanwhile, looks more and more like he's headed for a bout with British former world champ Kell Brook next. Beating "Special K" will do nothing for Crawford but put some money in his wallet and fulfill his commitment to ESPN. Brook is skilled and is still a decent talent, but he's also well past his prime, will have to melt back down to 147 after more than three years at 154, and has, literally, had his face broken twice (by Gennady Golovkin and Errol Spence). The UK intrigue Brook brings to this pairing is why it's happening, although the sad reality is that he's probably the best available opponent for Crawford at this point.

Beyond the big 5 or 6, there's a lot of parity and possibility, but few "right now" impact players.

Yordenis Ugas, who recently captured the vacant WBA title, may be the best of the rest at 147 and could give any top welter a tough go. But, realistically, he probably isn't long-term main stage material.

The long and lean Jamal James has continued to improve and, in his recent win over Thomas Dulorme, looked increasingly close to being a "real deal" player.

Sergiy Lipinets and Kudratillo Abdukakhorov will meet in October. The winner will take a half-step forward in the welterweight rankings, but neither is really a next-level player.

Throw "Mean Machine" Egidijus Kavaliauskas, Jessie Vargas, Josesito Lopez, and Luis Collazo into the same Lipinets/Abdukakhorov pile of tough and/or skilled contenders who may be overmatched at the highest levels.

Throw division newcomer Maurice Hooker and Amir Khan on the "talented, but maybe not sturdy enough" pile.

And then there's Mikey Garcia, who is plenty skilled, but has yet to establish himself as a true welterweight capable of elevating himself above the second tier contenders. A one-sided loss to Errol Spence last year and a decent, but less-than-dominant decision win over Jessie Vargas this February don't make much of a case for his long-term viability in the division. The 32-year-old continues to pine away for a Manny Pacquiao bout, just like most everyone else at 147, but hasn't really made a case for himself as someone who deserves that kind of welterweight platform.

What's to Come

Errol Spence-Danny Garcia on November 21 is the big one right now. If Spence beats Garcia decisively, he'll keep his no. 1 spot in the division, put some distance between him and Crawford in the "who's top dog" debate, and, most importantly, move past the persistent rumors that last fall's car wreck did him any sort of permanent physical or mental damage. If Garcia wins, everything gets shaken up and he'll find big opportunities dumped into his lap, including a possible Holy Grail money fight with Pacquiao. The main stage players in the division will fall all over themselves to "beat the man who beat the man," but who may not actually be "the man" himself.

Terence Crawford will continue to spin his wheels and gripe-- until PBC offers up one of their second tier guys to fight and until he swallows his pride enough to accept that offering.

Shawn Porter will continue to be Shawn Porter-- tough, difficult, and just flawed enough to be a good risk vs. reward opponent. A test of Terence Crawford's mettle and Manny Pacquiao's 41-year-old resolve would be exceptionally good, but probably unlikely, Porter bouts.

Will Keith Thurman be as well-regarded now, after his run at the top, as he was when he was still a rising star and judged on the sum of his parts? Probably not. This is assuming he even jumps back into the thick of things at 147.

Unless the highly intriguing Spence-Crawford showdown can happen or, perhaps, Pacquiao drops a passing-of-the-torch battle, things certainly look like they may be winding down for this particular generation of welterweights.

The positive, however, is that a real good batch of young fighters is very close to making their presence felt. 22-year-old Vergil Ortiz Jr. may be good enough to beat many of the top welters right now. 23-year-old Jaron Ennis has legitimate main stage, next level talent. Scottish two-belt junior welterweight champ Josh Taylor will eventually find his way to 147 and talented former champ, Regis Prograis, who dropped a close decision to Taylor last year, will probably be a full-time welterweight as early as next year.