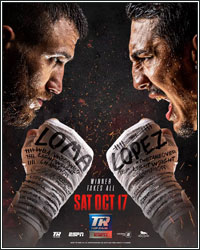 This coming Saturday's lightweight showdown between Vasiliy Lomachenko and Teofimo Lopez is going to be a real test of the fight game's health in the present tense world.

Boxing's hardcore fandom has really been talking this fight up, some even hailing it as a "dream fight," despite the reality of it being more of a master vs. upstart battle that was on few radars a year ago. But fans are right to be excited about this bout. Given the styles matchup and the clash of temperaments, Lomachenko-Lopez is intriguing as hell.

The question is whether more than just the hardcore fans will tune in. The NBA Finals are over. The NFL won't be in competition. The UFC card that night is on earlier and won't be in direct competition. There's little cover behind the "but we had so much sports competition" excuses made by promoters and networks after poorly-rated boxing shows.

Before the numbers come in, though, promoter Bob Arum is making the rounds, hailing the great gift of this fight on "free" TV, all but nominating himself and ESPN for a Nobel Peace Prize.

"I just wanna thank ESPN because in these terrible times," Arum said during Monday's virtual press conference to hype the fight. "when so many millions of fellow Americans are out of work, it, I think, would've been unseemly to ask people to spend 70 or 80 bucks to see this great fight on pay-per-view. And ESPN went up to the plate, and stepped up to the plate, and gave us the wherewithal to do this fight. And so people, whatever their economic situation, will be able to watch this fight without any cost.

"We're gonna have a huge, huge audience. It's gonna be a real plus for the sport of boxing. Millions of people will be watching this event and will be seeing what boxing is all about, with these two great, great athletes and fighters contesting on October 17th. So, I'm very, very happy – I really am. I'm looking forward to this event, and I know boxing fans all over the world are looking forward to watching this event."

Forget that this fight is on PPV in the UK and that Arum's been trying his damndest to get anyone, anywhere to bite on accepting Terence Crawford-Kell Brook-- a lesser matchup-- as a PPV event. Also forget that everyone involved in Lomachenko-Lopez knew that putting it on PPV would've been a massive fail.

Seriously, forget all that, and just enjoy the show. Ratings be damned, business be damned. Like it or not, however, business is important and business determines how future fights get made and what networks decide to showcase on their airwaves. So, yeah, numbers are really important, especially in the boxing business where so many in the mainstream broadcasting world are already prejudiced against the sport's ability to consistently and effectively appeal to the masses.

If this fight tanks, if it's a ratings bomb, this will set the sport back immensely. If it succeeds, it'll open the door to more big fights making their way to free (or semi-free) airwaves.

And if only the die-hards make themselves present, it might also reveal some ugly truths about where, exactly, we stand in terms of our overall health as a sport. If it's only the hardcore fans tuning in-- and it's hard to imagine a true blue, hardcore fan NOT tuning in to see this one-- we'll get an idea of just how many true boxing loyalists are left.