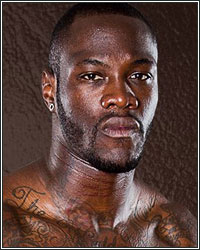 Every Thursday in the boxing world is -- whether the boxing world knows it or not-- all about my gloriously bulging, bulbous sack and the wonderfulness contained within. So, close your eyes and pull back your hair while I unleash yet another giant load of gooey, salty truth. This week, we have comments, questions regarding Deontay Wilder, what's next for Lomachenko and Lopez, and boxing in a post-Covid world.

Is Wilder Done?

Hi Paul.

Big fan, longtime follower. Just curious to get your take on Deontay Wilder and whether he can make a comeback after getting beat up so badly by Tyson Fury in his last fight. I read that he keeps putting off his rematch with Fury and now that Fury is moving on to another opponent in December and then to Anthony Joshua next year. Do you think Wilder is messed up in the head right now, legitimately injured, or taking time off to regroup and prepare better? Can he get back what he's lost?

Thanks.

-- Sal

To be fair, Team Wilder seems to be indicating that they do want that third Fury fight next. They claimed an injury to Wilder earlier and also seem to be jockeying for the right date to stage the fight. The other side, specifically Fury's co-promoter Bob Arum, appear to be the ones saying that Fury will not be facing Wilder next. Arum is even claiming that, because of the delays in setting a date, Wilder's rematch clause is no longer valid. The actual truth is out there somewhere, it's just gonna take some sleuthin' to get to the bottom of things.

As for Wilder? It's hard to tell what's up when the man is nowhere to be found. The down time after such an ugly loss is probably a good thing-- up to a point. It's now probably time for him to get back into the public eye so people don't start running with the "he's whacked out, done" talk that's already starting to wind its way through fandom.

I'd like to think that Wilder is deep behind the scenes, pouring over fight film and working on technique to tighten up his game for another run at Fury. I'd LIKE to think that. It's very possible, though, that he's sitting in a mansion somewhere, surrounded by yes men, indulging himself and drowning in excuses over what happened in February.

If the latter is true, Wilder IS done and he'll have just one more big payday loss coming his way before the sport swallows him whole. We shall see.

Lomachenko-Lopez: Win, Lose, or Draw

Hey Magno.

Win, lose, or draw-- what's next for Teofimo Lopez and Vasiliy Lomachenko after this Saturday's big fight? Could this be a next big thing-maker bout?

-- Simon

Hey Simon.

No matter what happens on Saturday, I think Lopez is moving up in weight. He's a big kid and, reportedly, having problems boiling down to 135. A move up to 140 and then 147 would present him with all kinds of big fight opportunities. Obviously, he'd be better off moving up with a gigantic victory under his belt, but his star, provided he doesn't suffer an embarrassing loss to Lomachenko, won't be all that hurt with the "L."

Lomachenko will be in a tighter bind when it comes to what's next. He's already stretching his boundaries at 135, so a move up in weight wouldn't be wise. And I don't know how likely he'd be to get other "money" fights in his division, like, for example, against Gervonta Davis. Young stars Devin Haney and Ryan Garcia would be wise to stay away from Lomachenko right now. So, win or lose, there's not really anywhere to go. We'll probably see a couple years of him fighting relative no-hopers and maybe taking his act on the road to play visiting attraction to appreciative fans outside the US.

I don't think, however, that Lomachenko-Lopez is a "next big thing maker." At this point, there's not going to be any such thing, unless Floyd Mayweather comes back and someone puts a brutal beating on him in a mega-hyped event. The winner of Loma-Teo will be a bigger star than he was before the win, but dreams of immediate superstardom for either are beyond naive.

Boxing in a Post-Covid World

Hi Paul.

I'm wondering what lasting effect, if any, will the COVID-19 shutdown and new normal since then will have on the sport. Ratings have been down, enthusiasm is down. Will infrastructure begin to fail and deals begin to fall apart as boxing is unable to generate as much money and ratings as before? I'm not saying that boxing's going to die or any such thing, but you can't help but feel that a year of this downward trending is going to force some big changes. What say you?

-- John T.

Hey John.

Well, this is about as close to a "come to Jesus" moment as we're going to have in boxing. Fans have been ambivalent about boxing's return. The Covid shutdown may have nudged fans further down the hill, but things have been heading that way for awhile. I think, with the down time, a lot of fans came to the realization that they really didn't miss boxing-- and what it has become in recent years-- all that much. It's going to take real, competitive fights (and matchups that they actually want to see) to bring them back around. Hopefully, the powerbrokers in the sport see this and work together in cooperative efforts to give the long-suffering fans what they actually want. I don't see any other way around it. The longer the fans are soured on the product, the less likely they'll be to come back. There's no hustling and conning fans back at this point. The suits have to put in the work to get the big fights happening.

Out of the spotlight, a major concern is with the smaller promoters who don't have big TV deals and haven't be able to put together any shows whatsoever during the pandemic. These are the people who, literally, develop the stars of the future and the tests for other stars of the future. If that lifeline disappears, it'll eventually be felt at the highest levels of the sport and the available talent pool would shrink considerably. That's also something to be worried about.

In short, this whole situation SHOULD be a wakeup call for the sport, a call to action. Boxing, however, has shown itself to be stubbornly resistant to wakeup calls.

Got a question (or hate mail) for Magno's Bulging Mail Sack? The best of the best gets included in the weekly mailbag segment right here at FightHype. Send your stuff here: paulmagno@theboxingtribune.com.