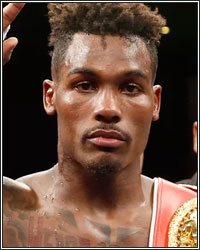 The middleweight division has long been one of boxing's glamour divisions, only behind heavyweight and, arguably, welterweight in historical significance.

With Saul Alvarez officially leaving middleweight behind-- and possibly pulling some of the top 160 lb. talent to vie for a big-money Canelo clash at 168-- things look bleak for the division of Robinson, Hagler, Monzon, Greb, Hopkins, etc.

WBC middleweight champ Jermall Charlo recently told the world that he was more than willing to move up to super middleweight if it meant getting a shot at Alvarez. WBO champ Demetrius Andrade was supposed to test the waters at super middleweight this past November until his opponent's positive Covid test got the fight cancelled. He also just issued a challenge to super middleweight titlist Billy Joe Saunders. Meanwhile, IBF champ Gennadiy Golovkin will most definitely have to move to 168 if he even wants the hint of a chance at getting a third bout with Alvarez.

Even if Charlo, Andrade, and Golovkin decide to stay put at 160, there's not going to be all that much intrigue in the division. Golovkin won't fight Andrade, Charlo won't fight Andrade, and Andrade, if he stays at 160, stinks up most everything he touches. With politics, business, and/or general stubbornness standing in the way of making any fights among the new Big 3, the division looks to be diving headlong into the doldrums.

24-year-old Jaime Munguia is earnest and entertaining, but exceedingly vulnerable-- and that's why Golovkin seems intent on targeting a fight with the Mexican battler next.

Chris Eubank Jr. is an intriguing character and a solid fighter, but the previous six fights before his KO of Matt Korobov at middleweight last December were at super middleweight. It's 50-50 whether he'll opt for the money 160 can bring him versus the money potential at 168.

Japan's Ryota Murata, who recently inherited the full WBA middleweight title when Alvarez vacated it, and the UK's Liam Smith are solid second tier fighters, but not true main stage material. The same can be said about tough and tenacious Sergiy Derevyanchenko, who likely won't get another shot any time soon to earn a spot among the top dogs.

Beyond that, there's very little on the immediate horizon. There's Rob Brant, an unproven Kanat Islam, equally unproven Zhanibek Alimkhanuly, Brandon Adams, Hugo Centeno Jr., all-guts, no-skill Gary "Spike" O'Sullivan, and the dark horse former junior middleweight champ Carlos Molina, who has been the most active fighter in the pandemic boxing world with a 5-0 record since February.

There's an outside chance that we may see some defections to 160 from the talent and parity-laden junior middleweight division. Big-boned Jarrett Hurd may soon find himself at middleweight (if he eventually finds himself in the ring again). Tony Harrison could move up and Jermell Charlo could move up at some point soon, especially if twin brother Jermall goes up to 168.

Boxing's a weird sport and it's always possible that some fighter will come out of the blue to become a major factor at 160. But, realistically, that's not likely.

For now, it looks like the division may be in for a deep, deep recession until a next generation of talent comes along.