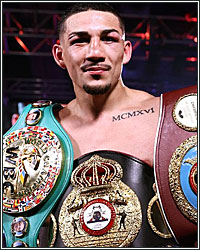 Floyd Mayweather didn't invent the term "A-side," but he sure did popularize it during his Hall of Fame run as a pro.

At this point, every fight fan at least marginally keyed into boxing culture is familiar with the concept. The A-side fighter is the one who brings the most to the negotiating table and, therefore, has the right to dictate contractual terms when putting together a fight. What gets a little mixed-up, though, is what makes a fighter the A-side.

The perfect example of this is the Teofimo Lopez-Gervonta Davis internet beef floating in and out of the headlines in recent days/weeks.

"I'm the A-side now," Lopez has said repeatedly since beating Vasiliy Lomachenko in October. "Including against Gervonta Davis. I'm the king now."

That talk kinda twisted the gizzards of more than a few people in the lightweight boxing business, notably Mayweather Promotions CEO Leonard Ellerbe, who represents Davis.

"It was a tremendous accomplishment beating Lomachenko," Ellerbe told FightHype. "It was the biggest fight Top Rank could make on their network, it was the biggest fight they could possibly make. But for him...to make that comment, it just shows a lack of knowledge as far as the business goes.

"He was the B-side for Lomachenko. Correct me if I'm wrong, but has he ever headlined a show before? Has he ever sold out any venues? He's a good fighter, but they're delusional as it relates to the business. Having the belts, that's a great thing, but in no way, form, or fashion could he ever be considered an A-side with anything that is going on over here. Ryan Garcia is a bigger attraction than he is, and that's a fact."

From a purely business standpoint-- and, like it or not, boxing is almost entirely business-- Ellerbe is right. All that really matters is the money and the ability to bring it in.

But, in the particular case of Lopez-Davis, all kinds of shade can be cast on the "Who's the A-side" debate.

Being a "pay-per-view fighter" doesn't carry the same weight as it did 10-20 years ago. Pay-per-view fighters these days rarely generate over 300K buys. Gervonta Davis' PPV debut against Leo Santa Cruz on October 31 generated between 200-225K buys. Teofimo Lopez, on the other hand, fought to a live audience of about 2.8 million on "free" ESPN when he faced Lomachenko.

Does 200K, paid, weigh heavier than 2.8 million unpaid? Do we factor in Davis' significant edge in live gate drawing power? Do we subtract from Lopez's box office relevance because he was the clear B-side in the Lomachenko fight? Determining the A-side is significantly harder these days with fighters being sold in different ways by different networks.

What everyone should agree on, though, is that the belts really don't matter in the calculation.

Lopez, who added the WBA, WBO, and WBC Franchise titles to his IBF title when he beat Lomachenko, may get "boxing street cred" points from fans and media for the accomplishment, but that street cred doesn't necessarily translate to dollars. And, when you're dumping millions into making a fight, ONLY the dollars matter.

Being the A-side matters in fight negotiations. Fighting about it in public, though, makes everything more complicated. This is because A-side talk belongs BEHIND the scenes. The ego battles and general dick measuring brought about by these public squabbles puts everyone in defense mode and makes it hard for everyone to back down and concede a little in negotiations.

So, along with the other stuff boxing needs to correct in order to get out of its own way, add this to the list. There WILL be an A-side in every fight negotiation, just talk that A-side stuff in private so we can actually get fights made without a bunch of media nonsense and wasted time.