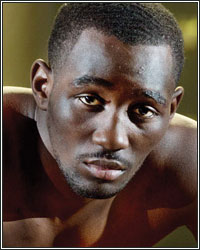 Thursdays around these parts are all about my sack and the gooey, salty truth contained within. So put on that poncho, flip down your face-guard visor, and get ready for another huge money load of wisdom coming your way. This week, we have comments/questions regarding my Terence Crawford love and the rough road ahead for Deontay Wilder.

Crawford and Magno Sitting in a Tree...

What's up Mags? I appreciate you bro, you tell it like it is and I agree with probably 95% of what you write. For example, we both agree that Canelo is the truth and I say that as a Puerto Rican and a big Cotto fan. For me, Canelo moved from hype job to the real deal when he beat Austin Trout, who was coming off a solid win over Cotto, only to be soundly defeated by Canelo. I believe that Trout met the canvas for the first time in his career in that fight also. Canelo is the man and anyone that doesn't like him is just a hater- flat out. If you are a boxing fan, then you should be a Canelo fan.

Another point that I agree with you on is the fact that GGG is coddled by the mainstream boxing media and that he has padded his record with tailor-made opponents while avoiding tough fights. As I write this, the guy is getting ready for another soft-touch opponent while waiting for another Canelo payday. I personally hope Canelo never fights the guy again.

Mags, the one thing I do not understand about you is your love affair with Terence Crawford? Look, Terence is a very good fighter but, he should not even be in the pound-for-pound conversation. I'm serious! Sure, Terence Crawford passes the "eye test" but he has been passing the "eye test" for over a decade now. The dude ain't fought nobody- period. His best win was against the fighter formerly known as Kell Brook and prior to that his best win was Gamboa in what was only Gamboa's 2nd fight at lightweight (Gamboa was giving him hell too).

Terence Crawford is not in the same league as Errol Spence, literally. Let me explain. Terence Crawford claiming he is the best welterweight is kind of like the best basketball player from the Euro League saying he is the best basketball player in the world. After they caught their breath from laughing so hard, the ENTIRE WORLD would be like: "Sure, you look real good mashing on those dudes in the Euro League but bruh, you gotta get in the right league if you want to claim to be the best- you gotta play in the NBA". Errol Spence and all the other top welters fight for PBC, Terence Crawford isn't in their league, so to speak. Terence Crawford needs a win over a Danny Garcia or a Shawn Porter before even being in the pound for pound conversation. Regardless of how one might feel about PBC, Crawford needs PBC a lot more than they need him; to be frank, they don't need him at all.

Keith Thurman has a better resume than Terence Crawford and even before his loss to Pacquiao, I doubt he was on anyone's P4P list. Terence Crawford is the WBO welterweight champ and a very good fighter however, I don't think that his resume really supports a claim to pound-for-pound status and if we're gonna call out people like GGG on their strength of schedule, then we should apply the same level of scrutiny to Terence Crawford. I'm looking forward to hearing your thoughts on this.

Best,

Will

Hey Will.

What can I say, man? You got me. I do have a double standard when it comes to Bud Crawford-- or, at least, I did. I sorta shuffled around my feelings awhile back and looked at my hypocrisy with a clear mind. This is what I most recently wrote on the matter:

"More and more, though, I do see the critics' side. In recent months, I haven't been so eager to sing his praises based solely on what I know to be elite-level skill and execution. For a fighter to establish a legacy, they must have legacy-defining fights. There's no way around it. I can't blast someone like Gennady Golovkin for not having established a true legacy and then make excuses for Crawford. At the end of the day, we can only judge fighters based on the black and white of their ring record. Crawford had a chance to jump into deep waters, but he chose to take the Top Rank/ESPN deal. He had to know how hard it would be to get access to the big fights at 147 if he walled himself up from the rest of the top welters. But, then again, how can you criticize a guy for taking a great deal offered to him, one which guaranteed a good future for his family?"

So, I get it. And I try to stop the skid when I find myself drifting back into the fan boy lane. I still believe, though, that Crawford beats everyone at welterweight-- Spence included. I just can't give him credit for that until he actually does it.

But before we tap dance too joyously on Crawford's status, let's be real about his body of work, lined up against the bodies of work of other elites in the game. Put together a list of the top 20-30 active fighters and check their resumes. How many have faced a truly high level of competition? Few have faced other elites or even a single opponent they weren't heavily favored to beat. And if they DID take a true matchmaking risk, it was very early in their careers and not repeated once they got to the top. That's just the nature of the beast right now in boxing and even though Crawford may be lacking in elite-level challenges, he's really not that far behind other top-rated players in the game.

Thanks for the kind words, by the way.

Wilder Will Regret Alienating Breland

Paul,

I agree that Wilder has surrounded himself with leaches and yes men.

Hearing Breland's testimony about having to be quiet when Wilder comes into the gym mad or frustrated, is a bad sign for Wilder.

Deas isn't a trainer he's an enabler of poor discipline and bad habits which Wilder has a lot of.

Wilder will regret cutting Breland loose.

-- Robert Jackson

Hey Robert.

Wilder definitely needs a heaping dose of reality and someone who can push him where he needs to be. The problem is one that faces a lot of young, successful men. When you have the power and the money to indulge your ego and surround yourself with those who help you indulge it, who's going to be around to tell you when you're off? The tendency is to just fall further and further down the hole because you've built nothing but an echo chamber around yourself. Sadly, the reality check usually comes after the money and fame are gone and the hangers-on have detached themselves. Then, it'll be too late.

It's just my opinion, but Wilder's best chance at boxing redemption was with Breland, who's a sobering influence and a smaller-sized version of the fighter Wilder should aspire to be. Even the simple addition of a consistent and well-utilized jab would mean a world of difference. But, apparently, Wilder wasn't listening to Breland before and, I suppose, wouldn't be listening to him now, either.

I'm rooting for Deontay. America needs an elite heavyweight with brutal KO power. But I just don't see this story ending well.

Got a question (or hate mail) for Magno's Bulging Mail Sack? The best of the best gets included in the weekly mailbag segment right here at FightHype. Send your stuff here: paulmagno@theboxingtribune.com.