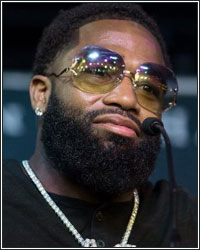 Adrien Broner cultivated a money-making persona and made monkeys out of pearl-clutching members of the boxing media with his headline-grabbing, fight-selling antics. The guy made a lot of money from being a cartoonish bad guy. And, like all good pro-wrestling-like heel personas, the gimmick was effective because there was a big part of the real him in the act.

By living his own gimmick, Broner also put himself into a tough spot, a hole from which he would be hard-pressed to crawl out of.

With a 3-3-1 record since 2015, an 0-2-1 mark in his last three, and a string of subpar performances, any other fighter would've been written off already, castigated to off-TV trials or mid-card stay-busy fights. But Broner has kept main event status. That's 100% testament to his bad guy charisma and resulting salability. Let that be a lesson to fighters in the here and now who see public relations as a tedious chore or necessary evil.

Anyway, as a fighter, Broner has been his own worst enemy. When not distracted with partying and slacking off, he's been distracted with drama and legal problems. And the bad habits acquired led to a necessary rise up to 147, away from 135, where he was stellar and from 140, where he was very good.

That's why this Showtime-televised comeback fight against Jovanie Santiago on Saturday was supposed to be a bit different from other recent comebacks. It was booked to be a junior welterweight clash at 140 lbs.

A day before weigh-in, however, the contracted weight was moved to 147. That's not necessarily a good sign if one's rooting for Broner's successful re-launch to the boxing main stage.

As a welterweight, Broner's record is 2-4-1 and, with the exception of his title-winning victory over Paulie Malignaggi in his 2013 147 lb. debut, has yet to turn in a truly impressive performance at the weight. Blame a hefty share of that on his outside-the-ring distractions. Blame some of it, though, on fighting at least one or two full divisions above his ideal weight, giving up inches in height and reach to opposition.

The 5-foot-6 Cincinnati native acknowledged that he was moving out of his comfort zone way back in 2013 when he first made the jump.

"Look, Floyd Mayweather isn't a true welterweight. Look what he's been doing," Broner told Boxingscene at the time. "I'm not a true welterweight; I can still make lightweight. But skills wins fights."

The difference, however, is that Mayweather was two-inches taller than Broner, had three inches more on reach, and, most of all, was a notorious gym rat who obsessed on maintaining his conditioning and keeping his skills fine-tuned.

A permanent move back to 140 would help the 31-year-old Broner keep sharp and ensure pairings against more size and strength-appropriate opposition.

The junior welterweight division is starting to get interesting again with two-belt champs Jose Ramirez and Josh Taylor inching closer to a unification clash and fighters like Regis Prograis, Jose Zepeda, Arnold Barboza, Mario Barrios, and Robert Easter Jr. making waves. A properly motivated and prepared Broner could slide right into the upper tier of 140 and have several big fight possibilities open to him.

All of this is temporarily a moot point now that Broner returns, after a 25-month layoff, as a welterweight. Still, it's a bit too early to determine whether Broner's comeback is for real and not of the "tell 'em what they wanna hear to get another paycheck" variety. Working down from 175 lbs. is a feat, even if he makes 147 and not 140. It shows that he HAS been putting in the work.

But Broner is Broner and there's no guarantee that he'll even make 147 at the weigh-in. Like with so much involving Broner's boxing work, we won't know what's what until we see what's what.