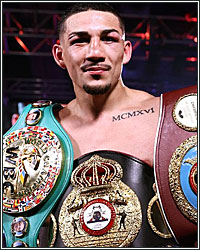 Last June, I wrote a piece titled "Slow Your Roll, Kingry" about Ryan Garcia. It was about the young fighter growing too big for his britches and how he needed to scale back his hubris and star attitude when it came to his business dealings. I pointed out that "despite his social media presence and the general aura of being someone who COULD become a big star," he wasn't really a star yet and that "competitively, the kid has yet to actually prove himself anything other than what he is-- a promising prospect."

Teofimo Lopez's case is a bit different than Garcia's, but the sentiment is the same. Lopez-- and his father-- need to slow their roll.

"We ain't fighting with Top Rank no more unless it's pay-per-view," Teofimo Lopez Sr. told FightHype's own Sean Zittel. "We are pay-per-view. My son has done things that nobody else has done, and we're in the position now to create a monster in the boxing industry, and no one has seen that in a long, long time...We fought Lomachenko for pennies, but we're not doing that anymore...It's the takeover, baby. We're taking over the game of boxing; we're taking over everybody right now. It's just a game."

To the jaded, trained, veteran boxing ear, that sure sounds like "I'm totally gonna fuck up my son's career," especially with the crazy talk he's been engaged in, comparing Jr.'s struggle to Muhammad Ali's.

The bad blood between Top Rank and Team Lopez has been very real and, IMO, very much the fault of Top Rank founder and boxing Nosferatu, Bob Arum.

The 89-year-old walking cockblock low-balled Lopez in his mandatory defense against Australian IBF top contender George Kambosos. He offered his young, exciting superstar-in-the-making the absolute contract minimum and then belligerently refused to budge from that jab to the pride.

Arum would correctly point out that Lopez-Kambosos wasn't "a premier attraction...not a must-see fight," but very incorrectly try to make some delirious ethical stand out of low-balling his fighter. He knew and everyone else knew that after what Lopez had just accomplished-- beating pound-for-pound darling Vasiliy Lomachenko and helping draw nearly 3 million viewers to the ESPN main event-- the kid deserved something better than contract minimum.

So, the 23-year-old did what any proud, savvy professional should do-- he fucked with the bossman.

By refusing to agree to terms for the fight, IBF rules mandated that the bout go up for purse bid. The open market bidding made Top Rank's bid look sickly and eventually bagged Lopez a $3.9 million payday from a $6 million bid by eager-to-make-waves streaming service, Triller. The end result for Arum and Top Rank was that their hottest young fighter, coming off a breakthrough performance, will make his first defense as unified lightweight champion for another company.

But, having said that and after having fully endorsed a fighters-over-promoters stance when it comes to the business side of boxing, there's such a thing as going TOO far, TOO fast.

Lopez beat Lomachenko, yes. But many are forgetting in the adrenaline rush of seeing a young, hungry lion beat a smug, jaded media darling that Lopez showed some chinks in his proverbial armor and, actually, lost much of the second half of the fight, showing an inability to handle Lomachenko's hand speed when Lomachenko finally let his hands go. Lopez barely beat Lomachenko and it was a close fight deserving of a rematch that probably won't ever come.

There's also the inconvenient truth that many of those nearly 3 million viewers were likely tuning in to see Lomachenko or Lomachenko as he faced some brash, cocky kid who might have a chance at beating him up. Lopez had not drawn all that much mainstream love on the main stage as a main event attraction and, honestly, was only a "must see" figure among the relatively small "hardcore" fan element at the time he fought Lomachenko.

One doesn't simply become a crossover star by beating a star. If so, Jeff Horn and Joe Smith Jr. would've been superstars after beating Manny Pacquiao and Bernard Hopkins, respectively. Lopez definitely has the profile of someone who COULD become a major star. But, right now, he's simply a "boxing star" and he should eventually find out that there's a big difference. Companies like Triller, willing to operate deeply in the red to get their feet in the industry door, will not always be around to artificially inflate fight purses.

Arum, though, says he's willing to provide Team Lopez with enough rope to either climb to the stars or hang themselves.

"You have to understand there comes a time when a kid has really performed well and gets some notoriety; he immediately believes he should be a pay-per-view attraction," Arum told Barbershop Conversations.

"...I think they need more exposure on free television to really build them up as a pay-per-view attraction, but they think otherwise.

"It's his career, and his father says he only wants to be in pay-per-view fights. So sink or swim, we're going to put him in pay-per-view fights. I just think it's a little premature."

Under this dynamic, Arum wins no matter what. He'll get his money and then leave Lopez to sink or swim with earnings from his own ability to draw. It could be a boom or a horrible bust. But, with 3 years left on his Top Rank contract, it looks as though all of this happens at Top Rank's discretion, unless Lopez and his father want to engage in a long, ugly legal war to try and break free.

Beating Lomachenko is not a guarantee that Lopez is automatically a superstar. It was merely the first real step in that direction. And, as Lopez emerges out of his bubble, out of that enthusiastic showering of fan love he generated for himself by beating Lomachenko, he may be in for a rude awakening.