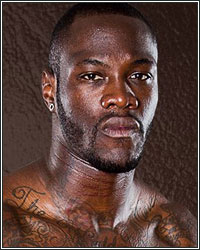 The best course of action for Deontay Wilder following his one-sided shellacking at the hands of Tyson Fury back in February of 2020 would've been a return to the gym for some much needed work on basic boxing fundamentals and ring strategy.

In the dead silence following that one-sided loss, I wondered aloud whether the now former WBC heavyweight champ would emerge from this in the right frame of mind.

"I'd like to think that Wilder is deep behind the scenes, pouring over fight film and working on technique to tighten up his game for another run at Fury," I wrote. "I'd LIKE to think that. It's very possible, though, that he's sitting in a mansion somewhere, surrounded by yes men, indulging himself and drowning in excuses over what happened in February."

And, boy, was I right.

In the weeks and months after breaking his silence, "The Bronze Bomber" rattled off an Alex Jones-sized list of conspiracy theories explaining the seventh round TKO.

Culled from the wild words of Wilder, he lost because: He was hobbled by a bicep injury...His ring walk attire was too heavy and tired his legs...Tyson Fury loaded his gloves with an egg-shaped foreign object...Co-trainer Mark Breland, who ultimately threw in the towel during the Fury beating and got fired because of it a few months later, spiked his water and conspired against him out of jealousy...A drunken referee Kenny Bayless conspired against him and intentionally elbowed him in the face during the fight.

"All this shit is coming full circle. It's all making sense now," Wilder said in a February 2021 interview, one full year after the loss.

After winning an arbitration case this past May to enforce his Fury rematch clause, Wilder named former KO victim Malik Scott his head trainer. The move puts Scott one step ahead of longtime trainer Jay Deas in the Team Wilder pecking order.

But, other than a couple of minutes of training footage with Scott working the pads and the buzz that he may be adding muscle mass, there's no clear sense of how Wilder will approach this next bout with Fury on July 24 any differently than the last.

And maybe, at this point, it's for the best that few new wrinkles go into training Deontay.

Realistically, by the time Team Wilder got the arbitration win to force this fight into being, they were already too far along to use the Fury beating as any sort of teaching experience. Even if Wilder was suddenly open to working on technique and strategy, there wouldn't be enough time to accomplish anything but create a muddled mess of half-learned moves and maneuvers that would more than likely handcuff and/or confuse the free-swinging KO artist.

So, it makes sense to go with what's in abundant supply when it comes Wilder-- Crazy.

After months of soothing his ego and bathing in conspiracy theories, Wilder truly believes that his loss was not a spotlight on fatal flaws in preparation, but, rather, a testament to his king-like resolve.

"If people understood how I felt in that motherfucker and what I was able to do," Wilder told 78 Sports TV, "under all that pressure and shit that was going on with me, man, they look at me today and salute me every time they see me and say, 'Champ, I don't know how the fuck you did it.'"

The Tuscaloosa, Alabama native has twisted logic and reason in his head to the point of believing that he actually performed remarkably well considering everything stacked against him that night. Despite mass conspiracies, foreign objects in Fury's gloves, injury, spiked water, and a drunken, elbow-throwing referee, he still couldn't be put him down. It took a compromised Mark Breland throwing in the towel-- against Wilder's wishes-- to wrest the belt from his waist.

"But in the midst of it all, you still couldn't keep this king down," Widler said in an October social media video, over a background of ominous organ music. "You would have had to kill me. In the end, it took a crab in the bucket referee and a disloyal trainer to throw the towel in just to stop me...Excuses may be found from a thief who steals because he's starving. But if he is caught, he will have to pay back seven times what he stole, even if he has to sell everything in his house. And payback is coming."

It's smart to beef up that sense of nutso, against-all-odds confidence for this third Fury bout, which many see as a win-or-you're-done contest for the 35-year-old. Feeding into that craziness could build the utter, unflappable self-belief necessary for a fight strategy entirely built around wildly slinging fists in hopes of a crushing KO against an opponent who completely bested you last time out.

Wilder's odd behavior in the first Fury-Wilder 3 press conference, where he wore headphones and refused to acknowledge Fury or any reporter questions, means he's either in the right sparked-up-crazy frame of mind or way too far off the deep end. And, at this point, Team Wilder has to roll the dice on that.

Conventional boxing wisdom says that whoever won the first fight will win the second more convincingly. In the case of Fury-Wilder I, which ended in a controversial draw, many thought that Fury did enough to win a close decision. In the rematch, Fury dominated. By that logic, Fury should win this third bout in more one-sided fashion than the second.

But logic can't enter into things when it comes to Wilder. It's too late for logic. Team Wilder has to roll with crazy and let the chips fall where they may.