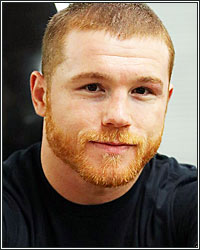 Hello fight fans. Welcome to another Thursday edition of Magno's Bulging Mail Sack-- the number one agitator of butt-hurt boxing nerds and dedicated Magno cyberstalkers. This week, we have comments/questions regarding Canelo's next move, Zurdo Ramirez, Regis Prograis, and more.

Canelo's Next Move/Problems with Plant, GGG Back in the Picture?

Hi Paul.

From what I'm reading, there are now some issues with a Canelo vs. Caleb Plant unification this September? I guess PBC is looking to snag Canelo for a three fight deal. I also hear that Gennady Golovkin has been approached about taking the fight with Canelo. If this is true and Canelo-GGG 3 is made, I guess that's the best for boxing since it's the bigger fight, but I'd sure be disappointed in the idea of there not being a unification at 168 when it's so close to happening.

– Mark

Hey Mark.

First of all, take everything you've heard about Canelo-PBC talks with a grain of salt. Everything that's been written up by the media has come from anonymous sources (which, given the boxing media's penchant for dip-shittery, makes the info dubious) and Eddie Hearn, who has a vested interest in putting the kibosh on any possibility of a Canelo-PBC relationship. I'm not saying that this stuff is NOT true, just that you have to assume it could very well be a load of BS. And that goes for the Golovkin stuff, too. I can see where Hearn would try to lure Plant into a more DAZN-friendly deal by using the possibility of a Golovkin fight for Canelo as leverage. But, going by everything Canelo has said publicly, he's not at all open to a third GGG bout.

Having said all of that, though, I don't doubt that negotiations would start with a bid to bring Canelo over to the Haymon side of the fence. That's just smart business. Most negotiations start with a big play and then get gradually whittled down to a compromise. I can see where PBC may have pitched a Plant, Charlo, Benavidez 3-fight deal.

Canelo and Zurdo

Who's Canelo fighting next? Have you heard anything? I think Canelo is in a position where he has to face a reputable opponent on this side of the pond. His European Backpack vacation is over. I'm not calling Canelo a ducker by any means. But his last 4 fights were easy money paydays. He's the best in the world and he's afforded himself to luxury to do so.

Did you see Zurdo this weekend? Zurdo looked damn good! I seen that look on Oscar's face. He had a smirk! I think he knows Zurdo is capable of giving Canelo problems. That's the fight I want to see. Canelo v Zurdo has instant classic written all over it. I'd prefer to see Canelo fight Zurdo instead of Plant, Benavidez, Charlo, Beterbiev, GGG. You name it! Canelo v Zurdo stylistically is one of the best matchups in the sport. Should be easy to make. I know you're in Mexico. What fight are they asking Canelo to take in Mexico? What's the Mexican fight fans opinion on Zurdo?

-- Nail Rahman

Hey Nail.

I'm beyond fine with Canelo's path at 168 and his sidetrack to 175. I mean, he fought belt holders in Callum Smith and Billy Joe Saunders, who were regarded by most as no. 1 and no. 3/no. 5 in the division at the time of their fights. At 175, he picked the biggest money opponent/belt holder available to him in Sergey Kovalev. Avni Yildirim was a softball, but it came in that five-month span between Smith and Saunders fights. So, it took place in the space that would've been dead-air down time for any other fighter. I don't know how much deeper he can get. David Benavidez would be a real challenge, but he's got no leverage in making that fight happen-- no belt, no overwhelming fan base, etc. A Jermall Charlo fight would be nice, but it's nothing that screams urgency. But I get what you're saying. He's just been so much better than these Brits and Euro guys and he'll continue to be better (tbh, I think he beats Beterbiev and Bivol decisively as well). Gilberto Ramirez would be a competitive bout and I also really like that match-up.

And, speaking of Zurdo...

He's a real player at 175 and I don't see any of the reigning champs making a move towards him unless they absolutely have to. So, getting him a belt as leverage to make a Canelo fight will be hard.

Ramirez is not yet a big name in Mexico. I'm out and about a lot and I read a lot of Mexican fight media and I don't hear much buzz at all. Most Mexican fight fans just don't follow the sport at the higher weights (and, to them, anything above 140-147 is a higher weight). That's been a problem for Canelo. Because the Mexicans don't really know who's who in his weight class, they see him ripping through the competition and it seems like he's fighting nothing but bums. It's affected his star power here. Having world class, elite-level fighters above 147 is a fairly new thing in Mexico. Most fans simply don't know enough to point to a "must see" fight for Canelo at 168 or 175. I think Canelo-Zurdo could help change that dynamic. But, then again, Canelo has spoken about his reluctance in fighting fellow Mexicans. Plus, there's the bad blood with Golden Boy.

I agree with you, though. Zurdo looked tremendous and there IS a need for Canelo to get into a real, competitive battle.

Stale Rougarou

Magno.

Regis Prograis has been grumbling about PBC not living up to its promises, but that brings up the bigger issue of this man's career. It seems he's got no direction and is just floating around. Losing to Josh Taylor seemed to unhinge his career focus. Where he used to be shooting up the ranks as a rising star, he's now just stagnant. It can't just be the loss. He did well against Taylor and didn't embarrass himself one bit. He's just lost a spark. I like the fight with Mikey Garcia, but I don't think that one will do any wonders for his excitement factor. Can the Rougarou get back to where he was?

– Darryl H.

Hey Darryl.

For awhile, I was riding high on the Prograis bandwagon. He looked like raw star material. He had the look, the talent, the style, plus, a bit of a flair for the showbiz aspect. And then, like you said, he just got flat. Maybe moving up to that next level of opposition did it. I think, though, that his staleness is a byproduct of the lack of promotional kick behind his efforts. He seems to be drifting along like a rudderless ship and, when he does get in the ring, he's not all that fired up about putting on a show (maybe because he's also feeling like a rudderless ship, with no real focus on where he should be heading). Griping about not getting an easy-money Adrien Broner romp is pretty indicative of this lack of a real destination.

He has to first decide if he's all-in at welterweight or if he wants to work his way back up to contention at 140. A Mikey Garcia fight would be good, but it's not a permanent fix to what ails him. Garcia-Prograis is a time-filler/placeholder bout for two fighters drifting between 140 and 147 who have nothing better to do at the moment. Plus, win or lose, he's almost guaranteed NOT to look good against the crafty Mikey.

I like Prograis and want him to be that presence I thought he would become. But he needs some real, clear leadership when it comes to his career path. At 32 years of age, he better get on that now...like, immediately.

Got a question (or hate mail) for Magno's Bulging Mail Sack? The best of the best gets included in the weekly mailbag segment right here at FightHype. Send your stuff here: paulmagno@theboxingtribune.com.