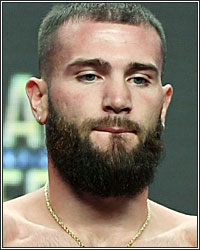 There used to be a time when big, big underdogs were damn grateful to get a main stage slot against a major player and a shot at fighting their way to next-level success. That's not so much the case these days.

In the present tense boxing scene, underdogs want cash-out money first and foremost. They want that "secure my future" money without having to win their way to a secure future-- especially if they have some sort of leverage in their B-side slot.

Such is the case with underdog challengers George Kambosos and Caleb Plant, who are currently providing roadblocks to the ring return of Teofimo Lopez and Saul Alvarez, respectively.

In the case of Lopez-Kambosos, the issue in getting the fight delivered centers around Lopez's fight-stalling Covid-19 infection and an inability to find a viable rescheduling date for the IBF mandatory title fight. Streaming service, Triller, which paid nearly six million dollars in acquiring the rights to this bout via purse bid, wants to move the whole show to Kambosos' native Australia, where they feel there's a better chance of turning the perceived mismatch into a bankable event. Defending champ Lopez, however, is refusing to hit the road for this one.

"I don't think the fight is going to happen," ESPN's Mike Coppinger told Max Kellerman on a recent edition of Max On Boxing.

"Dave McWater, Teofimo's manager, is saying they'd rather give up the [IBF 135-lb] title than go to Australia and have to deal with that 14-day quarantine.

"Obviously, Lopez is the champion, they believe they should have the advantage. Triller's position is, 'Hey, look, we lost five million dollars; we were going through with the fight. Now, we want to make that money back.'

"Boxing is getting pretty big in Australia, and Kambosos is a good attraction over there. He's from Sydney.

"And now there's a battle with the IBF. We're going to see what the IBF rules on, but I, at this moment, would say, the fight's not going to happen."

In the case of Saul Alvarez and Caleb Plant, three-belt super middleweight champ and boxing cash cow, Alvarez, craves 4-belt champ status and Plant, who holds the IBF title, is the only one who can give that to him right now.

However, DAZN, which has a billionaire's pocketbook and a piss-poor collective boxing mind, has grossly overpaid Alvarez B-sides in the past-- sometimes well into the 8-figure range-- and that makes every negotiation for the Mexican star tough and contentious. Plant, following in the trend, is reportedly looking for $10 million to bring his lusted-after IBF belt to the ring.

"Anytime Canelo wants to fight, there's a saga, and we know why. It's because the guy he's going to fight is really hitting the lottery, the sweepstakes," Coppinger told Kellerman on another Max on Boxing segment.

"Each time he wants to fight, these things drag out to the last possible second, and here we are again. We're about eight weeks out from Mexican Independence Day weekend on September 18th.

"Canelo is steadfast; he wants Caleb Plant and that fight is still being negotiated, but they've hit a bit of a snag."

But both Lopez and Alvarez have viable Plan B options to the roadblocks presented by Kambosos and Plant.

Rumor has it that Lopez, if he bails on the Kambosos fight and vacates the IBF title (as well as gives up his nearly $4 million payday for the bout), could be moved into a lucrative pay-per-view rematch with Vasiliy Lomachenko by the end of this year.

Alvarez's Plan B, meanwhile, could involve an intriguing bout with WBA light heavyweight champ, Dmitry Bivol.

One could argue that maybe it's in everyone's best interest, at least from a fan's perspective, if Lopez and Alvarez would just move on to their reported backup plans. That, right there, should tell each fighter's underdog opponent that it's probably time to step and facilitate a deal to get their big fights made.