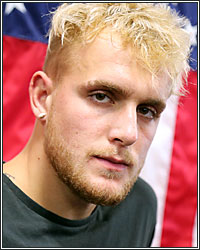 Sources close to the information have informed us that a glove controversy is brewing behind the scenes just days ahead of the August 29 Jake Paul vs. Tyron Woodley showdown. Evidently, Jake Paul, who will be using custom gloves made by Grant, will not allow Tyron Woodley to use the same type of gloves. "Jake won't let him use the same gloves. Seems like he doesn't want an even playing field," one source told us.

Known for their one-of-a-kind customizations, Grant gloves are one of the most recognizable brands in the business, made popular as the glove of choice by fighters such as Floyd Mayweather, Andre Ward, Bernard Hopkins, and Gennadiy Golovkin, to name a few. According to our sources, Woodley's team reached out to Grant in hopes of using their gloves, but were told that he could not due to a request by Paul. Although it's not uncommon for opponents to wear different brands of gloves during a fight, it is unclear why Paul will not allow Woodley to use the same type of gloves he's using.

Be sure to check back soon for more details as the issue gets resolved.