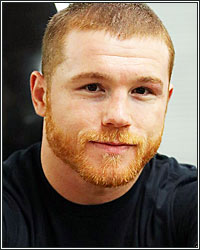 Each and every Thursday here at FightHype, I spray boxing ignorance with gooey, salty truth unleashed from the depths of my bulbous, bulging sack– and this Thursday is no different. This week, we received nothing but comments/questions regarding Saul "Canelo" Alvarez...so, let's roll with that.

Benavidez-Canelo?

Hey Magno.

I'd like to think that the entire boxing world is in agreement that David Benavidez is the real deal. There's always the question with young fighters whether they are next-level great, but it should be beyond doubt that the kid's got the goods.

Anyway, for Canelo Alvarez there are really only three worthwhile fights to make at 168-- Jermall Charlo coming up from 160, Gennadiy Golovkin coming up from 160 for a part three of their rivalry, and David Benavidez. For me, the best of those fights is with Benavidez because the kid will have zero respect for Canelo's power and will go balls out to take the fight to him like nobody ever has.

How do you see a Canelo-Benavidez fight playing out and, maybe more importantly, how likely is it that the fight can even get made? Benavidez has no titles and not that much of a following. There'd be nothing but competitive pride in it for Canelo.

-- D from Dallas

Hey D.

Yeah, Canelo doesn't have a lot to gain and he has a whole lot to lose by going the Benavidez route. I'd like to think that his competitive spirit would push him into taking the fight because Benavidez really is the last man standing when it comes to super middleweight contenders. It's not even close-- he is THE man at 168 when it comes to worthy, competitive contenders. The Golovkin and Charlo fights could be bigger and more marketable, but Benavidez is a true super middleweight. That makes Canelo-Benavidez a little more compelling, IMO.

As for how the fight would play out. Well, I could see Canelo staying back, playing defense for the first part of the fight, even more so than usual. Then, he'll amp up the offense when he finds some openings. It would be interesting as hell to see someone truly take the fight to Benavidez. Up to this point, nobody's been able to deal with the kid's punch volume, accuracy, punch fluidity, and just all-around offensive prowess. What happens when someone gets inside on him and digs to the body or just starts putting some hurt on him, pushing him to fight a bit on the back foot? Who knows?

Benavidez might also push Canelo in a way nobody has before. He's such an offensive prodigy that it's hard to imagine him NOT touching Canelo up. In Benavidez, we might see the first guy to really bust Canelo up and make him bleed.

I wouldn't bet against Canelo versus anyone at 160-175 at this point, but Benavidez would definitely make for a fun fight.

Canelo the Duck?

Paul, man. Quit. You have to stop with that Canelo nut hugging. It's getting embarrassing. I can't believe you of all people is falling for this hype job. Callum Smith, Billy Joe Saunders, Caleb Plant are good fighters, but not close to great. Avni Yildirim, Rocky Fielding? Awful. And old, washed up Sergey Kovalev? Come on, my man. Canelo's playing the lot of you for suckers! He's just going to keep ducking real challenges like Demetrius Andrade, Jermall Charlo, David Benavidez, and Artur Beterbiev because you guys are slobbering over these very pedestrian wins he's been piling up. Hop off the bandwagon, Magno and get your perspective back.

-- Clyde

Hey Clyde.

I'm not falling for anything, unless one can "fall" for facts and reality. How does a fighter become an undisputed, unified champion? He beats all the existing champions to win all the belts-- and Canelo did just that. It's not his fault that Benavidez lost his belt on the scales before he could get in on the Canelo sweepstakes. The quality of the talent pool available for him to fight at 168 is not his responsibility either. He beat the champions and that was his goal. Now, he moves on to other things and we'll have to wait and see what he wants to do next. But beating three of the four highest ranked fighters in a division is a good thing, belts or not.

The Canelo critics are putting the guy in the same box Floyd Mayweather got put in. Every guy he fights is the "wrong" guy. He's always "ducking" whoever he doesn't fight, always "running" from so-and-so, no matter how illogical those claims are. Every obstacle he hurdles will be followed by another hurdle, even higher than the last...forever and forever. Zero credit will be given, no matter what.

The truth is that Canelo has the deepest and most diverse resume of any active fighter at the moment. That's all I judge him by. When he deserves credit, I give him credit. When he deserves criticism, I give him criticism. I won't even entertain claims that he's "ducking" a guy he's fought twice already (Golovkin) or guys one division below him (who the critics will say were too small if he beats them). And it's also not fair to demand him to keep going up in weight until he finds a bigger guy that beats him.

Canelo's 31 and he's got a lot of career ahead of him. But if we're judging him when it comes to the here and now-- especially this last 11-month run of his-- he deserves all the acclaim he gets. Anything less is just "hating."

Canelo vs. Jake Paul?

Hi Paul.

Canelo vs. Jake Paul. Why not? I'm okay if it happens in 2022, provided it takes place between two real fights. What say you?

-- F. Jones

Hey F.

Why would people be outraged over anyone taking an easy (and huge) payday made available to them? If you worked at Burger King and the manager offered two-day's pay for wiping down the tables, would you turn it down? Of course not. If he fights a couple of real opponents in May and September, what's wrong with Canelo scrambling Jake Paul's brain in February, July, or December? Honestly, it wouldn't exactly outrage me to see the YouTuber curb stomped for the whole world to see.

Got a question (or hate mail) for Magno's Bulging Mail Sack? The best of the best gets included in the weekly mailbag segment right here at FightHype. Send your stuff here: paulmagno@theboxingtribune.com.