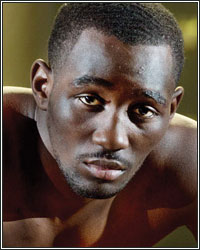 Welcome to a special Thanksgiving edition of Magno's Bulging Mail Sack where boxing's bad guys are forced to gobble, gobble on the gooey, salty, cranberry-infused truth coming straight from my bloated sack of giblets. This week, in the wake of his mega-impressive stoppage of Shawn Porter last Saturday, we have comments/questions regarding Terence Crawford.

Bud is the Best!

Hi Paul.

There's no denying Terence Crawford now. The man finally got a chance to show just how far ahead of the pack he is by taking out Shawn Porter, who Errol Spence struggled against. What more needs to be said? Spence needs to be a man, polish up his belts, and get in the ring with the man so he can lose them to the rightful best at 147. Stop with the games and man-up, Errol. Terence deserves to be where he belongs, on top of the welterweight division.

– Sam from Detroit

Hey Sam.

Yeah, for me (and most of the rest of the boxing world), Crawford-Spence is THE fight to make at 147. It's the biggest fight, the best fight, and the most meaningful fight. If a free agent Terence Crawford makes moves to open himself to making this bout and Spence doesn't at least try to make a similar move in Crawford's direction, Spence's image will take a huge, possibly irreversible, hit.

I've been saying this ever since Crawford became a welterweight champion, but I believe he beats Spence. Obviously, Spence is no pushover. The man is legitimately no worse than the second best in the division and, at least for now, he's more than a full step ahead of any no. 3. But Crawford is just too focused and too versatile for him. Once "Bud" finds a way past Spence's jab, it would just be a matter of time before he chops him down.

Getting past Spence's jab and his own focused approach won't be easy. I guess that's why they fight the fights in the ring and not on paper. But, yeah, they do actually have to fight the fights in the ring. That's why Crawford-Spence has to be made. A unified 147 would mean a lot to the sport-- especially in a world where 135, 140, and (soon) 154 will be fully unified.

Bud is Overrated!

So, you're gonna beat a guy who everyone's beat, get a TKO on a bullshit thrown towel by the guy's father after nine rounds where you should've been down by at least two rounds-- and get credit for being king of the world. Bullshit! All Terence Crawford proved on Saturday was that he was barely better than the division gatekeeper, who already lost to Errol Spence, Keith Thurman, Kell Brook, and should've lost to Yordenis Ugas. I don't get the fascination you media people have with this guy. I don't see anything but an alright fighter who beats mid-level guys and gets treatment like he's beat a prime Sugar Ray or Hearns. Crawford gets his credit when he fights Spence and beats him. Until then, he's the beta dog of the welterweight pack.

– TJ

Hey TJ.

I think your assessment of things is more than a little off. It seems to me like you're wielding a mighty hefty anti-Crawford agenda there, my man.

Porter is way more than a gatekeeper in the traditional boxing sense. He was, conservatively, no worse than the no. 5 welterweight in the world and his loss to Spence (as well as Thurman) was via close, very competitive decision. Crawford closing the show on him is a big deal because nobody else has been able to do that, in that fashion.

Prior to stopping Porter, though, Crawford had already earned his spot as an elite. He won the WBO lightweight title against Ricky Burns in Burns' own Scottish back yard. He unified the junior welterweight division, capturing all four belts in decisive fashion. He beat Jeff Horn for the WBO welterweight title and had made four dominant title defenses before the Porter fight. Plus, let's just throw in the fact that anybody who knows even the slightest bit about boxing can flat-out see that he has elite-level stuff.

As I mentioned in another article, there was a time where I believe too much deference was shown to the man. Things have now come full circle and there's been too much derision aimed his way. Boxing fandom is crazy like that. But Crawford has already proven himself. Zero doubt, zero controversy. Now, his path is all about fattening up his legacy (and bank account) and taking the scalps denied to him because of boxing business obstacles over the years.

You, my man, are what the kids call a "hater."

But I do agree that, when it comes to rankings, Spence deserves his no. 1 spot. Crawford may be the better fighter (maybe, possibly), but Spence has done more in the division.

Got a question (or hate mail) for Magno's Bulging Mail Sack? The best of the best gets included in the weekly mailbag segment right here at FightHype. Send your stuff here: paulmagno@theboxingtribune.com.