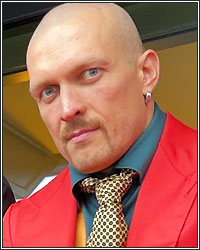 Hello fight fans and welcome to another Thursday gathered around my bulging sack, waiting on my weekly load of gooey, salty truth. This week, we have questions/comments regarding Errol Spence, Anthony Joshua, the possibility of Canelo-Usyk, and more.

Errol Spence on the Run?

Hey Magno.

I used to be a big Errol Spence supporter, but not anymore. At this point, it's pretty clear that he's avoiding Terence Crawford and I don't believe any of that BS that he's the one actually chasing down Crawford. Bud has been pushing for a Spence fight for years and is good with taking on anyone he can lay his hands on and now that he's a free agent and really pursuing the Spence fight, Spence has been dead silent. Hell, Spence hasn't been talking about fighting anybody at all. It's over a year already since he last fought and there's not even a rumor about who he might fight next. I know he's got the retina issue, which I'm going to be real and say I don't 100% believe, but I've read that fighters having that retina surgery should be ok to get back into the ring in three or four months and we're already past the four month mark. But still no talk about fighting and definitely no talk about fighting Crawford. Forget this man. I'm done with this guy.

– Jason B.

Hey Jason.

Spence is in a tough spot and, unless he signs on to fight Crawford very soon, his reputation and legacy are going to take real KO blows. At the moment, there's really nobody else he can fight at 147 in the kind of "big" pay-per-view events he wants. Yordenis Ugas in a unification bout might've fit the bill for a PPV challenge, but Ugas is tied up in that ridiculous WBA tournament nonsense. A Jaron Ennis fight wouldn't make sense right now as Ennis is yet to make a real, PPV-viable name for himself. Keith Thurman is tied to a Mario Barrios fight and is just all around unstable when it comes to keeping an active schedule. He's already fought Danny Garcia and Shawn Porter. So, really, who else is there to fight on a grand main stage than Bud Crawford? I suppose he could probably get away with a "tune up" fight next, since he's coming back from the eye surgery (I believe his injury is legit) and a long layoff, but, from the buzz I've been seeing and hearing, patience is running thin among fans. It has to be Crawford or backlash. And if he moves up to 154, as Eddie Hearn recently suggested, things will look just as bad.

I don't think he's "afraid" of Terence Crawford. I just think that there's a lot of ego involved in this rivalry now-- ego that he needs to put aside to get this fight made.

Bye-Bye AJ

Hi Paul.

Please tell me that the boxing world is done with that hype job Anthony Joshua. Being knocked on his ass by Ruiz and utterly outboxed by Usyk in about two years' time should show everyone what the big dope is really made of. He's a pretender uploaded into a warrior's body. He's never going to put it all together to be a true world class champion because he just doesn't have the guts, brains, and discipline to do it. I'll be saying some prayers and lighting some candles in hope that he doesn't find a way to half-ass, back-door his way to beating Usyk in the rematch like he did with Ruiz. Am I being too hard on the meat head, Paul?

– Dylan from NC

Hey Dylan.

I've been really critical and unforgiving when it comes to Anthony Joshua over the years, but even I think you're too harsh with AJ. I agree with your general premise, though. AJ's got a body built for war and a brain that's not always focused on the battle. I think all the hype and the celebrity status has stunted his mental/emotional growth as a fighter. A big part of it is due to his decision to stay in the UK as a big fish in a small pond. He's so gushed over that he's lost his fighter's edge. As a fighter, he'd probably be better served with a move to the US and some work in a real, hardcore gym where he wouldn't be treated like royalty. But, then again, he's such a physical presence that he very well could beat Usyk in the rematch, take back all the belts, and hold them for another half-dozen defenses.

Canelo-Usyk?

Hey Magno.

Seeing as how Canelo is willing to move up to cruiserweight and Oleksandr Usyk is willing to come back to cruiser for a Canelo fight, what do you think are the odds of a Canelo-Usyk blockbuster?

– Damon

Hey Damon.

Canelo is brave and is hungry to build his legacy, but he ain't stupid. When you go up 3, 4 weight classes, it's to be expected that you may not go after the absolute best in the division, at least not right away. That's why knowledgeable, reasonable fight fans didn't shit on Roy Jones when he took on John Ruiz for a heavyweight belt and not Lennox Lewis. Usyk would kill Canelo. Alvarez fighting Makabu for the WBC cruiserweight title is pure vanity belt hunting, not a legit attempt to conquer the cruiserweight division.

A Fan's Lists

Hi Paul.

Hope this email finds you and your family well...I will start by not saying anything about Lomachenko other than I feel bad for the guy...noone will want to prove himself against him and sadly he does not have an argument (belt pffft) for them to fight him.

We are 2 weeks away from finishing the year and the first guy that comes to mind for Fighter of the Year is Canelo. He was the only guy who did something different than the rest of them, he fought 4 guys within a year and unified the division. I thought about kambosos as well but he only fought once, Usyk also just fought once.

I will proceed this email my favorite list, top disliked fighters:

1 - Thurman - big talk, no fight

2 - Jermall Charlo - unwilling to fight a high level fighter and staying in-house

3 - Ryan Garcia - big talk, no fight, closes his eyes when throwing hooks

4 - Teofimo Lopez - too many excuses for something that was completely on him

5 - GGG- he is avoiding top fighters now when he was complaining about getting avoided when he was a contender

And I will end this email with my wish list:

1 - Can I have William Zepeda fighting someone decent so he can become a contender at lightweight? He seems to be an Antonio Margarito lightweight version, he might need to prove his chin is on that level.

2 - Pleaseee pleaseee let Crawford fight Spence so Crawford can get his deserved fight (no doubt in my mind he wins this).

3 - I like Anthony Joshua, I wished he would step aside for Usyk vs Fury (I fancy Usyk on this fight) so he could focus on gaining what he lost.

4 - Hopefully this email is replied, I wrote so many things on it :)

Best wishes Paul.

-- Miguel

Hey Miguel.

What can I add to your lists/observations? I get your logic on everything and agree with much of your insights. I also agree with Canelo as Fighter of the Year. My only real disagreement is about Fury-Usyk. I think Fury handles Usyk decisively.

Got a question (or hate mail) for Magno's Bulging Mail Sack? The best of the best gets included in the weekly mailbag segment right here at FightHype. Send your stuff here: paulmagno@theboxingtribune.com.