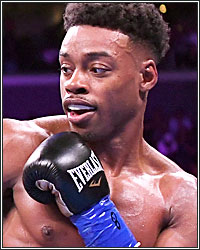 Well, depending on your take on the Errol Spence universe, we either got good news or bad news concerning his immediate future over the weekend.

The good news for Spence fans and supporters is that the road has been paved for his return to the ring in a meaningful title unification contest.

WBA champ Yordenis Ugas was finally given permission to pursue a title unification bout with IBF/WBC champ, Spence. He was allowed to remove himself from that silly WBA-ordered tournament to name the "real" welterweight champ because, as any sane human would see it, he became the "real" WBA welterweight champ when he beat Manny Pacquiao this past August.

Originally bound to face Lithuanian contender Eimantis Stanionis and then Radzhab Butaev, who stopped Jamal James in the other semi-final bout, Ugas will now be able to skip that and go straight to a Spence fight. Stanionis will, instead, face Butaev on the Spence-Ugas undercard, with the winner of that bout becoming the new WBA mandatory challenger.

Spence-Ugas, pegged for a pay-per-view date in March or April of 2022, is a good fight with a lot of meaning to the welterweight division. It'll also be a relatively easy fight to make since both work under the Premier Boxing Champions banner. So, there won't be any "will they fight, won't they fight" drama gunking up the narrative.

The bad news for those not so enamored with Spence (or those not so enamored with his career path at this point) is that, with the Ugas news, the idea of a fight with a free agent WBO champ Terence Crawford is dead before it ever really took a breath of life.

Spence-Crawford is THE fight at welterweight and anyone who tells you different is either wielding a heavy agenda or chomping on lead-based paint chips.

Spence fighting Ugas means it's unlikely 2022 will see Spence fighting Crawford. Because, should the Desoto, Texas native beat Ugas in the first quarter of 2022, he'll have three mandatory challengers waiting on him. And for a champion who hasn't faced a mandatory challenger, ever, it's going to be hard to keep NOT facing the sanctioning bodies' top-ranked contenders and hold on to the belts. So, unless he plans on vacating a belt or moving up in weight, a mandatory defense will most likely take place in the fall of next year.

Personally, as a boxing writer with a weekly mailbag column and a reputation as a jaded cynic, I'm in the uniquely awful position of being the first release point for boxing fans' discontent and anger. And, right about now, my inbox has the feel of a boxing ring pelted with garbage and beer cups after a controversial decision in a Tijuana bullring boxing match. The anger is real, and it's almost universally directed at Errol Spence.

There are others, however, who, apparently, aren't all that bothered by Spence-Ugas happening next. They feel that the Crawford fight could happen after Ugas, mandatories be damned. And, well, it's not like Spence-Ugas is a bad fight.

What can I say about all of this?

This is boxing in the present tense-- full of business obstacles, politics, prejudice, bias, ego, and utterly silly dick-waving posturing. I can't think of a fight I'd want more than Spence-Crawford, but I'm also not going to piss on Spence-Ugas just because it isn't the fight I'd prefer to see for Spence right now.

My fandom and loyalty to boxing is intense and life-long. Hell, I make my living from this sport. But, with the perpetual struggle involved in aligning stars to get the best fights made at the proper time, even I occasionally get the urge to walk away. I can't blame fans-- who expect nothing more than to be entertained by the product they want to see-- for wanting to look elsewhere for their combat sport fix.