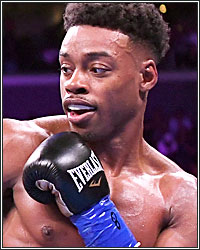 Thursdays, in this corner of the Universo Pugilistico, are all about my sack-- my bulging, bulbous, aching sack-- and the gooey, salty truth contained within. So...sit back, close your eyes, pull back your hair, and get ready for this week's money shot of wisdom. This week we have comments/questions regarding Errol Spence, Jake Paul, A Canelo playoff plan, and young fighters to watch.

Duck, Duck, Spence?

Here's a riddle for you Magno. What has two world titles and quacks? The answer is Errol Spence because he's a damn duck. Maybe you won't say this on Floydhype, but you know as well as I do that Spence is flat-out ducking Terence Crawford. This BS about Ugas getting the green light to fight Spence in a title unification is just that, BS. Nobody wants to see that fight and nobody is going to buy another Spence pay-per-view where he's not fighting who everyone wants him to fight. You said it yourself that Spence vs. Crawford is THE fight at welterweight. Fans are tired of paying top prices for second tier fights. With Crawford gone from Top Rank, there ain't no reason now for Spence not fighting him. The only reason would be that Spence is ducking. Quack quack quack. The man should just pack up those belts and send them to Crawford, someone who wants to act like a champion, but ain't getting the chance. And I 'm saying this as someone who used to be an Errol Spence fan. The dude is running scared.

– Shawn from SF

Hey Shawn.

I agree that it doesn't look good for Spence, but I don't think he's "afraid." A fighter doesn't rise up the ranks and become an elite-level world champion if he's "chicken" (or "duck," as you say) at heart. What this whole Spence-Crawford issue has become, in my opinion, is an ego battle. From Spence's perspective, he's the bigger name with the bigger PPV/box office success and Crawford wanted to meet him on an even level. Then they started bickering back and forth and it became personal. Now, things are just a matter of ego and not wanting to give the other side the satisfaction of being heard. And, well, with the big money they make with each fight, neither fighter is hurting for not swallowing their pride to get this fight done. I'm also sure plenty of voices are whispering in ears about "Fuck that guy! You don't need him!" It's a shame, but unless someone dives in soon to be the mediating voice of reason, this fight isn't going to happen.

Jake Paul vs. Real Boxers

Hey Magno.

I'm not a Jake Paul hater. I really couldn't care less about the checks he cashes or the attention he gets, but I'm not going to lie, I watch what he does. I just like boxing, no matter who's fighting and his quick rise is kind of interesting to me. But when do you think he's going to fight a real boxer who actually boxes for a living? So far, he's only fought other YouTubers and UFC fighters. I can only assume that he's staying away from real boxers because he would probably be embarrassed by one right now.

– Stasiak

Hey Stasiak.

There are two reasons for Jake Paul fighting non-boxers: One-- he's still learning his craft and isn't ready yet for full-time pros; Two-- Nobody is going to pay a PPV premium to see Paul against a Footlocker assistant manager. These MMA guys bring some name value with them. The marketing plan for Paul is not to slowly and quietly climb up the ranks for years until he earns a main stage, pay-per-view spot the old school way.

Personally, I don't have an issue with the matchmaking for Jake Paul. How many 5-fight novice pros in boxing are fighting "real" full-time fighters? At that stage of their careers, young fighters are usually facing part-timers and other novice-level opposition. Paul and his boxing advisers know who he should be fighting at this point, so take all that "I want Julio Cesar Chavez Jr" talk with a grain of salt and take the "I want Canelo" talk with a boulder of salt.

My guess is that we won't ever see Paul in the ring with an actual high-end active boxer. He'll be beaten and beat up at some point-- by biting off a bit more than he can chew against a retired boxing legend or a more-skilled-than-anticipated MMA striker-- and then move on to other money-making endeavors.

Welcome Back to Boxing...Young Fighters to Watch

Hi Paul.

I'm a long-time reader of yours and a fan for probably more than ten years now. But I have to admit that I had stopped following boxing for a couple years. All that business shit and the best not fighting the best drove me away. I just wasn't getting what I wanted from the sport as a fan. Even though I've kept reading your work through that time, I stopped watching the fights. But I'm back and willing to give boxing another try. Who are some of the young fighters I should be following right now. Also, please tell me that there's more hope that I might get the fights I want to see now. Tell me that the business is at least a little more fan friendly.

– Blue Corner Paul

Hey Paul.

Glad you've decided to give boxing another chance, although I won't BS you-- not much has changed on the business/politics side of things. A speck of positivity in the mess is that the bossmen seem to be at least trying to do more in house with their fighters. There are more unified champions now than at any point in the 4-belt boxing universe and that's the result of promoters/networks getting a whiff of the boxing fan's stench of discontent. Cross your fingers, maybe there's more positivity to come.

As for young fighters to watch, here are just a few 20-somethings who are either entering deep into elite waters or just abut to make that leap (in no particular order): Gervonta Davis, Jaron Ennis, Vergil Ortiz Jr., Shakur Stevenson, Teofimo Lopez, Ryan Garcia, Devin Haney, David Morrell Jr. There are tons more, but these were the first handful to come to mind. There's actually a lot of young talent out there right now.

Canelo vs. Benavidez/Charlo

I have an idea/ concern on who should have the right to face Canelo.

There should be a fight between Charlo vs Benavidez, and winner should have the right to have a boxing match with Canelo.

That is my opinion on who Canelo should fight.

Thank you.

-- Emanuel Gutierrez

Hey Emanuel.

Sounds good to me. Sounds reasonable, too. The problem is that Canelo would have to agree to this playoff-type arrangement (which he won't). Also, Benavidez and Charlo would have to sign up for this playoff as well and the feeling may be (among both) that they'd like to just jump right into a Canelo fight rather than take a risky, less lucrative bout that could see them removed from the Canelo sweepstakes for good. In a perfect boxing world, though, your plan would be ideal.

Got a question (or hate mail) for Magno's Bulging Mail Sack? The best of the best gets included in the weekly mailbag segment right here at FightHype. Send your stuff here: paulmagno@theboxingtribune.com.