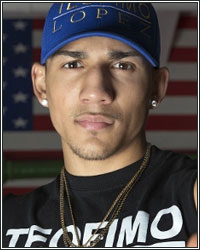 Welcome to another edition of Magno's Bulging Mail Sack, a Thursday tradition here at Fight Hype that routinely rattles cages, rocks boats, and way too often hurts tough guys' feelings. This week, we have comments/questions regarding Teofimo Lopez, Claressa Shields vs. Savannah Marshall, and the DAZN/PBC feud.

DAZN/Golden Boy vs. Showtime/PBC

Hey Magno.

It seems like the new feud in boxing is DAZN vs. PBC. Ryan Garcia vs. Tank Davis won't happen because of this feud. Munguia-Charlo didn't happen because of the feud. Andrade-Charlo never got off the ground because of this feud. Neither Did Andy Ruiz vs. Dereck Chisora. Vergil Ortiz won't be fighting any top welters anytime soon because they're all with PBC. Is this going to be the new roadblock in boxing? And why is there this seeming animosity in the first place?

– S. Locke

Hey S.

I don't think this beef will be a major roadblock because, to be frank, I don't think DAZN has all that many big-time players anymore, at least not when it comes to potential major, cross-platform blockbusters tied to exclusive deals. Ryan Garcia and Vergil Ortiz separated from opportunities will hurt, but that's really it. And, actually, neither is specifically signed to DAZN anyway.

The bad blood started to bubble from the way DAZN tried to poach talent when they first came up. Eddie Hearn, working as the streaming service's lead promoter and figurehead business operator, tried to snatch up a lot of PBC/Showtime/Fox talent under the premise that "hey, none of these guys are actually signed to a promoter or network, so they're fair game." Hearn's/DAZN's end goal was to bring the talent over to the streaming service and cut out PBC/Showtime/Fox entirely because, technically, there were no legal ties keeping the fighters where they were and, therefore, no need to make PBC/Showtime/Fox part of any deal.

Well, fast forward a couple years, after Hearn/DAZN failed miserably at luring PBC talent over to their side. Now, they're deeply offended by the PBC/Showtime/Fox side hinting at doing the same to them.

By my understanding, Ryan Garcia and Jaime Munguia, for example, are signed to Golden Boy and Golden Boy is exclusive to DAZN, but Garcia and Munguia are not signed directly to DAZN. So, when DAZN bristles at the idea of being cut out of a Garcia-Tank Davis or Munguia-Charlo fight because they don't have direct deals with the fighters competing on their platform, there's a bit of karma there. And, of course, now they talk about working together with other networks and cooperating to make big fights happen when they were all about the opposite when they were coming up.

I don't blame Golden Boy one bit for trying to keep DAZN in the mix and insisting that their broadcast partner be part of any big fight involving their talent. But I also don't blame the other side for holding grudges over the way DAZN has gone about things.

Claressa Shields vs. Savannah Marshall

Paul,

I have a simple question for you. What is your take on the upcoming Claressa Shields vs. Savannah Marshall fight? I have Shields winning by decision, I think she deals with Marshall's power and gets the victory. What say you?

– Greg

Hey Greg.

It's going to be a really intriguing fight. Shields is clearly the more skilled fighter, but Marshall is bigger, has tremendous one-punch power, and is not without her own skills. Marshall is also an awkward fighter and probably physically stronger than Shields. There'll be some rough patches for Claressa and she'll need to be sharp and focused. This is going to be a tough one for her. But, at the end of the day, skills DO pay bills and I think she'll find a way to get the decision.

Teofimo: The Takeover Part 2?

Hi Paul.

Teofimo Lopez has been one of my favorites fighters for awhile now. He's got the charisma and style to be a major draw and his skill is always overlooked. The man can fight! I think the only reason he lost to George Kambosos was because he was suffering with COVID-related pneumomediastinum, which doctors said could've killed him. He never should've followed through on that fight in the condition he was in.

My question to you is about how well you see him doing at 140. It's true that he might be stronger because he won't have to struggle to make 135 anymore, but he'll also be facing bigger, stronger opposition. I think he makes it and wins at least a couple world titles in the division. What do you think Teofimo's future is at his new division?

– Santos

Hey Santos.

I can see you're a fan. I don't blame you. Teofimo is entertaining and, as you say, charismatic. He's also got a fan-friendly style and ring mindset.

When it comes to his future, though, everything depends on his state of mind. Even distracted and delusional, he'll probably beat most everyone he faces. But if he wants to be a long-term elite, he's got to get his mind in check and, honestly, he's spent the last year or so looking like anything other than a man with his mind in check.

There are some challenges at 140 that might be stylistically tough for Lopez. Josh Taylor will be tough, but he's probably not long for 140, anyway. Regis Prograis would also be a tough fight. But, all in all, there should be some good scraps for him at 140 and there will be opportunities to pick up a belt or two as Taylor vacates.

We'll see how he looks against Pedro Campa this Saturday.

Got a question (or hate mail) for Magno's Bulging Mail Sack? The best of the best gets included in the weekly mailbag segment right here at FightHype. Send your stuff here: paulmagno@theboxingtribune.com.