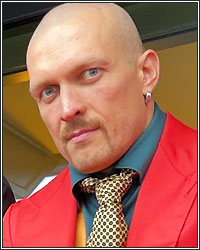 Okay, it's settled. Oleksandr Usyk is better than Anthony Joshua.

There's no shame in that for Joshua. There's a ton of shame to be found in Joshua's immediate reaction to that loss, though. But that's a topic I tackled in Monday's Notes from the Boxing Underground column. Let's leave all that to some sports psychologist somewhere and to the Matchroom/DAZN/Sky Sports spin doctors who will now set about trying to turn a soiled diaper into a seafood boil.

Let's, instead, take a look at the state of the heavyweight division in the wake of Usyk-Joshua 2.

Although the division is closer to having one true champion than at any point since Tyson Fury decisioned Wladimir Klitschko in 2015, it's probably in poorer shape at the very top than it's been in awhile.

WBC champ Fury, in the span of about two weeks, has retired, un-retired, re-retired, and, following Saturday's Usyk-Joshua bout, re-un-retired after an expletive-filled diatribe on social media. If he's back all the way, "The Gypsy King" rightfully belongs at the very top of the division, despite only holding one belt to Usyk's three.

But there are plenty of "ifs" and "buts" in Fury's future. Could a relationship with hunted alleged Irish cartel kingpin Daniel Kinahan be hanging over his head, putting future ring endeavors (and paydays) in doubt? Could his wavering interest in boxing be just about general burn-out? Anyway you slice it, there's no guarantee that Fury will be back in boxing, full-time, and, therefore, no guarantee that the no. 1 guy claiming true heavyweight lineage, who also generates a shit-ton of attention, will be around to unify all the belts or properly pass the torch.

Anthony Joshua has big money behind him, so he'll get as many second chances as possible and, with his physical presence and power, he'll be a player until the day he eventually implodes completely. But he can't beat Usyk and probably can't beat Fury, either. So, that leaves him as little more than an attraction with, at best, possible best-of-the-rest status.

Deontay Wilder is returning to the ring this October against Robert Helenius. And, while Wilder-Helenius is a good fight, neither fighter will likely emerge as a true player at this point. Helenius is too limited and Wilder, who is also limited, but in possession of fight-turning power, has undergone the kinds of horrific beatings in recent fights that ruin men.

Upcoming September bouts, Andy Ruiz vs. Luis Ortiz and Joe Joyce vs. Joseph Parker, will produce two new, legitimate challengers for either Usyk or Fury. But are any of these four fighters in the right place, time, and state of being to beat either of the two champions? Probably not.

Croatian top contender Filip Hrgovic boxed well and showed gumption in beating China's Zhilei Zhang on the Usyk-Joshua 2 undercard on Saturday, but even his newly earned status as IBF no. 1 contender probably won't mean a lot in the short term. He still represents too much risk for too little reward and the top names in the division will put off dealing with him until they absolutely have to.

Beyond the names mentioned above, there's just a touch of depth at heavyweight.

Cuba's Frank Sanchez is a good, classy boxer. Dillian Whyte and Derek Chisora make for good scraps. Daniel Dubois is in the midst of a solid comeback after his loss to Joe Joyce in 2020. Chemical king Jarrell Miller is back, for what that's worth. Turkey's Ali Eren Demirezen has put together a string of decent wins. Former titlist Charles Martin looked improved and pretty decent, right until he was knocked loopy by Luis Ortiz in January. Zhilei Zhang may have beefed up his reputation in looking good against Hrgovic. Michael Hunter and Otto Wallin are alright seat-fillers.

And that's about it, at least until guys like Jared Anderson and Arslanbek Makhmudov make their move up.

It's not a bad heavyweight class, overall, and there are some good fights to be made if these guys are willing to fight one another and not just sit around, idling, while waiting on a title shot. At the very top, though, there's not a lot that's going to be happening any time soon.

While egos, boxing politics, and the pull of meaningless mandatories keep some of the bigger fights from happening, fans will have to be content with what they can get as everything sorts itself out.