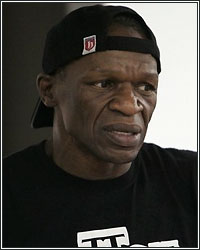 FightHype.com briefly caught up with world-class trainer Floyd Mayweather Sr. to get his thoughts on his son's return to the ring this September to face WBC welterweight champion Victor Ortiz. "I really don't know much about him, but I remember seeing him fight and he is a strong kid, but he can't match Lil Floyd skillwise. At the end of the day, any fighter out there has to match Lil Floyd skillwise and I just don't see anybody doing that," Mayweather Sr. commented when asked what he thought about Ortiz. Although he hasn't had an opportunity to watch too much footage on him, Mayweather Sr. is keenly aware that Ortiz is a southpaw, a fact that he doesn't think his son will have any problems with whatsoever.

"Let me tell you something, man, when you lose 2 or 3 rounds to a fighter and then dominate them the other 9 or 10 rounds and people say you struggle with that style, you know you are at the top of your game. People are basing that on Zab winning two or three rounds and Chop Chop stunning him. Come on, man. Lil Floyd is the best at figuring you out and picking you apart and it don't take him long either," he continued, dismissing the notion that Floyd has problems with southpaw fighters. Obviously Mayweather Sr. is confident that his son will come out victorious, however, he wasn't quite sure of how that victory would come about. "I don't know if Lil Floyd will knock him out, but he will whoop his ass for 12 rounds if nothing else," he remarked, making it clear that no matter the final outcome, he expects another dominant performance.

Whether or not he'll be a part of Lil Floyd's camp this time around is still up in the air, but he's more than willing to help out should the opportunity present itself. "He's my son and I want to see him do well. We will see," Mayweather Sr. added. Whether he's helping or not, something tells me you can expect to see Big Floyd in the gym when the 24/7 cameras start filiming.

BE SURE TO CHECK BACK SOON FOR MUCH FROM FLOYD MAYWEATHER SR.
[ Follow Percy Crawford on Twitter @MrLouis1ana ]