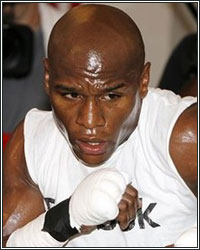 "I'm letting you guys know this right now, I'm not going to be moving. No different than the Shane Mosley fight, I'ma bring the pressure, so hopefully we can meet in the middle of the squared circle," stated undefeated pound-for-pound champion Floyd Mayweather, who was on hand at the Hudson Theater in New York City to officially announce his September 17th clash with WBC welterweight champion Victor Ortiz. According to Mayweather, this fight is all about excitement for the fans and it sounds like he plans on fighting accordingly.

"The only thing I want to do is bring you guys excitement. It's not about the champion, it's not about the belts, it's not about the money, it's about the fans," Mayweather continued. "September 17th, it's about excitement." Of course, saying and doing are two different things, and we won't really know if Mayweather stays true to his word or if it was just ploy until the night of the fight. However, that being said, we can rest assured that Ortiz will do his part to make it an action-packed, having sent nearly all of his previous opponents to the canvas at least once. It's a small fact that Mayweather was unaware of until he heard it for the first time at the press conference today.

"Victor Ortiz is a hell of a guy. Like you said before, 33 or 34 fights, every time he hits somebody, they touch the canvas. I must know that makes me work that much harder because that's something that I didn't know, so I'm always trying to push myself to the limit," Mayweather commented as he talked about the task at hand come September 17th. It's a task that Ortiz hopes to make impossible to accomplish, as the young champion has no plans of giving up his title any time soon. "I'm champion of the world; I'm newly crowned and I'm not giving that up, man, just like he did not give it up for fucking ten years or a decade, I'm not giving mine up," Ortiz replied.

Will Mayweather live up to his promise of bringing the pressure to Ortiz, or will this be another defensive-minded shutout? We'll all have to tune in to HBO pay-per-view on September 17th to find out!