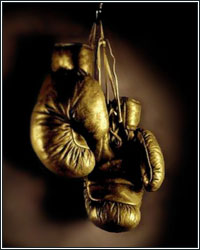 Rising bantamweight prospect Michael Ruiz Jr. moved past the first rival of his professional career in his last outing in May and now has his sights set on a former amateur nemesis in Randy Caballero.

Ruiz (8-0-1, 3 KOs) of Fresno, California put tough Jonathan Alcantara in his rearview with a unanimous six-round decision in Reno, Nevada on May 27th. Alcantara held Ruiz to a draw last November, but managed to only win one round on one official card in the rematch. Ready to move on to the next level, Ruiz and his team are eyeing the Golden Boy Promotions-promoted Caballero (12-0, 7 KOs) of Coachella, California.

Caballero claimed the WBC Youth Intercontinental Super Bantamweight title with a victory over Alexis Santiago this past Friday at the Fantasy Springs Casino in Indio, California. Caballero claimed an eight-round unanimous decision over the previously unbeaten Santiago, but the scoring left some scratching their heads. Despite the competitive nature of the bout, only one of the three judges seated ringside managed to find a round to give Santiago.

Ruiz' manager Repo Ric happened to be on hand working the event. Ruiz' Tio Alfredo lives in the Indio area and has been keeping his eye on Caballero, who has fought seven of his last eight fights at the Fantasy Springs Casino. Prior to the fight, Alfredo got Repo's attention with a suggestion. It was Ruiz' uncle's idea that Repo match Ruiz with Caballero a couple fights down the road.

"When I watched him, I got pissed off and called him out," recalls Repo, who was not impressed one bit by Caballero's performance. "The scorecard was pathetic. [Caballero] lost every round, and that was bull. Santiago was bad, he threw way more punches. The scores were so bad."

Outraged by the decision and intrigued about a potential Caballero-Ruiz showdown, Repo confronted the new titleholder and his father-trainer Marcos. "I said why don't you fight Mike Ruiz, let him get a shot at that title," recalls Repo. "His father and I got into a confrontation in front of everybody. They filmed it and it was in the paper and everything. I called him out baby, I called him out."

Reports of the backstage argument made Caballero's hometown paper The Desert Sun and video was filmed and posted on YouTube. Caballero, who cites an amateur victory over Ruiz, tells the camera, "I'll sign anything." Repo Ric would like to hold him to that by getting Caballero to fight Ruiz outside the friendly confines of his home arena and on a card promoted by Goossen Tutor Promotions.

Word about the potential match-up and the confrontation got to Ruiz, and the Fresno-prospect decided to take a look at the bout, which aired nationally on Telefutura. Ruiz' assessment of Caballero's victory mirrored that of his manager's. "Randy is a good fighter and everything, but he was fighting in his hometown, so he got some favor from the judges," says Ruiz.

"If Alexis had a little more power, it would have been a different fight, but he did outpunch [Caballero] in the first four rounds," says Ruiz. "He had him beat, then Randy got a couple rounds, but the last round I gave to Alexis. All in all, I thought Alexis had the fight, but what can I say."

In the YouTube video, Caballero is quick to mention his amateur win over Ruiz, but as is often times the case, an amateur victory is not a good indication of how a pro fight would unfold. "I fought him once in the amateurs," recalls Ruiz of their 2008 meeting, which took place at 112-pounds. "I had only about thirteen amateur fights, and he had 240. It was my first time at nationals and I fought him in the semi-finals and he beat me by a couple points. I fought straight up with him, but he beat me on points."

"I fought a pro style against him there, but I was just starting," explains Ruiz. "In the pros it's a different style. He's a good fighter. He was a good amateur and it would be a good fight."

Given Caballero's notoriety, a fight with him would be a quality opportunity for Ruiz to make a name for himself on the world level. It's an opportunity Ruiz looks forward to gaining. "This would be an opportunity for me to show everything I have, everything I have been working for and everything that my trainers have put me through, step-by-step," explains Ruiz. "This would be a good challenge for me and I am excited. So whenever they put that fight together, I am ready."

Ruiz is always in the gym and in fighting shape should he get the call that a fight is signed. Should the call come in that Randy Caballero has signed the contract, Ruiz vows to be ready for the challenge. "I am ready and I have no doubt in my mind," says Ruiz. "I will pour everything out of my heart and my body. If I fight the way I am supposed to fight and do everything I am supposed to do and give it my all, then I have no doubt I will beat him. If my team has no doubt, I have no doubt in myself. I am going to go in there and handle this. This is what I am here for."