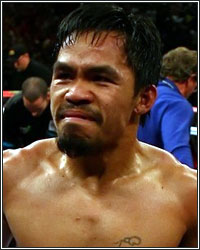 While many have speculated as to whether or not Manny Pacquiao has truly conceded to all of Floyd Mayweather's terms, his adviser, Michael Koncz, recently confirmed that they have not agreed to the random blood and urine drug tests that Mayweather wants prior to all of his fights. "Yeah, well we agreed to, in the past, random testing as long as when we get tested, he gets tested, up to 14 days," Koncz revealed in an interview with FightHype's own Ben Thompson, making it clear that they're still asking for a cut-off date some time during the weeks prior to the bout. "We're not going to test on the day of the fight. I'm not going to sit here and tell you yes, we'll agree to do tests that day or not, but What we've done in the past, we've agreed to give blood immediately after the fight, but then the problem is the commission told us that they won't do that because it's not sterile in the dressing rooms. Will we give blood 5 days, 7 days before the fight? You know, that's something I have to talk to Manny about, but we have nothing to hide. I certainly can tell you we will not give any type of blood on the day of the fight," Koncz continued.

According to Koncz, Pacquiao's desire for a cut-off date stems from his belief that losing blood a few days prior to a fight will make him weak physically. It's a principle that Pacquiao has stood by ever since he suffered his last loss to Mexican legend Erik Morales over six yeas ago. "Once again, it's Manny's belief, and I witnessed it myself at the Morales fight. The blood test got lost when Murad Muhammad was still around; something happened to it and we had to redo the blood test, I don't know, it was 2 or 3 days before the fight," Koncz explained. "Whether it's true or not, the same goes for Floyd, but whether it's true or not, if a person has that belief that needles and taking blood effects your strength and effects you physically, that's in your mind and your mind is stronger than your body. So if that belief is there, it's gonna effect you in a negative way. The same thing for Floyd, if he really believes Manny is on something, his mind is going to take over and it's going to control him."

Koncz also pointed out Pacquiao's fear of needles as being a motivating factor in their desire for a cut-off date. "That's the same thing with Manny and needles. He hates needles. We're not making anything up. As I said, when we tried to make the fight the first time around, you know, look in the archives; we've always talked about needles and how he's afraid of needles, and we've always used the Morales fight as an example. That wasn't something that we just drummed up when the first negotiations came for Floyd," remarked Koncz. "And again, how do I change his mind on that? That's something that's implanted in his mind and if he believes that so steadfast, as he does, it's going to effect him in a negative way. I'm not saying he's right or wrong, but I do know that the mind is stronger than the body and if that's your belief, you know, it could effect you, and it more likely will than not in a negative way."

Even though neither side sees eye to eye on the matter of drug testing, Koncz seemed optimistic that eventually, both sides will come to an agreement and make the fight so long as it's something that both fighters truly want. "If both fighters really want to make the fight, I believe it can be made because both fighters will compromise where each of them are happy and it'll happen," he added.